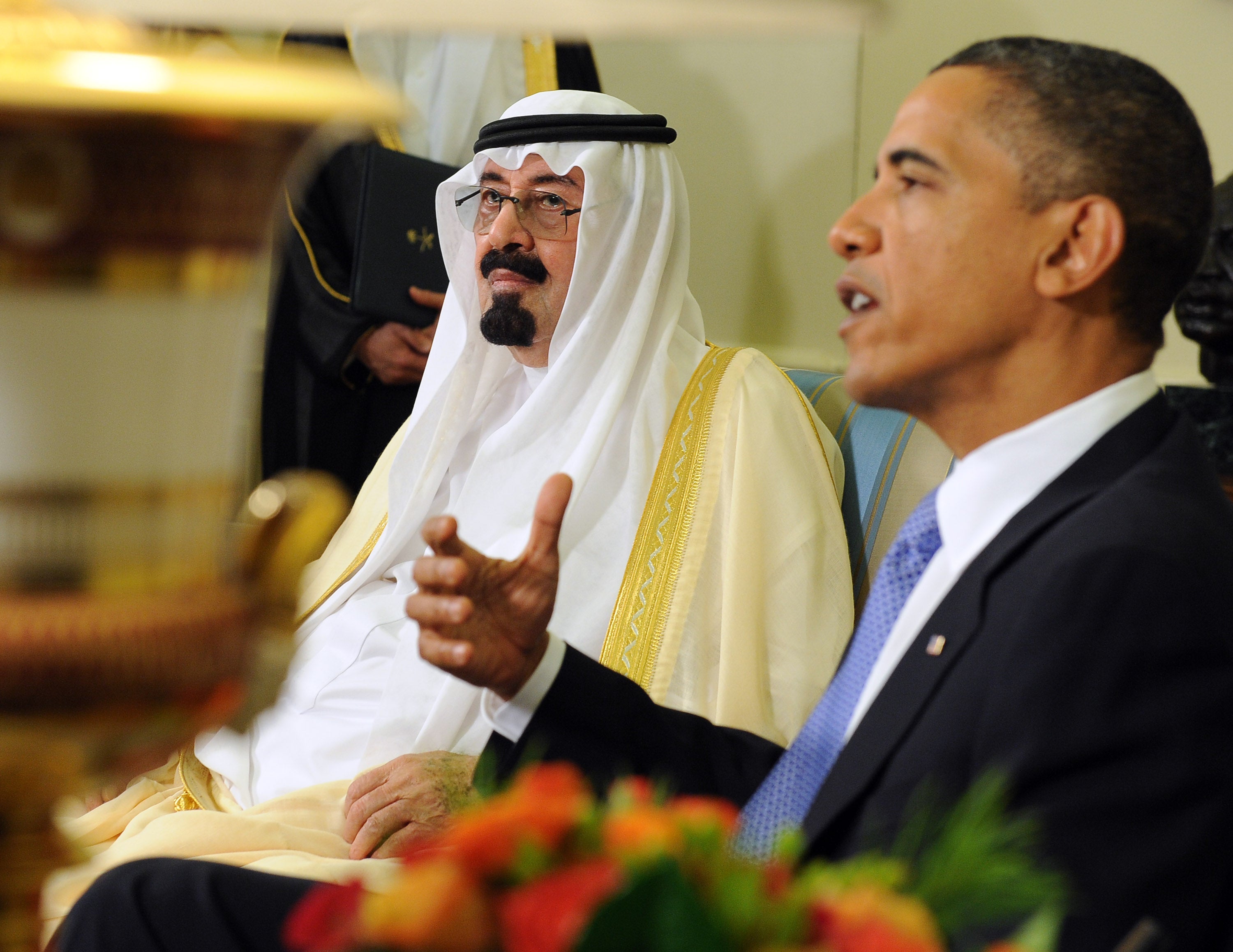 Saudi Arabia warns U.S. that policy on Syria, Iran straining decades-old alliance
Saudi Arabia is reportedly threatening to scale back its decades-old partnership with Washington over the Obama administration's perceived weakness in dealing with Syrian leader Bashar Assad, and its recent furtive overtures with the Saudis' arch-enemy, Iran.
Articles citing anonymous sources familiar with Saudi policy -- though notably, no articles in major Saudi publications -- have quoted the head of the Kingdom's intelligence services, Prince Bandar bin Sultan al-Saud, as warning of a "major shift" or "scaling back" in the relationship.
According to the source cited by the Reuters news agency, the prince told European diplomats "the shift away from the U.S. is a major one... Saudi doesn't want to find itself any longer in a situation where it is dependent."
No Saudi official has confirmed, or even mentioned, a change in the practical dealings between the two nations, which include millions of dollars in military hardware purchases and close coordination by law enforcement agencies trying to counter al Qaeda and other Islamic extremists groups.
The anonymous, third-party quotes characterizing statements allegedly made by a member of the ruling family -- who also happens to have served as the Kingdom's ambassador to Washington for more than two decades -- could be more of a shot across the bow than an actual declaration of any change in policy.
It does highlight, however, the very real anger and frustration felt in Saudi Arabia over the Obama administration's approach to the Syria conflict and the signs that the White House is trying to ease the three-decade-old row with Iran.
Iran is the world's most powerful Shiite Muslim nation, while Saudi Arabia is ruled by and populated predominantly by Sunni Muslims. The two factions of Islam split hundreds of years ago, but the tension between the two has never abated and the war in Syria has become a tangible manifestation of the lingering hatred among hardliners of both sects.
Saudi Arabia has been a staunch backer of the largely-Sunni rebel factions fighting to oust Syrian leader Bashar Assad, who is of the Shiite Alawite sect. Iran, however, remains one of Assad's two most valuable allies (behind only Russia), and has sent money, weapons and even military officers to help him maintain his grip on power.
Syrian opposition forces have been torn apart by infighting pitting, to a large degree, extremist Sunni Muslim factions -- including al Qaeda's regional branch ISIS -- against more moderate, Western-friendly rebels (though it's debatable whether any of the rebels fighting in Syria would still claim Washington as an ally).
President Obama's move to back the Russian proposal to rid Syria of chemical weapons was seen by Saudi Arabia -- and virtually all Syrian opposition groups -- as an easy way for the White House to back down from its threat of air strikes against Assad, which Washington seemed poised to launch following a large-scale sarin gas attack on the outskirts of Damascus in August.
Speaking earlier this week, Prince Turki, another member of the Saudi royal family and a man who previously held the intelligence chief's job, said, "the current charade of international control over Bashar's chemical arsenal would be funny if it were not so blatantly perfidious, and designed not only to give Mr. Obama an opportunity to back down (from military strikes), but also to help Assad to butcher his people."
Earlier this week, Saudi took the highly symbolic step of rejecting a seat on the United Nations Security Council it had been elected to, protesting the global body's failure to end the Syria crisis.
The White House has long argued that there are no good options for intervention in Syria, given the prevalence of Islamic extremists among rebel forces, the lack of unity even among the moderate opposition, and the disinterest of the American public in getting involved in any kind of ground operations. President Obama drew an infamous "red line" on the use of chemical weapons, however. That line ended up cornering him into taking some sort of action as it became increasingly clear that the line was crossed in the Aug. 21 attack in the Damascus suburbs.
As the world braced for U.S. missile strikes on Assad's military, Russia proposed the plan to avert American military intervention by way of the chemical weapons destruction, and after protracted negotiations, the deal was done.
Now, international inspectors are working to dismantle Assad's chemical stockpiles and his ability to manufacture more; the rebel factions are bitterly divided on the ground, and even the moderate, Western-backed opposition Syrian National Coalition says it might refuse to participate in the next round of international peace talks slated for November. The pressure on him has undeniably eased, and Assad appears to be in a stronger position now than he has in months.
On top of things not going their way in Syria, the Saudi ruling family will feel diplomatically slapped in the face by its old ally over the Obama administration's cautious warming to Iran's new, moderate President Hassan Rouhani.
As CBS News senior correspondent John Miller explains, the combined affront has become "more than the Saudis could take lying down."
Miller notes that Saudi Arabia has also come under transitional pressures at home. The ruling family is slowly handing key positions of power from the sons of the regime's founders to a younger, third generation. And there are simultaneous pressures, born of the Arab Spring, for democratic reforms.
If the vast Kingdom at the heart of the Muslim world and the Middle East does make good on its threat to turn a cold shoulder to the U.S., Miller said the rift could affect the Saudi's purchase of arms and fighter jets from the U.S., and, obviously, the U.S. still buys Saudi oil. Even as America relies less and less on that supply with domestic production in the U.S. and in Canada ramping up, it remains a significant bargaining chip for Saudi Arabia.
Miller notes, however, that the Saudis still need the U.S. military hardware, and the oil sales remain a key revenue source for the Kingdom, so "in some ways the Saudis can be mad, but have to stop short there."
"They're mad, but we haven't broken up yet," Miller said on "CBS This Morning."
"What we are seeing is a strong signal that they are uncomfortable with key aspects of a friendship that dates back to the Roosevelt Administration, that was always based on security for oil," said Miller.
"This is about more than the Saudis," he adds. "In Bahrain, where we have the key naval base, they have demanded that Washington recall our ambassador because of our criticism of their tactics to put down an ongoing rebellion has been interpreted as disloyalty. In Turkey, we've been criticized by the president there and they recently purchased missiles from the Chinese" instead of getting them from the U.S.
"What we are seeing behind the scenes is that military, intelligence and law enforcement relationships are holding for now because we share the common enemy of al Qaeda," explained Miller. "But there is a real disdain for the State Department and President Obama and U.S. policy. The question is, as that disdain increases -- where Sunni-led nations see a U.S. seeking some diplomatic dialogue with Iran, the dominant Shiite power, will those other relationships hold up?"
Thanks for reading CBS NEWS.
Create your free account or log in
for more features.