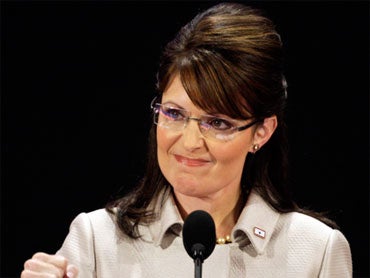 Sarah Palin Unveils Target List for Midterm Elections
Sarah Palin has posted on her Facebook page a list of the Democrats she is targeting for defeat in the November elections. She says her political action committee will be "paying particular attention to those House members who voted in favor of Obamacare and represent districts that Senator John McCain and I carried during the 2008 election."
Here's her list of targeted Democrats: Ann Kirkpatrick (Arizona), Harry E. Mitchell (Arizona), Gabrielle Giffords (Arizona), John Salazar (Colorado), Betsy Markey (Colorado). Allen Boyd (Florida), Suzanne M. Kosmas (Florida), Baron P. Hill (Indiana), Earl Pomeroy (Alabama), Charlie Wilson (Ohio), John Boccieri (Ohio), Kathy Dahlkemper (Pennsylvania), Christopher Carney (Pennsylvania), John M. Spratt, Jr. (South Carolina), Tom Perriello (Virginia), Alan B. Mollohan (West Virginia), and Nick J. Rahall II (West Virginia).
"We'll aim for these races and many others," she writes. "This is just the first salvo in a fight to elect people across the nation who will bring common sense to Washington."
Palin tells her supporters not to get discouraged by the president signing into law health care reform legislation, but rather to "get organized!"
"We're going to reclaim the power of the people from those who disregarded the will of the people," writes the former Alaska governor. "We're going to fire them and send them back to the private sector, which has been shrinking thanks to their destructive government-growing policies. Maybe when they join the millions of unemployed, they'll understand why Americans wanted them to focus on job creation and an invigorated private sector. Come November, we're going to print pink slips for members of Congress as fast as they've been printing money."
In other Palin news, Variety reports that the Discovery Channel is likely to be the network that broadcasts Palin's planned television show, which reportedly "will center on interesting characters, traditions and attractions in the 49th state -- with the ex-VP candidate as a guide."
The network is said to be paying more than $1 million per episode for the series, which is produced by Mark Burnett of "Survivor" and "The Apprentice."
Thanks for reading CBS NEWS.
Create your free account or log in
for more features.