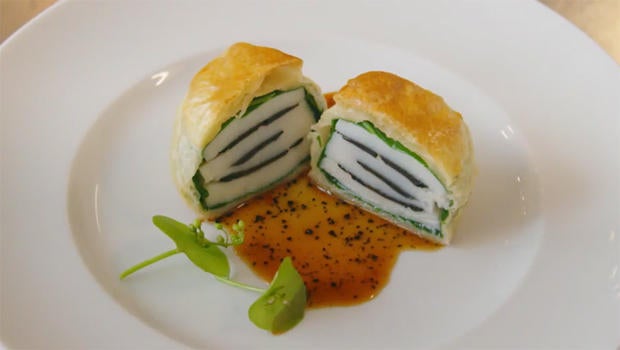 What better way to top off a day at the museum than with a bite at the museum? John Blackstone is our guide:
At San Francisco's recently-expanded Museum of Modern Art, record crowds have been feasting their eyes on the works of contemporary masters like Ellsworth Kelly, Frank Stella and Andy Warhol … and then feasting themselves on the works of master chefs like Wylie Dufresne and Dominique Ansel.
"I think this is an idea that seems so obvious once you think about it," said chef Corey Lee.
He reimagined the museum restaurant as another museum gallery. "There are a lot of people who kind of stumble in here and they sit down, they're like, 'What is this?'"
The restaurant, called In Situ, offers diners signature dishes of some of the world's most celebrated chefs.
"They open this menu that looks like a museum program," Lee said. "And they start seeing dishes from around the world, with dates on them. I think it's disorienting for them."
"Something they don't expect, but it surprises them?" Blackstone asked.
"And continues the experience of discovery that they were having at a museum -- but with food."
Lee is a celebrated chef himself. His three Michelin-star restaurant, Benu, is just blocks away. But the 37-year-old doesn't serve any of his own creations at In Situ.
SFMoMA's director Neal Benezra chose Lee to design a museum-worthy restaurant. "I've come to think of Corey as our curator of food," he said.
"He had a wonderful amount of curiosity about what we do, how our curators work, how these pictures come to be on our walls. So I explained to him that, if we wanted to do an exhibition of Claes Oldenburg, our curator would try to identify the best works of art by that artist and try to bring them to our museum."
Lee said he wanted to do the same thing with food. "A diner can come in here and try a dish from this chef in Belgium and this pastry chef in Japan, the chef in Hong Kong," Lee said. "They can have this very fun and new experience with food."
Chefs from all over the U.S., Europe and Asia have visited In Situ, teaching the kitchen staff to reproduce their dishes perfectly.
When In Situ's executive chef Brandon Rodgers prepares fresh steamed crab claw, it looks and tastes just as it did when first served at Hong Kong's Fook Lam Moon back in 1970.
"We got the exact bowl that they use at Fook Lam Moon," Rodgers said. "Prepare it in the same proportions that they serve it. We try to imitate that exactly."
He does the same with chef Thomas Keller's pan roasted duck breast, from the world-renowned French Laundry in California's wine country.
"It sits on a bed of French green lentils with a red wine vinegar sauce," Rodgers said. "The dish was from 1995, within the first year of them opening."
Some of the classic dishes served here are no longer on the menus where they originally appeared -- and sometimes the chefs who created them are among the diners here. Alice Waters stopped in to try the Meyer lemon ice cream and sherbet dessert that she first made at her famed Berkeley restaurant Chez Panisse more than 25 years ago.
"It's a ton of pressure," Lee laughed. "You know, when someone's coming to try the dish that they've entrusted you with, it's kind of a new feeling. But that's part of the fun of doing something new!"

For more info:
Thanks for reading CBS NEWS.
Create your free account or log in
for more features.