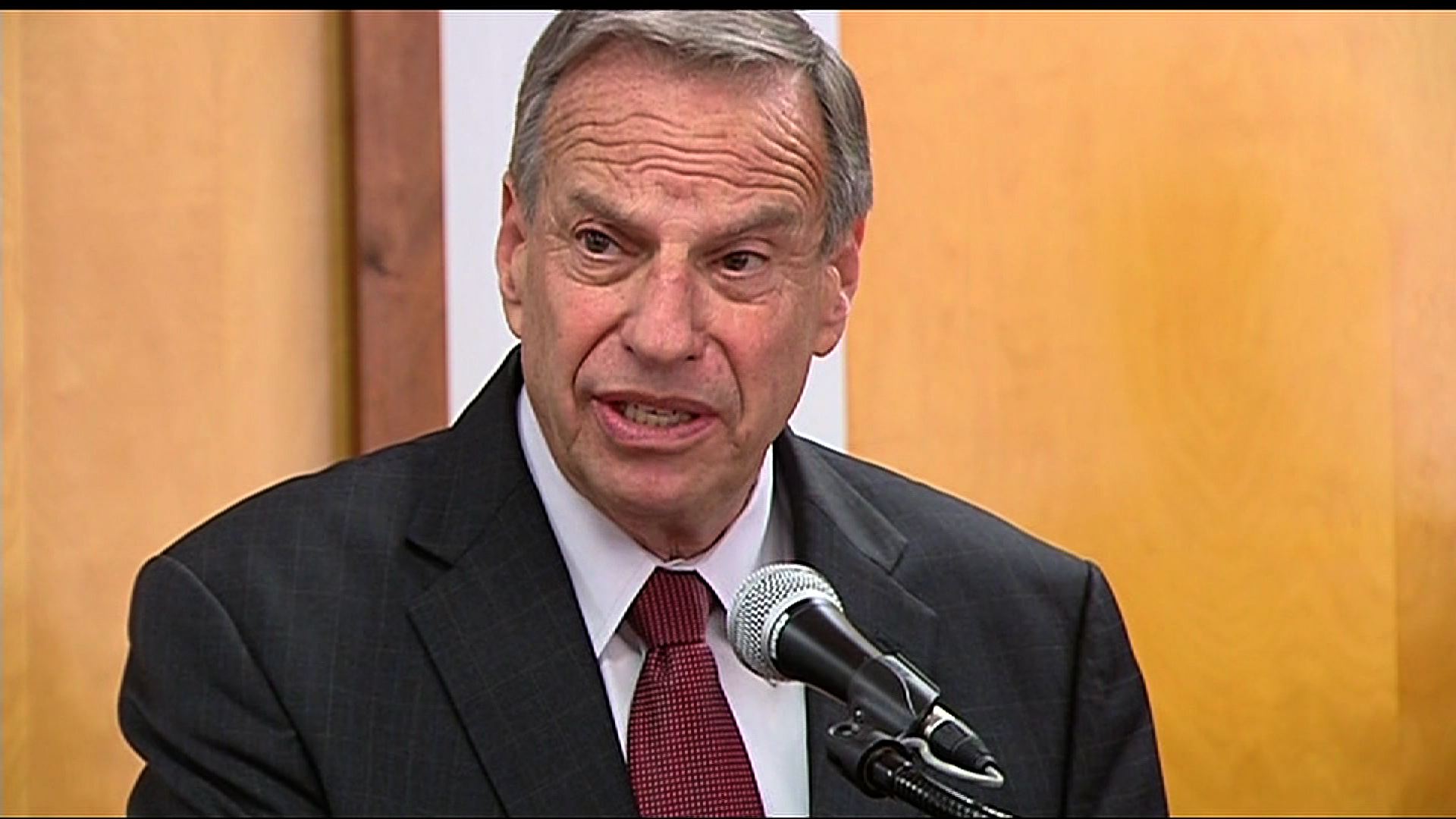 San Diego lawmakers to mayor: Pay your own way in sex harass lawsuit
SAN DIEGO The San Diego City Council twice voted unanimously Tuesday to make Mayor Bob Filner responsible for the expenses in a sexual harassment suit, attempting to distance itself from the leader of the nation's eighth-largest city amid mounting calls for his resignation.
At its Tuesday night meeting, the City Council voted 9-0 to deny funds for Filner's legal expenses in the lawsuit filed by his former communications director, Irene McCormack Jackson, one of eight women who have come forward recently with allegations of unwanted sexual advances.
"His employers, San Diego taxpayers, did not have to bail him out for the mess he created," City Councilman Kevin Faulconer said.
"San Diegans have every right to expect service from the mayor. The mayor has no right to a blank check from San Diegans to defend his egregious behavior," Council President Todd Gloria said, reports CBS San Diego affiliate KFMB-TV.
Earlier in the day, in a closed session, the Council voted 9-0 to have the city sue Filner to require that he pay all costs incurred by the lawsuit, which names the city as a defendant in addition to Filner.
"If Bob Filner engaged in unlawful conduct and the city is held liable, he will have to reimburse us every penny the city pays and its attorney fees," City Attorney Jan Goldsmith said.
Seven of nine City Council members have urged Filner, the city's first Democratic leader in 20 years, to resign.
Jackson sued the mayor and the city July 22, alleging the mayor asked her to work without panties, demanded kisses, told her he wanted to see her naked and dragged her in a headlock while whispering in her ear. Since then, seven other women have offered detailed accounts of Filner's alleged advances, including touching and forcible kisses.
"The City of San Diego maintains a zero tolerance policy as to sexual harassment and sexual harassment is not within the course and scope of employment," according to the city's lawsuit filed in San Diego Superior Court.
The mayor's office and his attorney, Harvey Berger, didn't immediately respond to requests seeking comment.
Ann Ravel, chairwoman of the California Fair Political Practices Commission, said an official cannot accept more than $440 a year in donated services. Campaign money can be used only to defend against alleged violations of the state's campaign finance law.
An official can, however, create a legal defense fund under state law, Ravel said.
Filner, who is 70 and divorced, said Friday he would enter two weeks of "intensive" therapy Aug. 5, defying calls from his own party leaders to resign. The former 10-term congressman is less than eight months into a four-year term as mayor.
Land-use surveyor Michael Pallamary published a newspaper notice Sunday to begin a recall bid, two days after gay rights activist and newspaper publisher Stampp Corbin did so. Pallamary accused Corbin of being a stealth supporter of the mayor and threatened to file a complaint with the San Diego County district attorney's office alleging election law violations.
Pallamary said Corbin would make little effort to collect the more than 100,000 signatures needed to get a recall measure on the ballot, setting it up to fail and preventing another recall drive for six months.
Corbin denied the accusation Tuesday, saying Pallamary or anyone else was welcome to join the recall drive. He said he wouldn't pay anyone to collect signatures -- a common practice in California -- but that anyone could visit his office to sign the petition or pick up blank forms to circulate.
Corbin, who was appointed chairman of a city commission under Filner, declined to say if he voted for Filner or how he would cast his ballot in a recall. He said his motive was to bring swift resolution to the controversy.
"There's nothing going on in the city, in City Hall. Everyone is focused on this scandal. That is not good for this city," he said.
Confusion over whether recall petitions can circulate concurrently isn't the only procedural flaw uncovered since the mayor came under pressure to resign. The city attorney's office says a rule that voters must cast a ballot on a recall to be eligible to pick a replacement should be repealed because a federal judge struck down a nearly identical law during the successful 2003 recall of California Gov. Gray Davis.
Tony Krvaric, chairman of the San Diego County Republican Party, said Friday that he didn't expect big GOP donors or business leaders to make significant donations to a recall.
Thanks for reading CBS NEWS.
Create your free account or log in
for more features.