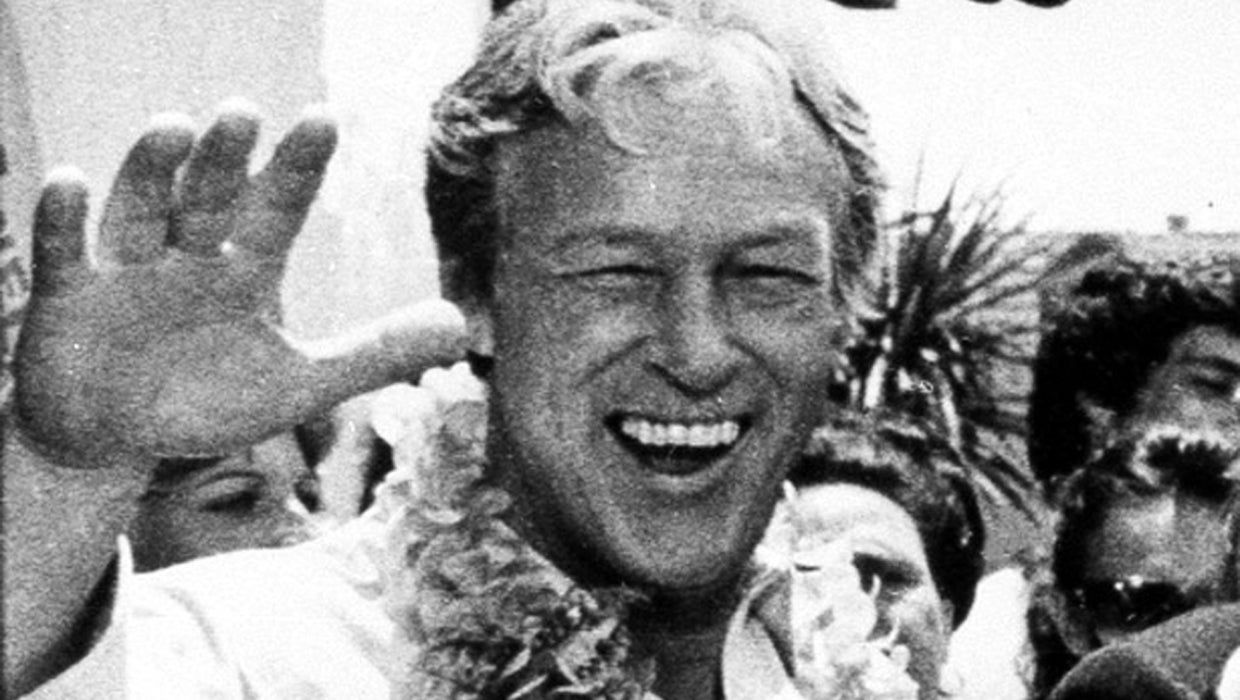 Russell Johnson, "Gilligan" professor, has died
The actor who played "The Professor" on "Gilligan's Island," Russell Johnson, has died.
His agent, Mike Eisenstadt, told CBS News that Johnson died Thursday morning at his home in Washington State of natural causes. He was 89.
Johnson was a busy but little-known character actor, who had made guest appearances on shows like "Alfred Hitchcock Presents" and "The Twilight Zone," when he was cast in the slapstick 1960s comedy about seven people marooned on an uncharted Pacific island.

His character, high school science teacher Roy Hinkley, built generators and other gadgets out of scraps of junk found on the island. Johnson later joked that the one thing The Professor never figured out how to do was to fix the leaky boat so the group could get back to civilization.

During its three-season run on CBS, critics lambasted the show. But after its 1967 cancellation, it found generations of new fans in reruns and reunion movies, including 1978's "Rescue from Gilligan's Island" and 1981's "The Harlem Globetrotters on Gilligan's Island."


Johnson continued to make sporadic guest appearances, including on a 1987 episode of "Newhart" where his character made reference to "Gillian's Island." Johnson also reprised the Hinkley character on a 1988 episode of "Alf." He had more than 150 film and TV credits under his belt by the end of his career.

The actor was part of a family of seven children raised in Ashley, Pa.

He joined the Army Air Corps during World War II and served as a B-24 bombardier on missions over the Pacific war zone, breaking his ankles in 1945 when his plane was shot down over the Philippine island of Mindanao. He was discharged as a first lieutenant in November 1945, having earned a Purple Heart and other medals.

Upon his discharge, Johnson enrolled at the Actors Lab in Hollywood under the GI Bill. Fellow actor Paul Henreid saw him in a play there and landed him a role as a villain in the film "For Men Only." Until "Gilligan's Island," the ruggedly handsome Johnson often played villains.

He married actress Kay Cousins after leaving the Army, and the couple had a son, David, and a daughter, Kim. His wife died in 1980, and his son, a prominent Los Angeles AIDS activist, died of AIDS in 1994.

After remarrying, Johnson and wife Constance Dane moved to Bainbridge Island, Wash., in 1988.

"We didn't intentionally set out to move to an island," the actor, noting the irony, told a reporter in 1993. "We'd lived in Los Angeles for 40 years and just wanted to get away from the heat, the smog and crowds."

From the island he often took a ferry to Seattle to do voice-overs for radio commercials.

It was also on Bainbridge Island that Johnson wrote the memoir "Here on Gilligan's Isle."

Survivors include his wife and daughter.

The only two surviving main cast members of "Gilligan's Island" are now Tina Louise, who played the voluptuous movie star Ginger Grant, and Dawn Wells, who portrayed the girl-next-door-type Mary Ann Summer

On her Facebook account Thursday, Wells shared this post:

Thanks for reading CBS NEWS.
Create your free account or log in
for more features.