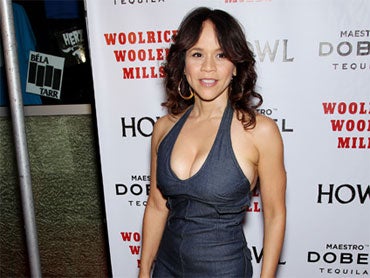 Rosie Perez on the Mend After Stunt Went Wrong
By Melissa Castellanos
When it comes to acting, Rosie Perez is resilient.
After 22 years in the business, she's still going strong - even as she recovers from a serious neck injury that occurred during a guest appearance on "Law & Order: SVU" last year.
While shooting the TV drama, Perez was shaken vigorously by a co-star. Although she was in pain the first time around, Perez filmed another take, not realizing the full extent of her injury. She later had to have spinal fusion surgery and a pelvic bone marrow transplant to help her vertebrae.
"I'm on the mend, it's going slow, but I am getting better. I am listening to my doctors. I started physical therapy finally, but everything is not completely fused yet in my neck, but it's getting there," she told CBSNews.com.
Although it's been two months since the surgery and she still has 10 months to go - that hasn't stopped the feisty, petite and curvy Latina from what she loves to do.
The Academy Award nominee, who's known for her roles in "Fearless," "Do the Right Thing," "White Man Can't Jump," and "Pineapple Express" stars in "Lies in Plain Sight" on Lifetime Movie Network this month. She plays an emotional role of a grieving mother whose daughter commits suicide.
"I was really drawn to the character of the wife because she is very, very complicated...the way I decided to take her on, it comes off as very simple but then you see her complexities as the movie unfolds," Perez explained.
The cast includes Benito Martinez ("The Shield," "Saving Grace"), Chad Michael Murray ("One Tree Hill"), Christoph Sanders ("Ghost Whisperer"), Martha Higareda ("Street Kings") and Yul Vásquez ("The A-Team").
The native New Yorker wears many hats as a dancer, choreographer, director and Broadway star - not to mention community activist.
When she was appointed to the Presidential Advisory Council for HIV/AIDs, the sassy actress didn't let her neck injury get in the way of her trip to the White House.
"I had just had surgery and it wasn't wise for me to travel, but I just couldn't miss that opportunity. He (President Barack Obama) was wonderful and was joking around, saying 'What the heck happened to you? Don't you know they have professionals to do that?' He was great; he is really a great person," she said.
What's on the horizon for Perez as she heals?
A live theater aficionado, Perez looks forward to being on stage again someday.
"I love people and that connection - I know it sounds very trite, but it is true, it's just undeniable. And the challenge of being able to stand on stage for two hours and deliver a performance, I really like that. But I also really love being behind the camera and I hope to develop that part of my career much more as I go down this road of life. I just really, really like it. It's akin to the chorography because I like creating and putting things together."
So will Perez, who choreographed music videos by Janet Jackson, Bobby Brown, Diana Ross and LL Cool J - as well as "In Living Color's" Fly Girls, Jennifer Lopez and Carrie Ann Inaba, be able to dance again?
"Hopefully, yeah if everything fuses well together...you never know," she said. "They say that if I stick to physical therapy and be diligent about it, I could be just fine."
Thanks for reading CBS NEWS.
Create your free account or log in
for more features.