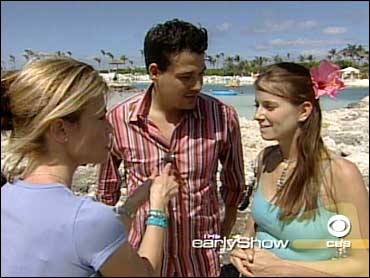 Rob And Amber's Prime-Time Wedding
For a little pre-wedding planning, correspondent Tracy Smith met up with Rob Mariano and Amber Brkich in the Bahamas. And in typical Rob Mariano style, he promised Smith that this is going to make the Trump wedding look understated! The following is Smith's behind-the-scenes look.
---
"I'm a kid from Boston," Rob says, "She's a kid from Pennsylvania. We got together on a show; they're throwing a boatload of money at us and saying, 'Make the wedding of your most wildest dreams.'"

So to do that, they chose the Bahamas and a place called Atlantis Paradise Island.

Atlantis is a sprawling 45-acre resort. Picture Disneyland with sand, where the fake beach is often more popular than the real beach. It's the perfect wedding spot for a couple who met and feel in love on reality TV.

When Rob popped the question on the live finale of "Survivor: All-Stars," they became the couple America loved to love.

Then came "The Amazing Race," where some found them not quite so lovable after all.

Still, when I joined them in Atlantis Paradise Island, two weeks before the wedding, their love for each other was obvious.

Asked if she has had any cold feet, Amber says, "I'll admit the fact that we've had our times when we've had it out, and stressed on each other, but that's why we're there for each other."

To ease some pre-wedding stress, they enlisted Colin Cowie, party planner to the stars. On the day of the interview, he was helping them pick food and table settings.

What is the toughest part about this decision?

"Getting everybody to agree about the same thing," Cowie says laughing, "We're all getting married together. There's three of us with a point of view."

And some more persuasive than others, check out Rob give "The Godfather" treatment to the poor chef.

"The one thing that I'm in charge of in this wedding is the food. So it needs to be good," Rob tells him. "Me and you, we're gonna be me and you. But you have to do me right."

There were endless servings of appetizers, and perhaps a few too many cocktails. For the entree, they chose a seafood platter served family style - in keeping with Rob's Italian roots.

And for dessert, Rob tells me it was his idea to have tiramisu.

"Tiramisu in the form of a wedding cake," he says, "Tiramisu is my favorite."

The theme of the wedding is "beach chic," though Rob's friends had a different interpretation.

Rob explains, "They said who's the beach chick coming?"

Once they decided on the food, we had to talk fashion.

"I have an idea what he's wearing," Amber says, "I have not seen it, and I will not see it until that day, just like he has no idea what I'm wearing. He has no idea what it looks like."

But after I covered Rob's ears, Amber whispered in my ear, "It has the vintage and beachy feel to it."

There'll be about 300 guests, eight bridesmaids and 12 groomsmen.

Amber will walk along the beach barefoot of course because everybody in the wedding has to be barefoot, and with the water behind them, Rob and Amber will take their vows.

And of course, the TV cameras will be in front. But Rob and Amber wouldn't have it any other way.

Amber says, "If we do do this televised, we get to share it with the world. And the fact that America got to fall in love with us while we fell in love, on TV, we almost feel like they should get to see us uniting and becoming husband and wife."

Rob adds, "Not to mention the fact that, like, she's gonna get a more unbelievable wedding than she coulda ever dreamed of."

A few more hints on what to expect Tuesday night: a choir, fireworks and they're going to give each other a special gift.

Be sure to tune in to "Rob And Amber Get Married" at 9 p.m. on CBS. The game-playing may be over but Rob and Amber still feel like winners.

Thanks for reading CBS NEWS.
Create your free account or log in
for more features.