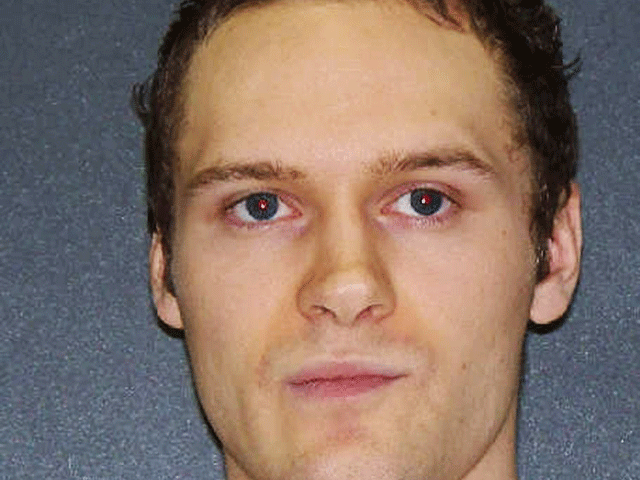 Richard Cobb executed for 2002 Texas store abduction slaying
(CBS/AP) HUNTSVILLE, Texas - Texas inmate Richard Cobb was executed Thursday evening for fatally shooting one of three people he and a partner abducted during a convenience store robbery nearly 11 years ago.
Cobb, 29, didn't deny using a 20-gauge shotgun to kill 37-year-old Kenneth Vandever in an East Texas field in 2002 where two women also were shot and one was raped. Cobb was convicted of capital murder.
"Life is death, death is life. I hope that someday this absurdity that humanity has come to will come to an end," Cobb said when asked if he had any last words. "Life is too short. I hope anyone that has negative energy towards me will resolve that.
"Life is too short to harbor feelings of hatred and anger. That's it, warden."
But that wasn't it.
Just before the lethal drug took effect and at the conclusion of his statement, Cobb twisted his head back, raised it off a pillow placed on the gurney and then toward the warden standing behind him.
"Wow!" the inmate exclaimed in a loud voice. "That is great. That is awesome! Thank you, warden! Thank you (expletive) warden!"
His head fell back on the pillow, and his neck twisted at an odd angle, with his mouth and eyes open.
He remained that way for some 15 minutes before a physician entered the death chamber to examine him and pronounce him dead at 6:27 p.m. CDT. Sixteen minutes had passed since the drug had been injected.
The father, stepmother and stepbrother of the man Cobb killed were among the witnesses at the execution. Also in the viewing area was Nikki Daniels, one of the women who was shot during the 2002 attack but survived to testify against Cobb.
Daniels, 29, said, "I thought he was going to be remorseful, I thought he was going to be apologetic, was hoping that he was going to address me.
"I saw the same evil person I saw 11 years ago... He definitely showed his true colors."
The Associated Press generally does not name victims of sexual assault but Daniels agreed to be identified.
Daniels said Cobb's punishment in the end "was far too easy."
About two hours before the lethal injection, the U.S. Supreme Court cleared the way for Cobb to be executed, rejecting a last-day appeal. It was Texas' fourth execution this year.
Thanks for reading CBS NEWS.
Create your free account or log in
for more features.