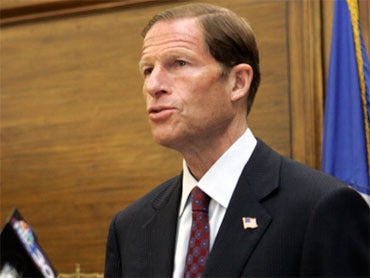 Richard Blumenthal Apologizes for Exaggerating Military Service
Connecticut Attorney General Richard Blumenthal, a Democratic candidate for the Senate, has apologized for exaggerating his history of military service.
"At times when I have sought to honor veterans, I have not been as clear or precise as I should have been about my service in the Marine Corps Reserves,'' Blumenthal said in a statement e-mailed to the Hartford Courant late Sunday. "I have firmly and clearly expressed regret and taken responsibility for my words."
"I have made mistakes and I am sorry. I truly regret offending anyone,'' Blumenthal added. "I will always champion the cause of Connecticut's and our nation's veterans."
Blumenthal has been under scrutiny for the past week, since the news broke that in multiple instances he misleadingly suggested he served on the battlefield during the Vietnam War. While Blumenthal served six years in the Marine Corps Reserves, he received at least five deferments to keep him out of Vietnam.
Soon after the New York Times reported on Blumenthal's misleading statements, the well-liked politician appeared with a group of veterans to respond to the controversy. He said he regretted misspeaking, but he did not apologize.
Blumenthal sent an apology to the Courant after the newspaper asked his campaign on Sunday afternoon if one would be forthcoming. Along with the Courant, some veterans groups and other Connecticut politicians had urged Blumenthal to apologize.
Blumenthal accepted the Democratic nomination for the Senate on Friday. He is likely to face off against either Republican Linda McMahon, the former World Wrestling Entertainment CEO, or former Rep. Rob Simmons in the general election. The seat is currently held by Democratic Sen. Chris Dodd, who is retiring.
Tim Kaine, chairman of the Democratic National Committee, said on ABC's "This Week" on Sunday that Blumenthal's statements "were wrong, and it was very important for him to acknowledge that and clear that up."
Sen. John Cornyn of Texas, chairman of the National Republican Senatorial Committee, said Sunday on NBC's "Meet the Press" that "Mr. Blumenthal has damaged his reputation as somebody you could trust by misrepresenting his record."
Thanks for reading CBS NEWS.
Create your free account or log in
for more features.