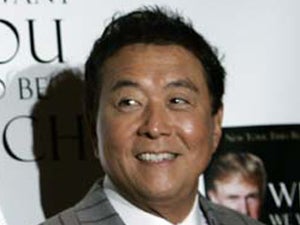 Rich Dad, Poor Dad's bankrupt company
(MoneyWatch) Robert Kiyosaki, author of the bestselling Rich Dad, Poor Dad series of financial advice books, took one of his companies into bankruptcy according to multiple news reports. The New York Post reported that Rich Global LLC, one of the corporate arms Kiyosaki has done business under, filed for bankruptcy protection in August. A court had ordered the company to pay just under $24 million to the Learning Annex and its chairman Bill Zanker.
According to AZCentral.com, the Rich Global-Learning Annex relationship dated to 2001, when Kiyosaki became a featured speaker at Learning Annex expositions. Four years later, the companies agreed to "develop and conduct the free seminar business with follow up fee-based courses," according to court papers. That relationship generated sales of $438 million, of which Rich Global got nearly $45 million in royalties, court documents said, but the court agreed with Learning Annex that Rich Global had not paid the required percentage of profits.

Rich Dad Education
Bank on Yourself promises don't add
Annuities and the hundred thousand dollar challenge
I wrote about my own experience at a Rich Dad, Poor Dad seminar back in 2010. It was a free seminar designed to sell me an expensive seminar.
Then came the real sale -- a three day training course on real estate investing. But, to attend, we would have to do a homework assignment. I would have to write down the amount of monthly money I would like to have from passive income. That's it? I only have to say what I want to make? Well, watch out Bill Gates, because the monthly amount has lots of zeros, and this $495 training class was going to teach me how to get there, working only three hours a week.
Had I forked over the $495 and attended the seminar, what would I have learned? Thanks to a hidden camera by a Canadian investigative news show, Marketplace, we can all see that it likely was largely a sales presentation for more advanced courses that cost up to $45,000.
Forbes reported that no one has ever documented any vast reserves of wealth earned by Kiyosaki prior to the publication of Rich Dad, Poor Dad in 1997. And a story in the late SmartMoney magazine reported that Kiyosaki did not actually have a rich dad and a poor dad as he claims in the books, but that the fathers were "composites."
Thanks for reading CBS NEWS.
Create your free account or log in
for more features.