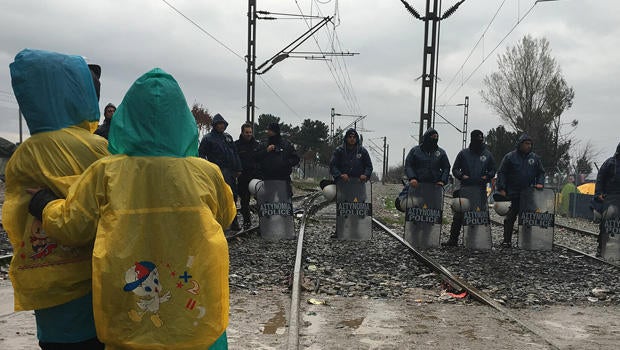 Review: Ai Weiwei's "Human Flow," on the plight of refugees
"The more immune you are to people's suffering, that's very, very dangerous."
The cold, hard facts can be staggering: Last year, almost 66 million people were forced -- by war, natural disaster, famine, economic plight, or persecution -- to leave their homes and seek shelter elsewhere. The waves of refugees that washed up on Europe's shore from the Middle East and Africa alone became a political crisis that stirred nativist reactions across the continent, and inspired similar anti-immigrant feelings elsewhere.
A new documentary, "Human Flow," directed by the Chinese artist Ai Weiwei, explores the political and personal cruelties imparted upon refugees -- stateless persons who find themselves at the mercy of border guards, humanitarian organizations, and the Fates, as to whether they might survive.
Ai can attest to the depersonalization that comes from living in exile; as a child his own family was persecuted by the Communist government in China. As a dissident artist and filmmaker he has been jailed in his home country, and has since relocated to Germany -- a nation that has experienced a massive influx of refugees in recent years.
For this film, Ai traveled to 23 countries to witness mass migrations of people fleeing war in Syria, Iraq, the Middle East and Afghanistan, famine in Africa, religious persecution in Southeast Asia, and violence in Central America. There are also those who are trapped -- within virtual prisons (such as the inhabitants of Gaza) or in border areas (where men, women and children are blocked by police with tear gas and clubs).
Ai's cameras capture smugglers transiting their human cargo, or border officials processing arrivals with bureaucratic, mind-numbing precision, the migrants glittering in mylar blankets like hundreds of marathon athletes. We see the symmetry of thousands of tents at camps for the displaced; and the wretched conditions facing migrants exposed to the elements without shelter, food, water or electricity. And the ruins of war-ravaged cities are made more haunting by their emptiness -- and we know the people who once called these shattered buildings home are now lost.
The film immerses the viewer in the long, hard, soul-crushing journeys that are embarked upon to escape almost certain death, towards something less certain. In wide shots, the teeming lines of migrants marching for miles on foot or fording rivers show desperation and fear, but also hope that beyond the horizon lies salvation.
And in interviews with those fleeing war and with activists trying to give assistance, we see that the global problems causing such migrations are too massive and complex to parse into coherent, logical arguments, beyond the very simple fact that humanity can, and should, do better to help those in need.
Watching the film can be elevating and disorienting; graceful drone footage and formally composed, artistic shots are interspersed with intimate images taken at the level of quiet suffering.
"Art has to be involved with the moral and philosophical and intellectual conversation," Ai said. "If you call yourself an artist, this is your responsibility." And as fellow human beings, it's our responsibility to watch and listen.
"Human Flow" (distributed by Amazon Studios), is now playing in theatres in select cities (click here for tickets and showtimes). 145 mins. The film is not rated.
To watch a trailer for "Human Flow" click on the video player below.
Thanks for reading CBS NEWS.
Create your free account or log in
for more features.