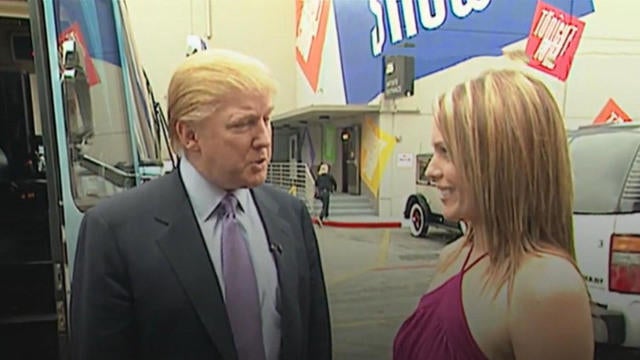 Growing number of Republicans rebuke Trump
\Within hours of the release of a video of Donald Trump making lewd comments about women, Republicans nationwide condemned the remarks and tried to distance themselves from the GOP presidential nominee.
On a 2005 tape released Friday by The Washington Post, Trump told Billy Bush, then of "Access Hollywood," that you can "grab [women] by the p****" and "you can make them do anything." Bush laughs and then asks soap opera star Arianna Zucker to hug Trump.
Trump issued a late-night apology in a Facebook video, saying he would still be at the debate on Sunday.
"I've never said I'm a perfect person," Trump said. "Nor pretended to be someone that I'm not. I've said and done things I regret and the words released today on this more than a decade old video are one of them."
Saturday morning, Trump acknowledged the day of tumult in a tweet, saying it had been an "interesting 24 hours."
But the apology wasn't enough for many top Republicans.
The 2008 Republican candidate for president, John McCain, said he and and his wife, Cindy, withdrew their support from Trump on Saturday evening.
"Donald Trump's behavior this week, concluding with the disclosure of his demeaning comments about women and his boasts about sexual assaults, make it impossible to continue to offer even conditional support for his candidacy," McCain said in a statement. "Cindy, with her strong background in human rights and respect for women, fully agrees with me in this."
Ohio Sen. Rob Portman, who is running for re-election, withdrew his support from Trump as well.
Former Secretary of State Condoleezza Rice wrote on Facebook "Enough! Donald Trump should not be President. He should withdraw."
Utah Sen. Mike Lee listened to the video and made his own Facebook video in response calling on Trump to walk away from his candidacy.
"I respectfully ask you with all due respect, to step aside. Step down," Lee said in his video. Mentioning the women in his own family, Lee said that if anyone had spoken to them the way Trump has spoken to women, "I wouldn't hire that person, wouldn't want to be associated with that person," and he added, "I certainly don't think I would feel comfortable hiring that person to be the leader of the free world."
Trump's running mate, Mike Pence, issued a statement Saturday condemning Trump's remarks but standing by his candidacy:
"As a husband and father, I was offended by the words and actions described by Donald Trump in the eleven-year-old video released yesterday. I do not condone his remarks and cannot defend them. I am grateful that he has expressed remorse and apologized to the American people. We pray for his family and look forward to the opportunity he has to show what is in his heart when he goes before the nation tomorrow night."
Campaigning in Ohio Friday evening, Pence ignored multiple questions from reporters about Trump and the tape.
The Associated Press quoted a person "familiar with the thinking" of Pence and his wife, however, as saying the vice presidential candidate was "beside himself" when he heard the remarks, and his wife was furious. The person spoke to the AP on the condition of anonymity, because they were not authorized to share the private discussion.
Paul Ryan, the Republican Speaker of the House and one of the most powerful Republicans in Washington, if not the country, was scheduled to campaign with Trump in Wisconsin on Saturday morning. That plan is now off, he made clear in a statement Friday night.
"I am sickened by what I heard today," Ryan's statement read. "Women are to be championed and revered, not objectified. I hope Mr. Trump treats this situation with the seriousness it deserves and works to demonstrate to the country that he has greater respect for women than this clip suggests. In the meantime, he is no longer attending tomorrow's event in Wisconsin."
Ryan appeared solo at the campaign event in Wisconsin on Saturday.
But not all Republicans rejected Trump. McCain's running mate, Sarah Palin, called his comments "disgusting, shameful, totally disrespectful 'locker room' garbage," but she defended it as a "privately shared."
Palin also attacked Clinton's "eaked conversations told us all we needed to know about her respect for a woman's life."
Sen. Majority Leader Mitch McConnell, who has been critical of Trump in spite of his support for him, denounced the GOP nominee's comments and said he needed to apologize.
"These comments are repugnant, and unacceptable in any circumstance," McConnell said in a late-night statement Friday. "As the father of three daughters, I strongly believe that Trump needs to apologize directly to women and girls everywhere, and take full responsibility for the utter lack of respect for women shown in his comments on that tape."
The highest ranking woman in the House GOP conference weighed in, too.
"I have said before that I would not hesitate to voice my disagreement with Mr. Trump when he says something that I believe should not be part of our political dialogue," Cathy McMorris Rodgers, Chair of the House Republican Conference, told CBS News' Catherine Reynolds. "It is never appropriate to condone unwanted sexual advances or violence against women. Mr. Trump must realize that it has no place in public or private conversations today or in the past."
Utah Rep. Jason Chaffetz, who first endorsed Rubio in the primaries and then later endorsed Trump, retracted the Trump endorsement on Fox 13. "I'm out. I can no longer in good conscience endorse this person for president. It is some of the most abhorrent and offensive comments that you can possibly imagine," Chaffetz said.
After Trump issued his video statement, Chaffetz said on MSNBC, "I hope he's sincere. I really do. But I just -- having read and seen and heard what Mr. Trump said, albeit ten-plus years ago, I just - I can't endorse that person. I just can't do it."
Republican National Committee chairman Reince Priebus said "no woman should ever be described in these terms or talked about in this manner. Ever."
Pratik Chougule, who worked briefly as Trump's presidential campaign coordinator, denounced his former boss Saturday in a post on his LinkedIn account, saying he regretted ever working for the Republican nominee, wished he had quit the role sooner, and "under no circumstances" would he support Trump for the presidency.
Chougule called Trump a "candidate who embodies the worst excesses of our culture."
Jeb Bush, who lost to Trump in the 2016 primaries, tweeted that Trump's comments were "reprehensible." Jeb Bush is a cousin of Billy Bush (Billy and Jeb Bush have the same grandfather, Prescott Bush).
Ted Cruz tweeted that there is "simply no excuse" for Trump's comments.
Trump's other challenger in the Republican primaries, Marco Rubio, called the comments "vulgar, egregious & impossible to justify."
Mitt Romney, the 2012 Republican party nominee who has already refused to back Trump, tweeted a strong condemnation of Trump's remarks.
Jon Huntsman, former Utah governor and a 2012 Republican candidate for president, called on Trump to step down and give the nomination to Mike Pence, the party's vice-presidential nominee.
"In a campaign cycle that has been nothing but a race to the bottom — at such a critical moment for our nation — and with so many who have tried to be respectful of a record primary vote, the time has come for Governor Pence to lead the ticket," Huntsman told The Salt Lake Tribune.
Illionis Sen. Mark Kirk also called for Trump to drop out.
Republican Sen. Kelly Ayotte told the Associated Press that Donald Trump's lewd comments about women are "totally inappropriate and offensive."
Ayotte, who is locked in a close re-election race against New Hampshire Gov. Maggie Hassan, has walked a fine line in responding to the Republican presidential nominee. Ayotte has repeatedly said she will support him but not endorse him.
She stumbled earlier this week when she told a debate audience that Trump "absolutely" was a role model for children before hastily issuing a statement saying she misspoke, and neither Trump nor Hillary Clinton is a role model.
Republican Sen. Pat Toomey, who represents the battleground state of Pennsylvania, called the comments "outrageous and unacceptable."
In a statement released by NBC News, Billy Bush said he was very sorry and that he "acted foolishly in playing along."
Thanks for reading CBS NEWS.
Create your free account or log in
for more features.