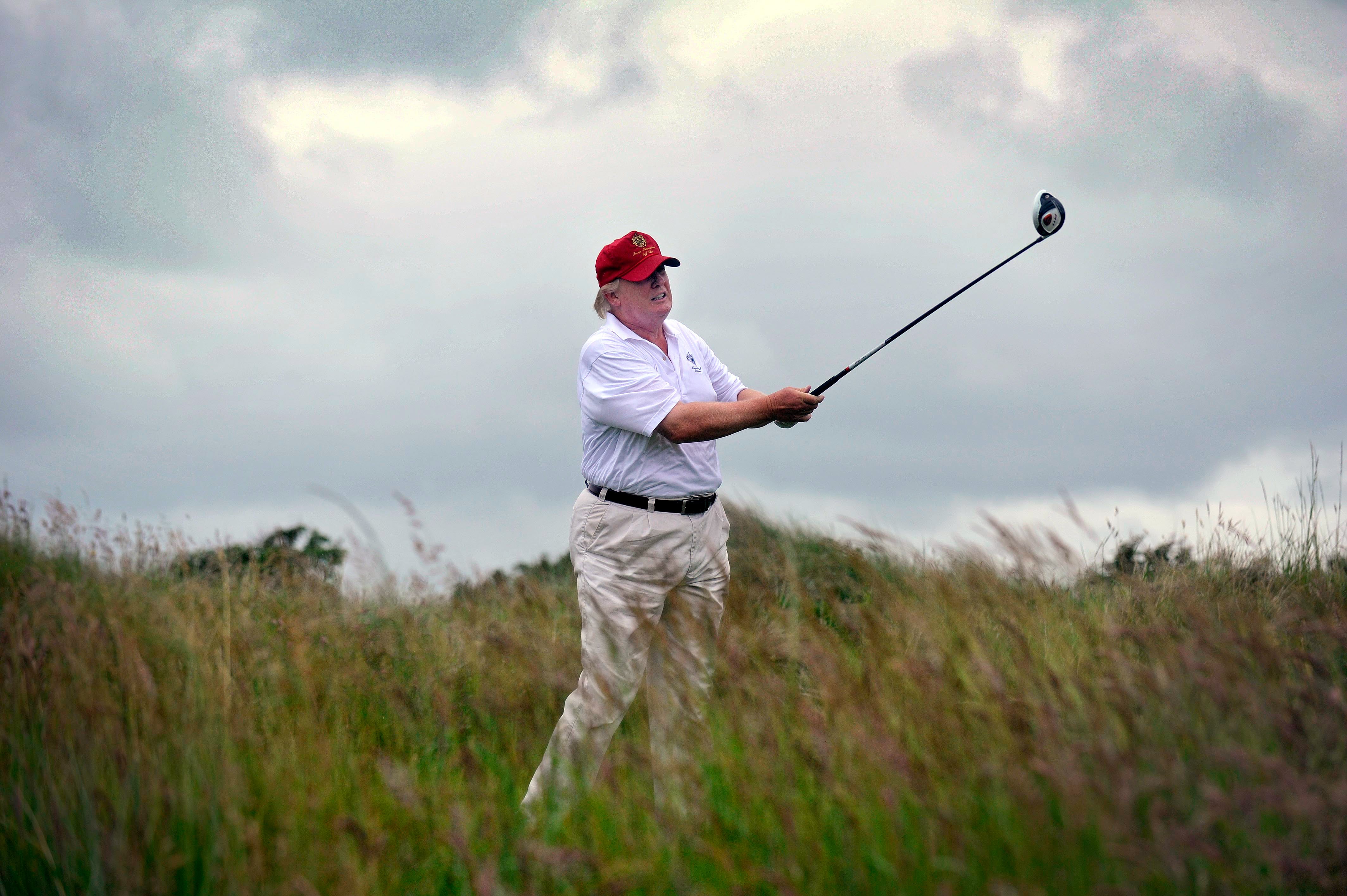 Reporters scour Instagram to keep up on Trump weekend outings
President Trump's White House has kept reporters at arm's length more than any presidential administration in recent memory.
So for reporters covering the summer and winter White Houses in Mar-A-Lago and Bedminster, where Trump's daily activities are largely kept secret from the press, stalking Instagram has become the one of the best windows into Mr. Trump's mysterious weekend life – and his golf habits.
The technique was deployed once again this weekend, when the White House Press corps was told that Mr. Trump was "having meetings and taking calls" on Saturday at the Trump National Golf Course in Bedminster, New Jersey.
But an afternoon Instagram post from inside the club, posted by an account named "40primrose," provided a more well rounded story.
The Instagram user posted a photo on his public account on Saturday of the president, wearing a white golf shirt and black slacks, walking on a putting green holding a 4 or 5 iron. The post was geo-tagged to his Bedminster golf course.
"Seis de Mayo w POTUS," the caption read, which in English translates to "the 6th of May" with the President.
At 5:37 p.m., Los Angeles Times reporter Mike Memoli tweeted a screenshot of the Instagram post. It was quickly circulated among White House reporters who were exiled six miles away from the golf club in Branchburg, New Jersey - a lone tidbit of information trickling out of Trump's weekend.
But shortly thereafter, the photo and account were deleted - again leaving the public in the dark about the president's whereabouts. The White House did not confirm the content of the image.
So reporters have resorted to scouring Instagram's useful location-based search feature, hunting for signs of what the president is up to.
Mr. Trump has now spent eight weekends at Trump-owned properties in Florida, and now New Jersey, since taking office in the White House, at considerable taxpayer expense. He's spent the other eight weekends at the White House, where he's also found time to golf at his course in Potomac Falls, Virginia.
He's made 18 golf outings as President, most of which the White House has refused to confirm or comment on. Just once the President confirmed a golf outing himself, tweeting in February about an outing with Japanese Prime Minister Shinzo Abe and professional golfer Ernie Els in West Palm Beach.
Many of these golf trips have been discovered on Instagram, through photos posted by club members, supporters and passers-by who have encountered Trump on the links.
At the end of March, after photos surfaced on Instagram and Twitter of Mr. Trump sporting a golf glove at Trump International Golf in West Palm Beach, a White House spokesperson conceded that the President "may have hit a few balls today," but would not confirm if he had played.
In late March, Instagram user Anthony Bartolomei posted a story showing the President on his Virginia golf course. Mr. Trump is seen walking through the clubhouse in golf cleats and another photo is of his golf cart from across the green. The White House would not confirm that Mr. Trump had golfed, saying that they had told reporters all they knew -- "that he had meetings."
White House press secretary Sean Spicer defended Mr. Trump's trips to golf clubs last month.
"Just because you go somewhere doesn't mean you did it," Spicer said in a briefing. Staff's at times elaborate efforts to keep Mr. Trump' golf game a secret, however, has been foiled time and time again because of social media.
Instagram has also provided a window into other aspects of the exclusive Trump golf clubs, a seemingly popular place for members to host lavish weddings.
After Mr. Trump held a joint press conference in February to address North Korea's ballistic missile test with Japanese Prime Minister Abe during his visit, the President stopped by Vanessa Falk and Carl Linder's wedding and posed for pictures.
Instagram user 'JohnClayReed' posted a photo of Mr. Trump with the bride and bridal party, clad in fuscia dresses, flashing thumbs ups.
"Making weddings great again!! Vanessa & Carl Lindner IV," the caption read.
Another Instagram account, that of Bedminister horticulturist Leirion Sorensen, gives viewers a look at the lush backyard of Mr. Trump's New Jersey club. She recently posted pictures of an edible garden in bloom on the grounds.
This past Sunday, the White House press corps received no information on the President's activities aside from his departure time from New Jersey.
But a food blogger posted pictures of items Mr. Trump could potentially be eating during his stay, showing various entrees from the club's restaurant: a tuna tartare over guacamole, fig jam, goat cheese and prosciutto flatbread, and a chicken harissa soup.
Thanks for reading CBS NEWS.
Create your free account or log in
for more features.