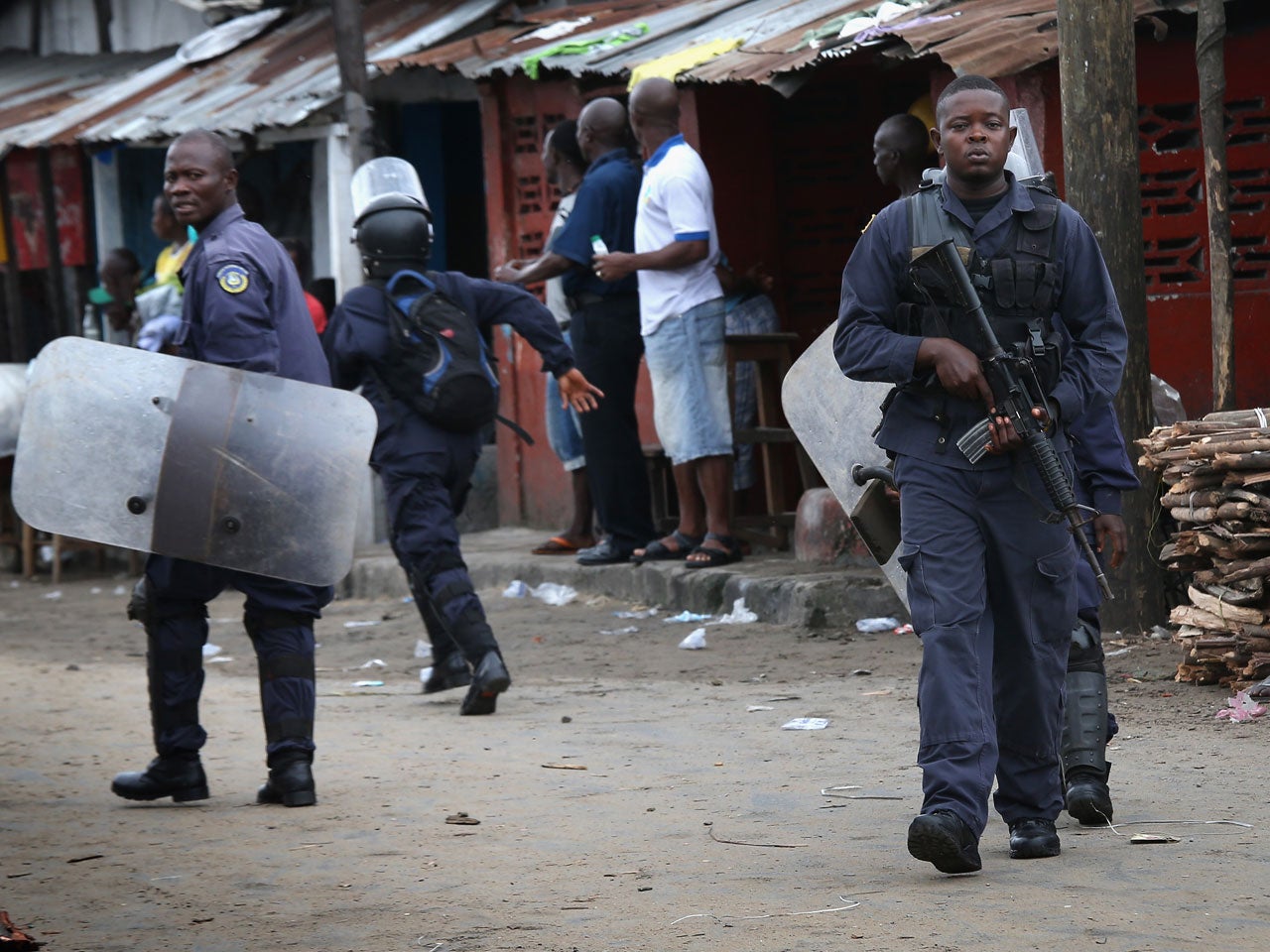 Report: Armed men attack Liberia Ebola clinic, freeing patients
MONROVIA, Liberia - Liberian officials fear Ebola could soon spread through the capital's largest slum after residents raided a quarantine center for suspected patients and took items including bloody sheets and mattresses.
The violence in the West Point slum occurred late Saturday and was led by residents angry that patients were brought to the holding center from other parts of Monrovia, Tolbert Nyenswah, assistant health minister, said Sunday.
Local witnesses told Agence France Presse that there were armed men among the group that attacked the clinic.
"They broke down the doors and looted the place. The patients all fled," said Rebecca Wesseh, who witnessed the attack and whose report was confirmed by residents and the head of Health Workers Association of Liberian, George Williams.
Up to 30 patients were staying at the center and many of them fled at the time of the raid, said Nyenswah. Once they are located they will be transferred to the Ebola center at Monrovia's largest hospital, he said.
The attack comes just one day after a report of a crowd of several hundred local residents, chanting, 'No Ebola in West Point,' drove away a burial team and their police escort that had come to collect the bodies of suspected Ebola victims in the slum in the capital, Reuters reports.
West Point residents went on a "looting spree," stealing items from the clinic that were likely infected, said a senior police official, who insisted on anonymity because he was not authorized to brief the press. The residents took medical equipment and mattresses and sheets that had bloodstains, he said. Ebola is spread through bodily fluids including blood, vomit, feces and sweat.
"All between the houses you could see people fleeing with items looted from the patients," the official said, adding that he now feared "the whole of West Point will be infected."
Some of the looted items were visibly stained with blood, vomit and excrement, said Richard Kieh, who lives in the area.
The incident creates a new challenge for Liberian health officials who were already struggling to contain the outbreak.
Liberian police restored order to the West Point neighborhood Sunday. Sitting on land between the Montserrado River and the Atlantic Ocean, West Point is home to at least 50,000 people, according to a 2012 survey.
Distrust of government runs high in West Point, with rumors regularly circulating that the government plans to clear the slum out entirely.
Though there had been talk of putting West Point under quarantine should Ebola break out there, assistant health minister Nyenswah said Sunday no such step has been taken. "West Point is not yet quarantined as being reported," he said.
While the armed attack is likely the most brazen attack on health workers trying to contain the deadly outbreak, it is far from the first in the region worst-hit by it.
There have been numerous reports of locals attacking those trying to stop the disease by throwing stones at aid workers, blocking aid convoys and forcibly removing patients from clinics. Many locals blame foreigners for bringing the disease, saying it had never been there before they arrived.
The mistrust of central government and help from outside runs deep in this part of West Africa. All three countries worst-hit by the outbreak -- Liberia, Sierra Leone, and Guinea -- are relatively fresh off decades of either brutal civil war or iron-fisted dictatorships.
The Ebola outbreak that has killed more than 1,100 people in West Africa could last another six months, the Doctors Without Borders charity group said Friday. One aid worker acknowledged that the true death toll is still unknown.
New figures released by the World Health Organization showed that Liberia has recorded more Ebola deaths - 413 - than any of the other affected countries.
Tarnue Karbbar, who works for the aid group Plan International in northern Liberia, said response teams simply aren't able to document all the erupting Ebola cases. Many of the sick are still being hidden at home by their relatives, who are too fearful of going to an Ebola treatment center.
Others are being buried before the teams can get to remote areas, he said. In the last several days, about 75 cases have emerged in Voinjama, a single Liberian district.
"Our challenge now is to quarantine the area (in Voinjama) to successfully break the transmission," he said.
There is no cure or licensed treatment for Ebola and patients often die gruesome deaths with external bleeding from their mouths, eyes or ears. The killer virus is transmitted through bodily fluids like blood, sweat, urine and diarrhea. A handful of people have received an experimental drug whose effectiveness is unknown.
Liberia's assistant health minister, Tolbert Nyenswah, said three people in Liberia were receiving the ZMapp on Friday. Previously, only two Americans and a Spaniard had gotten it. The Americans are improving, but it is not known what role ZMapp played. The Spaniard died.
The American doctor infected with Ebola while working in Liberia said Friday he is "recovering in every way" and holding onto the hope of a reunion with his family.
Dr. Kent Brantly remained hospitalized Friday at Emory University Hospital in Atlanta. His comments came in a statement issued through the Christian aid group Samaritan's Purse.
The World Health Organization has approved the use of such untested drugs but their supply is extremely limited.
The U.N. health agency has said the focus on containing the outbreak should be on practicing good hygiene and quickly identifying the sick and isolating them. That task is made harder, however, by the shortage of treatment facilities.
Beds in such centers are filling up faster than they can be provided, evidence that the outbreak in West Africa is far more severe than the numbers show, said Gregory Hartl, a spokesman for World Health Organization in Geneva.
There are 40 beds at one treatment center that Doctors Without Borders recently took over in one quarantined county in Liberia. But 137 people have flocked there, packing the hallways until they can be sorted into those who are infected and those are not, said Joanne Liu, the group's international president.
Nyenswah described a similar situation in a treatment center in Liberia's capital of Monrovia: In one ward meant to accommodate up to 25 people, 80 are now crowded in. Another treatment center with 120 beds is expected to open Saturday outside Monrovia.
"It's absolutely dangerous," said Liu, who recently returned from Guinea, Liberia and Sierra Leone. "With the massive influx of patients that we had over the last few days, we're not able to keep zones of patients anymore. Everybody is mixed."
Liu likened the situation to a state of war because the "frontline" was always moving and unpredictable. She said the outbreak could last six more months.
The death toll is now 1,145 people in four countries across West Africa, according to figures released Friday by the World Health Organization. At least 2,127 cases have been reported in Liberia, Sierra Leone, Guinea and Nigeria, WHO said.
Sierra Leone's president, Ernest Bai Koroma, told journalists Friday that the country has lost two doctors and 32 nurses to Ebola.
"We need specialized clinicians and expertise and that is why we are appealing to the international community for an enhanced response to our fight" against Ebola, he said.
The Ebola crisis is also disrupting food supplies and transportation. Some 1 million people in isolated areas could need food assistance in the coming months, according to the U.N. World Food Program, which is preparing a regional emergency operation.
Amid a growing number of airline cancellations, the U.N. will start flights for humanitarian workers on Saturday to ensure that aid operations aren't interrupted. In the coming weeks, they will also ferry staff to remote areas by helicopter.
Thanks for reading CBS NEWS.
Create your free account or log in
for more features.