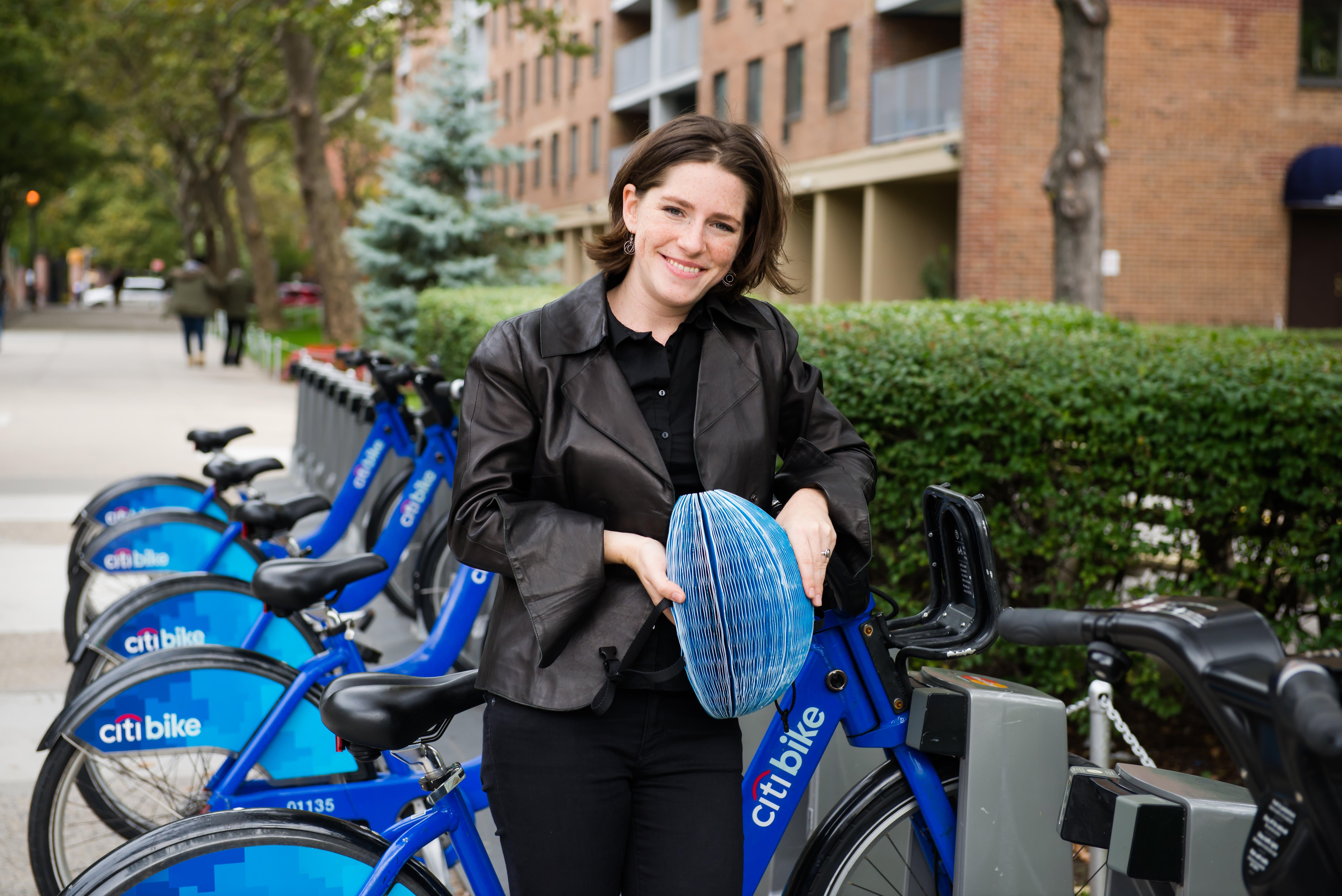 Recyclable paper bike helmet wins prestigious James Dyson Award
Recyclable paper helmets just might be the future headgear of choice for bikers. While it might not yet be the norm, the foldable paper EcoHelmet got an international seal of approval by winning this year's prestigious James Dyson Award for design and innovation.
Its creator, Isis Shiffer, is a recent grad from the Pratt Institute of Design in New York City. She developed the helmet to address the very dangerous safety problem of bikers who don't wear helmets. More than 800 cyclists were killed in bike accidents on U.S. roads in 2015, according to the Bicycle Helmet Safety Institute, and the CDC says nearly half a million end up in the emergency room with serious injuries.
Given that many people don't want to carry around bulky bike helmets — especially those who use popular bike share programs in cities around the world — Shiffer devised an easy-to-carry foldable paper helmet.
She designed the EcoHelmet to have a "honeycomb" design that would protect the wearer's head from impact in case of an accident. Each "cell" within the honeycomb helps protects the wearer from all sides. Its structure "distributes impact evenly around the head as effectively as a traditional polystyrene helmet," according to the James Dyson Foundation, which sponsors the awards.
The helmet is also very durable; despite being made of paper, it has a biodegradable coating that makes it rain-resistant for up to three hours.
"EcoHelmet solves an obvious problem in an incredibly elegant way. But its simplicity belies an impressive amount of research and development," British inventor James Dyson, the award's namesake, said in a press release. "I look forward to seeing EcoHelmets used in bike shares across the world."
Shiffer said it helped that she had an actual crash lab at her disposal while she was developing her winning design.
"I was lucky enough to be studying at Royal College of Art and the Imperial College of London for a semester, and was granted access to Imperial's crash lab," Shiffer said. "They had a European standard helmet crash setup that allowed me to gather enough data on Ecohelmet's proprietary honeycomb configuration to know it was viable and worth developing."
The James Dyson Award is mean to inspire the next generation of up-and-coming design engineers. Run by the James Dyson Foundation, the award program is open to current and recent design engineering students.
With the award, Shiffer is well on her way. She will won a $45,000 grant to continue developing her helmet.
Thanks for reading CBS NEWS.
Create your free account or log in
for more features.