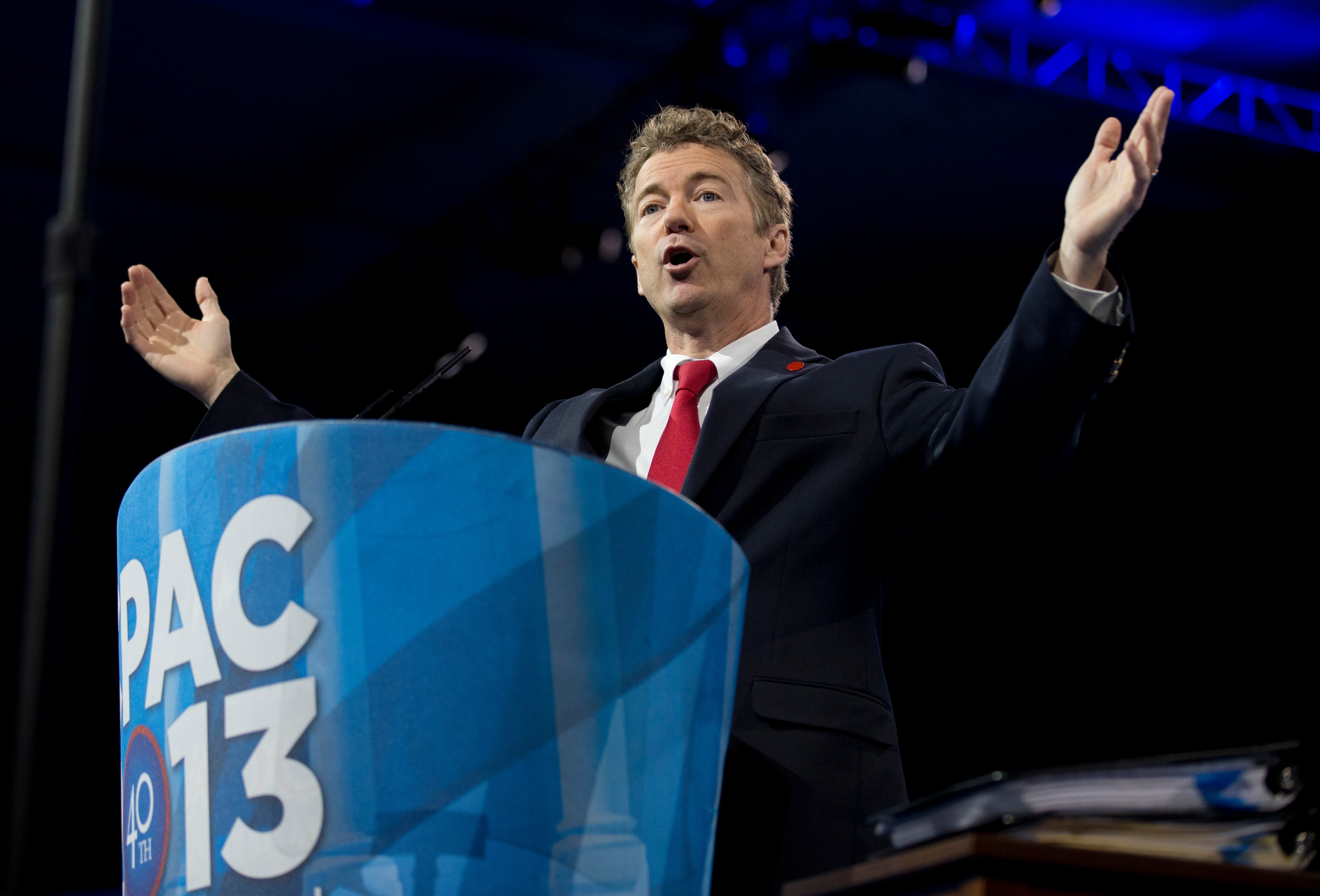 Rand Paul wins CPAC straw poll
Sen. Rand Paul, R-Ky., rode a wave of conservative acclamation to claim victory in the straw poll at this year's Conservative Political Action Conference, winning 25 percent of the votes cast and joining a roster of past winners that includes two former presidents and several former presidential candidates.
Nippping at Paul's heels, in second place, was Sen. Marco Rubio, R-Fla., who also earned 25 percent of the vote. Coming in third was former Sen. Rick Santorum, R-Penn., with 8 percent, and rounding out the top four was Gov. Chris Christie, R-N.J., who won 7 percent of ballots cast.
Paul, whose father, former Texas Rep. Ron Paul, has twice won the poll in years past, has emerged as a bonafide conservative star in his own right after his epic, 13-hour filibuster earlier this month, which he staged to object to the Obama administration's policy on targeted drone strikes.
To claim victory, Paul bested a parade of high-profile Republican names, including Rubio, Sen. Ted Cruz, R-Texas, Sen. Tim Scott, R-S.C., and Sen. Kelly Ayotte, R-N.H., along with Christie, Gov. Bob McDonnell, R-Va., Gov. Bobby Jindal, R-La., Gov. Scott Walker, R-Wis.
Rep. Paul Ryan, R-Wis., last year's Republican vice-presidential nominee, and former Alaska Gov. Sarah Palin, the 2008 Republican vice-presidential nominee, were also included, along with several also-rans from past presidential cycles, including Gov. Rick Perry, R-Texas., and Gov. Sam Brownback, R-Kan., who is also a former senator.
The CPAC straw poll is considered an important but informal gauge of the enthusiasm of the conservative base - a rough verdict from the right wing on a variety of rising stars in the Republican Party. The winner of the straw poll has frequently, but not always, gone on to bigger and better things.
In 2012, during the heat of a contested Republican presidential primary, eventual nominee Mitt Romney won the straw poll with 38 percent of the vote. Romney also claimed victory in 2009 and 2008.
The 2010 and 2011 straw polls went to Ron Paul, a libertarian iconoclast and former presidential candidate whose CPAC fans were able to successfully push him over the top.
Christie and McDonnell were not invited to address the conservative confab this year but were included on the list nonetheless. Former Gov. Jeb Bush, R-Fla., addressed CPAC on Friday evening but opted out of being included in the straw poll.
Just under 3,000 participants - 2,930 - cast ballots in the straw poll. This year, after complaints about the unscientific nature of past surveys, CPAC ran a national poll alongside the straw poll. The top three finishers were identical in both surveys.
Thanks for reading CBS NEWS.
Create your free account or log in
for more features.