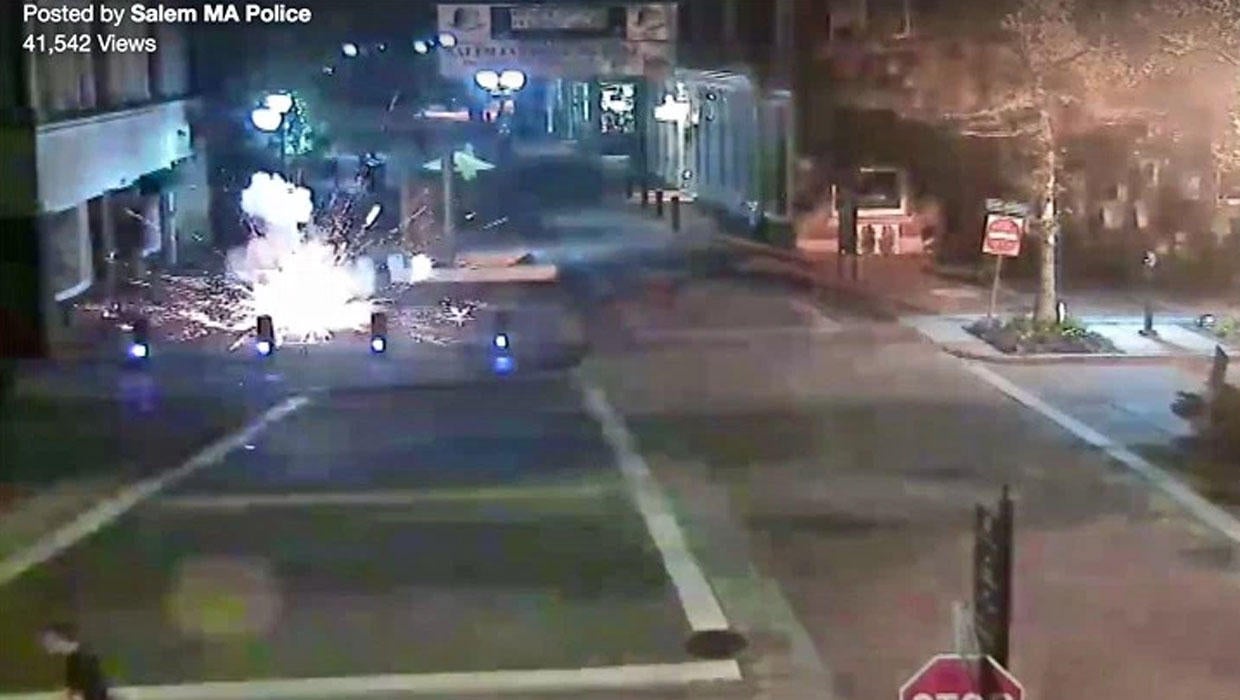 Suspects seen on video planting explosive device in LGBT newspaper box
SALEM, Mass. -- Police in Salem are investigating the detonation of an explosive placed inside a news box for an LGBT newspaper as a hate crime. Investigators are looking for seven suspects seen on surveillance video placing the device in the box and then running away before a large explosion, reports CBS Boston.
The explosion of the Rainbow Times box along the Essex Street mall was reported early Tuesday. Police say it "rocked" the downtown area in the coastal town north of Boston and was heard up to a mile away.
Capt. Conrad Prosniewski says police believe the box was specifically targeted. It reportedly has been vandalized nearly 10 times in the past.
"There are clearly other newspaper stands around it and they're not being touched, so this is a particular, targeted hate crime," Salem Police Chief Mary Butler said.
The Rainbow Times is marketed to the lesbian, gay, bisexual and transgender community. It's reportedly the largest LGBT newspaper in New England. Publisher Gricel Ocasio says despite the past incidents with the box, the newspaper didn't expect the situation to escalate this far.
"When I saw the video, there are no words to express how I felt," Ocasio told CBS Boston. "It was a combination of sadness, anger."
In a statement online, the paper called the incident "not just an act against The Rainbow Times or the LGBTQ community and its allies, but against the heart of Salem."
The paper wrote they will place new boxes at the location, will continue their work and will "not be censored" as they cooperate with police.
Mayor Kim Driscoll, who is featured on the cover of the August edition, called the incident a "cowardly act."
"Fear and hate may cloud the hearts of those committing this act, but it will never, ever characterize this community," Driscoll said in a statement posted on Facebook.
Thanks for reading CBS NEWS.
Create your free account or log in
for more features.