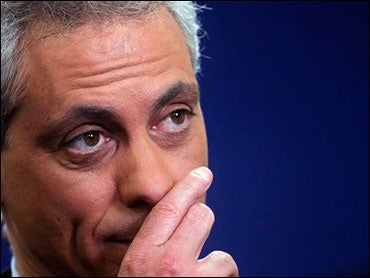 Rahm Emanuel "Begged" Obama Not to Push Health Care
In his new book on President Obama's first year in office, "The Promise," Jonathan Alter includes a quote from the president's chief of staff, Rahm Emanuel, illustrating just how opposed Emanuel was to the president's push for comprehensive health care reform.
"I begged him not to do this," Emanuel told Alter, as detailed by the Washington Post's Greg Sargent, writing off advanced excerpts put out ahead of the book's release Tuesday. (Hotsheet just got its copy of the book and is planning to dig into it this weekend.)

The president overruled Emanuel, telling him, according to the book, that he "wasn't sent here to do school uniforms."
The "school uniforms" quip, incidentally, appears to be a shot at former President Bill Clinton, who back in 1996 pushed for public schools to be able to require uniforms.

The behind-the-scenes details seem to confirm what many liberals have long suspected: That Emanuel is oriented more toward pragmatic politics than taking big risks like aggressive health care reform. As Ben Smith notes, the president's team was widely skeptical of the health care push, with only domestic policy council chief Melody Barnes strongly in favor, according to the book.

Alter reports that Emanuel spent a week last summer trying to convince the president to instead pursue a scaled-down plan that would have brought insurance to 10 million Americans and was more likely to attract bipartisan support.
Once he was overruled, however, Emanuel reportedly devoted himself to passage of the president's more-aggressive plan. As Sargent notes, the book quotes Emanuel asking the president last September if he felt lucky despite his poor poll numbers on health care.
Responded the president: "My name is Barack Hussein Obama and I'm sitting here. So yeah, I'm feeling pretty lucky."
A disclosure: "The Promise" is being published by Simon & Schuster, a CBS company.
Thanks for reading CBS NEWS.
Create your free account or log in
for more features.