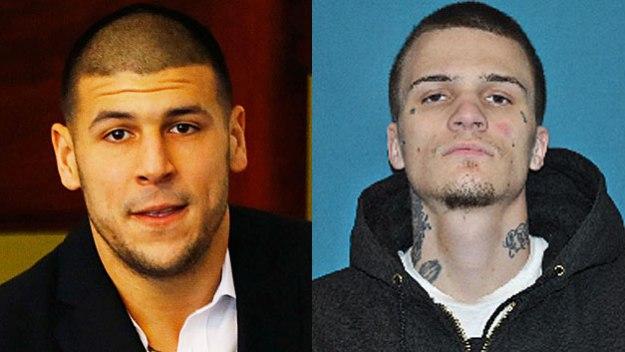 Questions linger over Aaron Hernandez's relationship with jailhouse "brother"
SHIRLEY, Mass. -- Aaron Hernandez was so close with his jailhouse friend Kyle Kennedy he corresponded with Kennedy's family, wanted to give him a nearly $50,000 watch and called him by his nickname, "Pure," Kennedy's lawyer Lawrence Army Jr., told reporters Wednesday.
But Army wouldn't address questions over whether Kennedy and Hernandez had a sexual relationship, saying only his client wants to personally address the "nature and extent" of the relationship between him and the ex-NFL star and convicted murderer.
Army has said one of three suicide notes Hernandez left in his cell before he hanged himself last week at the maximum security Souza-Baranowski Correctional Center in Shirley, Massachusetts, was intended for Kennedy, a 22-year-old Uxbridge resident who is serving a prison sentence at Souza-Baranowski following his 2015 arrest for armed robbery, assault with a dangerous weapon, escaping a municipal lockup, speeding and other charges.
Quoting from a letter Hernandez wrote to Kennedy's father, Army read, "Mr. Kennedy, it's Aaron. I'm writing to you and Pure doesn't know. He's my brother and he always will be."
Army said Wednesday that other letters Hernandez wrote to Kennedy's step-brothers, step-sisters and father showed the depth of their relationship. He said he wouldn't release the remainder of the letters.
Army said the two had asked to be cellmates last September, a request that was initially approved, then denied.
"What my client told me is Aaron Hernandez is one of the most powerful forces as a person he's ever known," Army said.
Army said Kennedy was "stunned and saddened" over Hernandez's suicide and at first thought it was a joke being played on him because workers at the prison knew how close the two were.
He said his client didn't have any indication Hernandez was planning on killing himself, though Hernandez told Kennedy in early March that he was thinking he was "going to hang it up, LOL." Army said his client didn't take the comment seriously at the time.
Hernandez hanged himself April 19 in his cell using a bedsheet just days after he was acquitted of fatally shooting two Boston men in 2012 and as his lawyers were appealing his conviction in the 2013 shooting death of Odin Lloyd, a Boston man who had been dating his fiancee's sister.
Hernandez had been serving a life sentence without the possibility of parole in the Lloyd murder. Kennedy believes he was the last person to see Hernandez before he died, Army said.
Kennedy was placed on suicide watch after Hernandez's death, Army said, but it was because of jail procedure and not because his client posed a risk to himself or others. He was taken off suicide watch several days later, but since has been put back on and is hoping to be taken off of it soon, Army said.
Army said his client hasn't been asked questions by the media about his relationship with Hernandez, and it's an "impossibility" for him to speak to reporters now because he is on suicide watch. He hopes to make a statement "when the time is right."
Army has requested the suicide note be turned over to his client, who has not yet seen it.
Prison officials have declined to comment on the nature of the suicide notes, including who they were addressed to. Hernandez's lawyer says no note was left to any inmate.
"Rumors of letters to a gay lover, in or out of prison, are false," Hernandez's lawyer Jose Baez told TMZ Sports. "These are malicious leaks used to tarnish somebody who is dead."
Sources told CBS Boston the notes were written to his mother, his fiancee Shayanna Jenkins-Hernandez and 4-year-old daughter, telling them "I love you and please don't cry."
Officials say the notes have since been released to his family.
Though Army said it was his understanding the third suicide note "wasn't addressed to anyone," his client believes Hernandez intended it for him based on the closeness of their relationship and because someone inside the jail told Kennedy it was for him. Army wouldn't specify who told his client that information.
Army said it was his understanding parts of the note "didn't make much sense" and suggested it may have been written in some kind of prison code his client believes he may be able to help interpret.
On Kennedy's 22nd birthday in August 2016, months before the suicide, Army said Hernandez told Kennedy he wanted to give him a $47,000 watch Hernandez purchased in Las Vegas. Hernandez said he would make arrangements for the gift to be either sent to Kennedy after his release or sent to Kennedy's family.
Army said Kennedy hasn't seen the watch.
Army wouldn't describe how the two men came to know each other, but said they knew of each other before Kennedy was incarcerated "through correspondence."
Thanks for reading CBS NEWS.
Create your free account or log in
for more features.