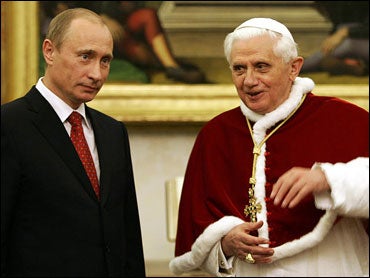 Putin Visits Pope Benedict At Vatican
Russian President Vladimir Putin and Pope Benedict XVI met Tuesday for the highest level Kremlin-Vatican talks in more than three years, focusing on easing tension between Roman Catholics and Orthodox Christians and finding common ground in denouncing intolerance and extremism.
A Vatican statement issued after the meeting - which included 25 minutes of private talks - made no mention of an invitation by Putin for the pope to visit Russia. Vatican spokesman the Rev. Federico Lombardi said a visit had not come up.
Still, the talks appeared to have met Vatican expectations, with the statement saying they were held in a "very positive climate."
Benedict wished Putin "a warm welcome to the Vatican" in the pope's native German, the language of their talks.
The meeting - the first between Benedict and Putin - is part of a visit that takes the Russian leader to Italy and Greece this week.
Tension with the Russian Orthodox Church has stood in the way of a papal visit to Russia. The Russian church accuses Roman Catholics of improperly seeking converts in areas that traditionally would be Russian Orthodox. The Vatican has rejected the accusations, saying it is only ministering to Russia's tiny Catholic community of about 600,000 people in a country of 144 million.
Property disputes between the churches have also put them at odds.
The late Pope John Paul II's hopes of going to Moscow were thwarted by lack of agreement with the Orthodox Church leadership.
Putin's predecessors, Mikhail Gorbachev and Boris Yeltsin, invited John Paul to Russia. Putin, in two meetings at the Vatican with John Paul, did not issue an invitation. The Russian president last came to the Vatican in November 2003.
The Vatican communique said among the themes discussed Tuesday were "relations between the Catholic Church and the Orthodox Church" as well as the leaders' interest in improving ties between the Vatican and Russia.
The communique called extremism and intolerance "grave threats to peaceful coexistence among nations" and urged a "negotiated and peaceful resolution" of conflicts. They also discussed the Middle East, but no details were given.
"As far as we can judge, Russia and the Holy See have identical positions on many contemporary political problems, the preservation of moral values, globalization issues and inter-civilization dialogue," Moscow Patriarchate spokesman Igor Vyzhanov told Interfax Tuesday.
The Russian Orthodox Church's and the Roman Catholic Church's positions on these issues also coincide, he said.
"We hope for the development of dialogue on all issues discussed at the meeting between Vladimir Putin and Benedict XVI," he said.
By Victor L. Simpson
Thanks for reading CBS NEWS.
Create your free account or log in
for more features.