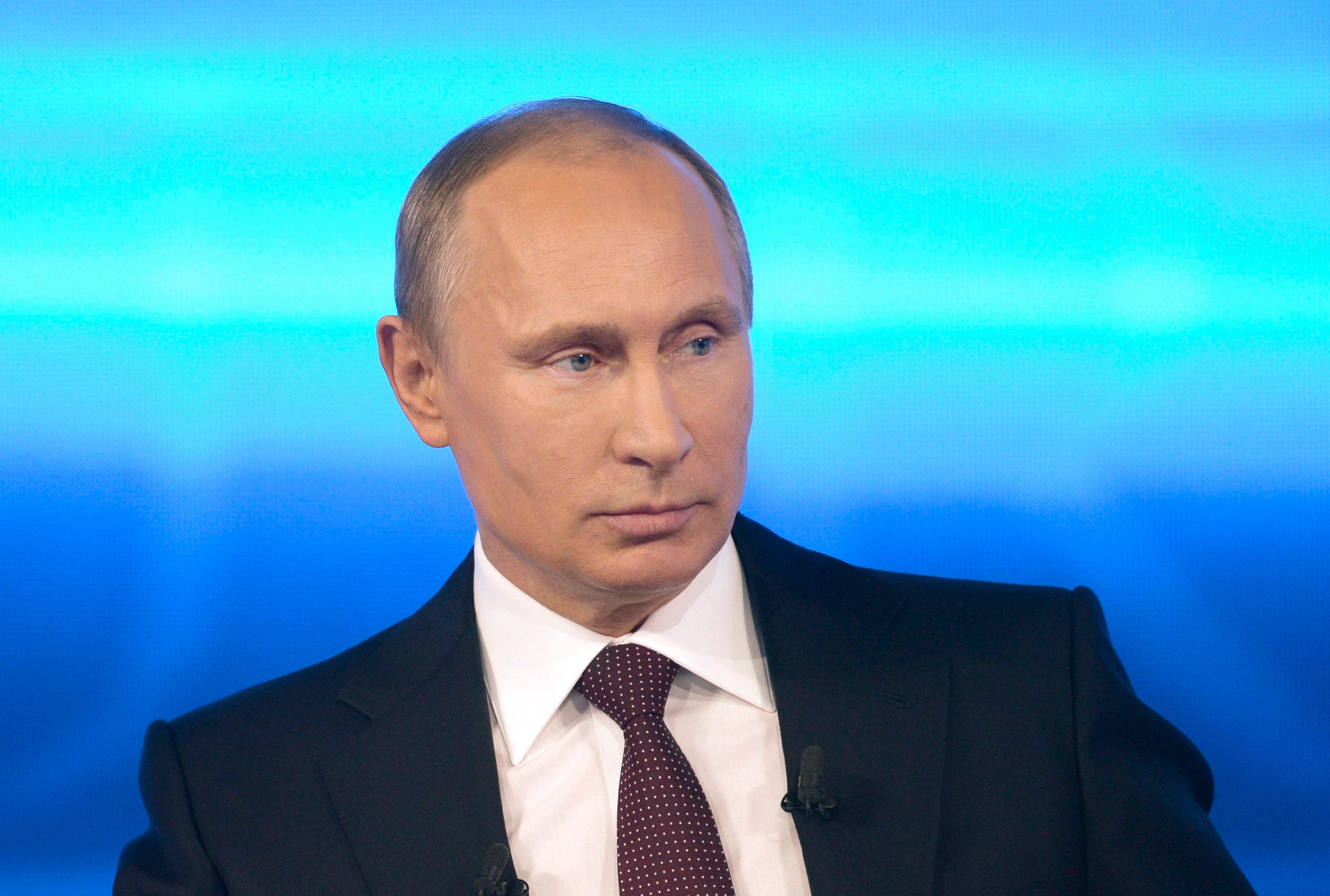 Putin insists no Russian troops in eastern Ukraine
MOSCOW -- Russia's President Vladimir Putin on Thursday dismissed claims that Russian special forces are fomenting unrest in eastern Ukraine as "nonsense," but expressed hope for success of four-way talks on settling the crisis.
Speaking in a televised call-in show with the nation, Putin said that people in eastern Ukraine have risen against the authorities in Kiev who ignored their rights and legitimate demands.
A wave of protests, which Ukraine and the West said was organized by Russia and involved Russian special forces, have s wept eastern Ukraine over the past weeks, with gunmen seizing government offices and police stations in at least 10 cities.

"It's all nonsense, there are no special units, special forces or instructors there," Putin said.

At the same time, he recognized for the first time that soldiers in unmarked uniforms who swept Ukraine's Black Sea region of Crimea laying the ground for its annexation by Moscow last month were Russian troops.

Putin, who previously said the troops were local self-defense forces, said the Russian soldiers' presence was necessary to protect the local population and ensure holding a referendum, in which an overwhelming majority of its residents voted for seceding from Ukraine and joining Russia.

The Russian leader spoke a day after three pro-Russian militants died and 13 were wounded when Ukrainian troops repelled an attack on a National Guard base in the Black Sea port of Mariupol, according to Ukraine's interior ministry.
A crowd of around 300 men armed with stun grenades and Molotov cocktails attacked the base, in the south-east part of the country late Wednesday, the interior ministry said in a statement. The base's vice commander told CBS News correspondent Holly Williams that his men fired warning shots first, but the separatists continued hurling Molotov cocktails, forcing a reaction from his troops.

There were no casualties among the Ukrainian servicemen, the ministry said, and 63 attackers were detained. It was the worst day of violence since the insurgency in eastern Ukraine began.

Speaking at the parliament Thursday morning, acting President Oleksandr Turchynov said the pro-Russian gang attempted to storm the base three times and carried automatic weapons.
The skirmishes came after the Ukrainian government announced an operation to retake control of Slovyansk and other cities in the restive east.

Putin insisted Thursday that protests in that region only involve locals. He said that he told his Western counterparts that only local residents are involved in the protests in the east, and "they have nowhere else to go, they are masters of their land."

Putin denounced the Ukrainian authorities' decision to use the military to uproot the protests in the east as a "grave crime."

President Obama warned Russia on Thursday that further actions to destabilize the interim Ukrainian government would result in consequences from both the United States and Europe.


In an interview with CBS News White House correspondent Major Garrett, Mr. Obama said it was "absolutely clear" that Russia had violated Ukraine's sovereignty and territorial integrity by annexing Crimea last month, and continued to do so by supporting "non-state militias" in southern and eastern Ukraine.
Still, the White House has not abandoned diplomatic solutions. Secretary of State John Kerry traveled to Geneva Wednesday evening to take part in the four-party talks with European, Russian and Ukrainian officials.

Ukraine is willing to offer amnesty to the armed separatist groups who have carried out violence and seized buildings in the east, if Russia agrees to pullback support for those groups and withdraw the 40,000 troops that it has positioned on Ukraine's border, CBS News State Department Correspondent Margaret Brennan reports.

Although the president did not definitely say whether Russia would face further sanctions if the meeting failed, he said he had been consistent in his message that "each time Russia takes these kinds of steps, that are designed to destabilize Ukraine and violate their sovereignty, that there are going to be consequences."

An executive order Mr. Obama signed in late March gave the administration broad authority to expand sanctions targeting Russian officials and businessmen, as well as the ability to target entire sectors of the Russian economy, including financial services, metals and mining, energy, defense and related material, and engineering.

Despite rising tensions in the region - including a Russian jet that made a pass at a U.S. Navy destroyer patrolling the western Black Sea earlier this week - Mr. Obama said he remained convinced that Russia is not looking for a military conflict.

Putin also voiced hope for the success of Thursday's four party talks in Geneva, that brought together the United States, the European Union, Russia and Ukraine for the first time since the Ukrainian crisis erupted.

"I think the start of today's talks is very important, as it's very important now to think together about how to overcome this situation and offer a real dialogue to the people," Putin said.

Russia has demanded that the new government in Kiev, which replaced the ousted pro-Russian President Viktor Yanukovych who fled to Russia following months of protests over his decision to spike a pact with the EU in favor of closer ties with Russia, move to transform the country into a loose federation. Ukraine has rejected the demand, but promised to give the regions more powers.
Thanks for reading CBS NEWS.
Create your free account or log in
for more features.