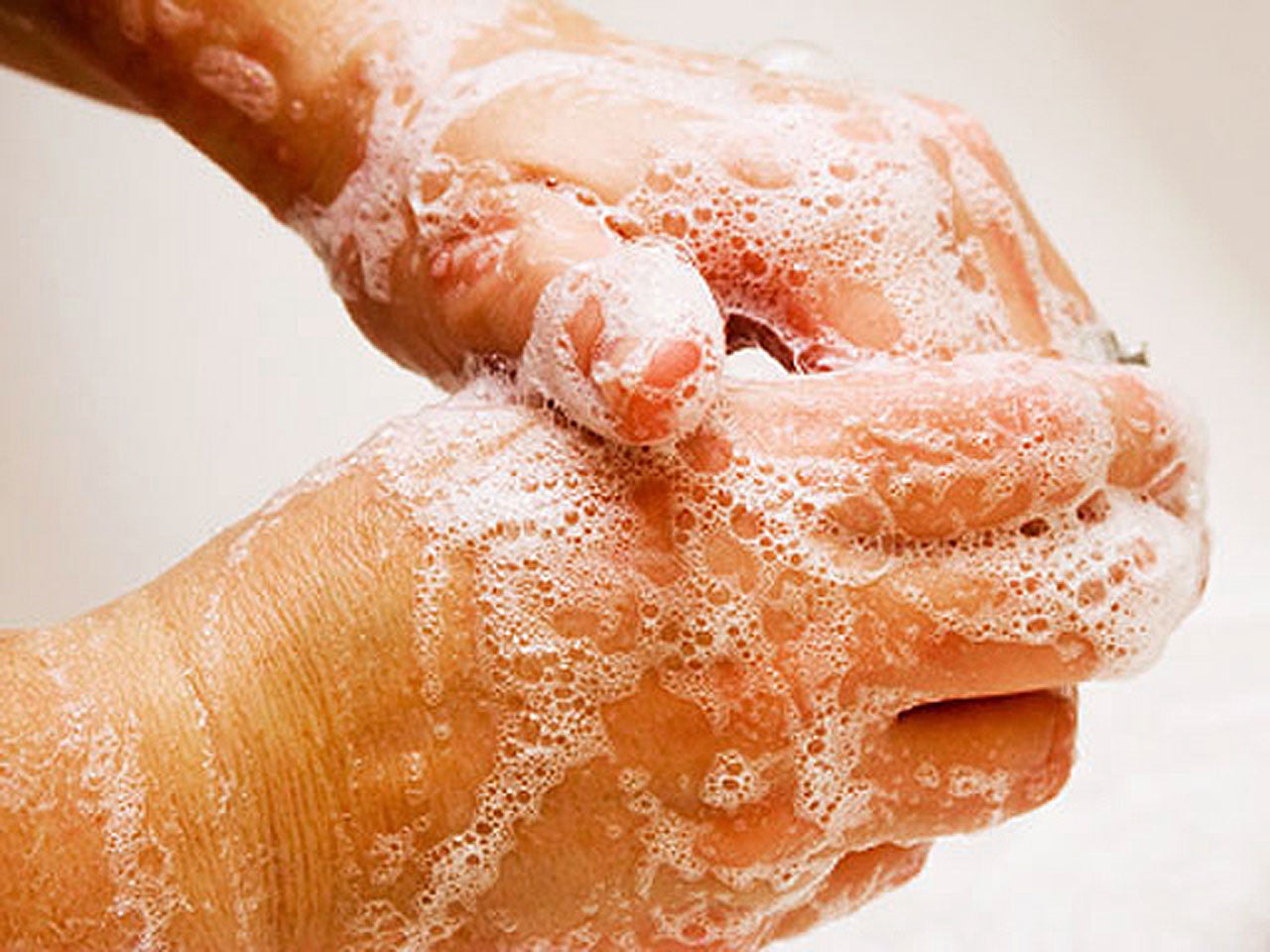 Proper hand-washing essential during flu season
Flu season is in full force, with 47 states reporting widespread influenza and 24 states showing high disease activity, according to government estimates released Friday.
While the Centers for Disease Control and Prevention still says the best way to prevent influenza is to get a flu vaccine -- which it said Friday was about 62 percent effective based on preliminary research -- other everyday actions like hand-washing could go a long way.
Dr. Elaine Larson, associate dean of research at Columbia University School of Nursing, explains to CBSNews.com that some people may not be practicing proper hand-washing techniques in the midst of flu season.
"The biggest mistake is not covering the surfaces most likely to touch, which are the fingertips," said Larson. "People rub their palms together, when fingertips are the most critical."
People should wet their hands with clean running water -- warm or cold doesn't matter -- and apply soap before rubbing their hands together to form a lather, according to the CDC. Pay special attention to the backs of your hands, between your fingers and under your nails. The agency said a good rule of thumb is to hum the "Happy Birthday" song from start to finish twice, to ensure that you wash your hands for at least 20 seconds. Then rinse under running water and dry.
Since running water isn't always nearby option, Larson recommends carrying a bottle of hand sanitizer while on the go, such as in a car or when traveling with public transportation -- especially helpful in flu-affected major cities like Boston, Chicagoand New York. She says to make sure the sanitizer contains 60 percent alcohol, because other ingredients have not been proven as effective.
Hand-washing can go a long way, she pointed out, because the virus can be found on many surfaces during flu season.
A study co-authored by Larson in the Sept. 2012 issue of American Journal of Infection Control found that the flu virus lives on hands and surfaces in the environment for about five to ten minutes before it's gone. To reach that conclusion, researchers asked 20 people with confirmed cases of the flu to cough and sneeze in their hands and touch nearby surfaces.
She says her study suggests that there's no time to waste when keeping your hands clean.
"The main thing is getting your hands clean right away, because there's pretty good evidence if someone coughs and sneezes, you'll get contaminated."
Besides proper hand-washing techniques, Larson says it's important for people who are sick to cough or sneeze into their elbows instead of their hands, a habit she concedes is hard to break. If a person coughs into his or her hands and expels the flu virus, recontamination is a possibility if the person then touches their nose.
Others who may want to be mindful are those working out at the gym, since equipment can spread germs. She notes many people may think the flu is a respiratory infection complete with coughing and sneezing, but more subtle symptoms like muscle aches and a slight fever may appear first when people carry about their daily lives.
"People are highly infectious before they start coughing stuff," she said.
Other helpful tips offered by the CDC include avoiding people who are sick and not touching your eyes, nose and mouth when possible. If you become sick with flu or another respiratory illness, stay home (or keep your child at home) for at least 24 hours after fever is gone unless necessary, like having to seek medical care.
For those working in an office where flu may spread, the CDC recommends frequent cleaning of touched objects and surfaces such as doorknobs, keyboards and phones.
"Everyday preventive actions can help slow the spread of germs that can cause many different illnesses and may offer some protection against the flu," according to CDC.
Thanks for reading CBS NEWS.
Create your free account or log in
for more features.