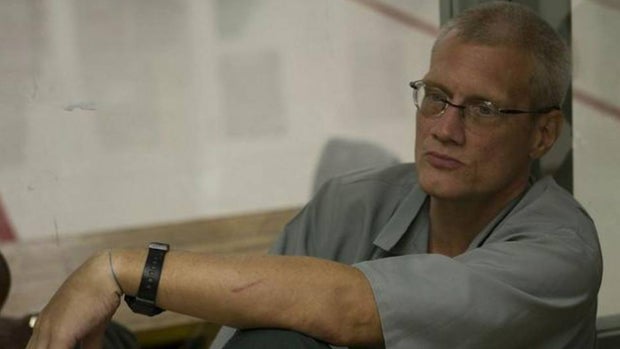 "Prison Houdini" may finally escape, 36 years later
TALLAHASSEE, Fla. - If all went well, a man who has spent 36 years in prison for stealing his own tools would have been paroled on Wednesday.
Instead, Mark DeFriest must spend at least six more months in prison to prepare himself for freedom.
DeFriest, now 55, was just a teenager when he stole the mechanics tools his late father had bequeathed him before the will was read. His burglary conviction -- which came with just a four-year sentence -- resulted in a virtual life sentence after repeated prison escapes, and earned him the "Prison Houdini" nickname.
Florida's parole commission gave him a break in 2014, and ordered his parole once he completes pre-release programs. They even had him transferred to Oregon to be close to his wife. But Oregon prison officials misread his file and classified him as a lifer, ineligible for release.
DeFriest's lawyers urged him to remain patient, something he has not been that good at so far.
After DeFriest's father died, the 19-year-old didn't wait for the will to be read before collecting the mechanic tools, using a key to get them from his father's shed, Middleton said. His stepmother reported him to the police, and when they questioned him, he ran. It didn't help that he had a gun, though he never pulled it.
Things snowballed from there and during his first escape he climbed over razor wire and ran.
In all, he had seven successful escapes in 13 attempts. He was also charged with stealing a car at gunpoint and breaking into a friend's home after one escape. Each offense added more time to his sentence, and behavior problems gave the parole commission no reason to move up his release date. He has nearly 400 disciplinary reports on file, including 65 from 1983 alone.
Filmmaker Gabriel London, who has made a documentary called "The Life and Mind of Mark DeFriest," argues that DeFriest's troubles stem from his mental health issues. London and DeFriest's attorney John Middleton believe DeFriest has autism, but also functions at a high level. They call him a genius and a savant.
"He has a meticulous, disciplined, incredibly skilled mechanical mind that can pick up anything," London said.
After glancing at keys dangling from guards' belts, London said DeFriest was able to memorize the patterns and fabricate his own key.
But he also uses his skills to create intricate art out of materials like paper chip bag foil and Popsicle sticks.
After a 1981 escape, Bay County prison authorities placed DeFriest in total darkness with no clothes, no blankets, no toilet paper and no human contact for 11 days.
Middleton said DeFriest has been assaulted several times in prisons and at one point spent years without being allowed yard time. That's why he kept trying to escape - not because he wasn't willing to complete his sentence, the lawyer said.
DeFriest has been kept in out-of-state prisons for his own protection since 1999 after witnessing guards beat another prisoner to death.
Thanks for reading CBS NEWS.
Create your free account or log in
for more features.