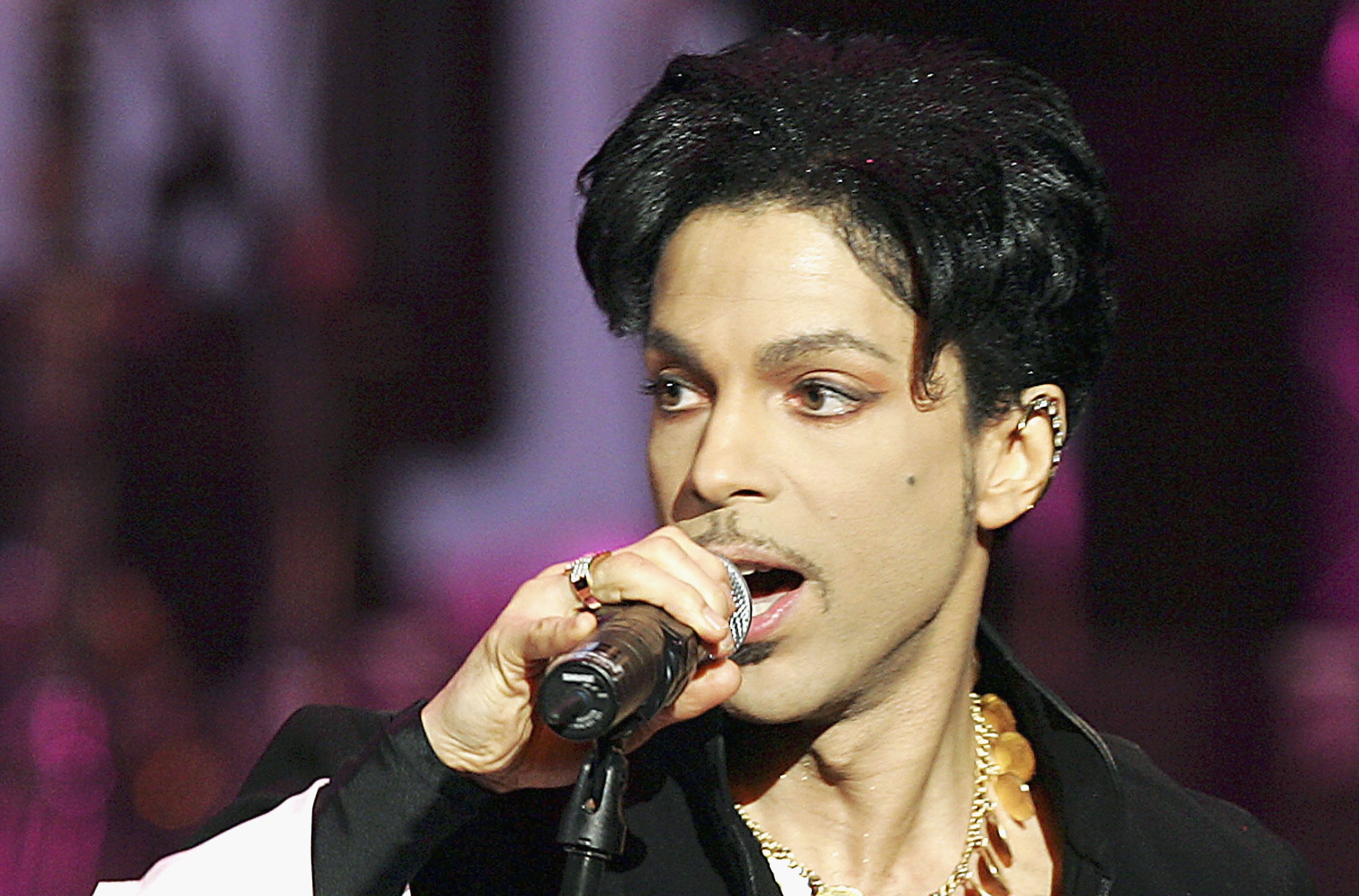 Iconic rock musician Prince has died, his publicist confirmed. He was 57.
Carver County Sheriff Jim Olson said that deputies responded to a 911 call at Prince's Paisley Park Studios in Chanhassen, Minnesota, at 9:43 a.m. Thursday, where they found the musician unresponsive in an elevator.
"First responders attempted to provide lifesaving CPR, but were unable to revive the victim," a statement from the sheriff's department read. "He was pronounced deceased at 10:07 a.m." There was no cause of death reported, but authorities are investigating the circumstances surrounding his death.
"It is with profound sadness that I am confirming that the legendary, iconic performer, Prince Rogers Nelson, has died at his Paisley Park residence this morning at the age of 57," his publicist, Yvette Noel-Schure, said in a statement. "There are no further details as to the cause of death at this time."
On Thursday evening, police released the transcript of the 911 call from Paisley Park. It can be read below.
Last week, Prince made headlines when his private jet made an emergency landing in Moline, Illinois, so that he could receive medical attention. At the time it was attributed to the flu. His death comes just two months after the passing of one his former proteges, Vanity, also 57.
President Barack Obama issued a statement on Prince's passing, expressing his family's grief. "Today, the world lost a creative icon. Michelle and I join millions of fans from around the world in mourning the sudden death of Prince," he said in a statement. "'A strong spirit transcends rules,' Prince once said -- and nobody's spirit was stronger, bolder or more creative."
Reactions to his passing from famous fans came swiftly, with celebrities registering shock and surprise. "Prince was brilliant and larger than life," Ellen DeGeneres tweeted. "What a sad day."
"I can't. I just can not," tweeted television giant Shonda Rhimes.
"And just like that... the world lost a lot of magic," Katy Perry posted. "Rest in peace Prince! Thanks for giving us so much."
Despite rainy weather, fans immediately began flocking to Paisley Park to pay tribute to Prince, sharing stories with each other and placing purple flowers at the property's fence.
And Minneapolis public radio station 89.3 The Current began playing nothing but Prince music Thursday after noon, running through his discography chronologically.
The owners of the downtown Minneapolis nightclub where Prince's "Purple Rain" was filmed are holding an all-night dance party in his honor, The Associated Press reported.
First Avenue owner Dayna Frank says the club wanted to give people a place to share their emotions and celebrate Prince. Entry to the event is free.
Scores of people came to the club Thursday to leave bouquets, balloons and a guitar under the star that honors Prince on the club's exterior wall. Frank says everyone at the club is devastated.
Prince last played the club in 2007.
By Thursday night, thousands lined the 7th Street outside of First Avenue, where the block was barricaded to accommodate the massive crowd, CBS Minnesota reported.
The cast of Broadway's "The Color Purple," including star Jennifer Hudson, also paid tribute to Prince after the show's Thursday night performance. A video of their tribute can be seen here:
Mayte Garcia, who was allegedly the inspiration behind Prince's hit "The Most Beautiful Girl in the World," told People Magazine she is mourning the loss of her ex-husband.
"I can't even think of the words of what I'm feeling," she said in a statement through her agent. "This man was my everything, we had a family. I am beyond deeply saddened and devastated."
People magazine reports that the couple, who divorced in 2000, lost a son Gregory just a week after he was born. He had a rare genetic disorder that affects the skull and bones in the hands and feet.
Born Prince Rogers Nelson, the flamboyant musician rose to fame on a first-name basis with with his breakthrough albums "Dirty Mind" in 1980 and "1999" in 1982, developing a reputation for risqué lyrics and costumes, overt sexuality and a unique blend of rock, R&B and soul.

He was a product of the unique Minneapolis music scene of the 1970s spearheaded by producers Jimmy Jam and Terry Lewis, where soul, funk, disco and rock were blended and infused with synthesizers to form the sound that would help define the 1980s.
One of the best-selling recording artists of all time, Prince sold more than 100 million records worldwide and was the recipient of seven Grammys as well as a Golden Globe and an Academy Award. He was inducted into the Rock and Roll Hall of Fame during his first year of eligibility, and Rolling Stone ranked him No. 27 on its 100 Greatest Artists of All Time list.
He shot to super-stardom with 1984's "Purple Rain" and its wildly successful soundtrack. The film was a seemingly autobiographical tale of a rebellious young musician in the Minneapolis club scene. His work helped define 1980s popular music, with hits like "When Doves Cry," "Little Red Corvette" and "Let's Go Crazy," but he was just as successful penning hits for other artists, including the Bangles' "Manic Monday," Tevin Campbell's "Round and Round" and Sinead O'Connor's "Nothing Compares 2 U."
He also helped shape popular culture in more controversial ways, as Tipper Gore cited his song "Darling Nikki" as a main motivation to start the Parents Music Resource Center and launch the Senate hearings that led to the record industry's "voluntary" parental control album-stickering policy.
He continued to be a creative and commercial force in the music world into the 1990s, when a contract dispute with Warner Bros. prompted him to begin going by an unpronounceable symbol, referring to himself in print as "The Artist Formerly Known as Prince." When that publishing contract expired at the end of 1999, Prince started going by Prince again and saw something of a career resurgence. Between reclaiming his name and the time of his death, Prince released 15 albums, with 2004's "Musicology" garnering him the most success and acclaim.
That year, his resurgence continued with standout performances at the Grammy Awards -- playing a medley of his hits before joining Beyonce for "Crazy in Love" -- and the Rock and Roll Hall of Fame induction ceremony, during which he showed up other classic rockers with his epic solo during a multi-guitar jam of The Beatles' "While My Guitar Gently Weeps." In 2007, he served as the headliner for the Super Bowl halftime show.

He remained active up until his death, making peace with Warner Bros. and re-signing with the label in 2014 to mark the 30th anniversary of "Purple Rain" in a deal that saw him winning ownership of his Warner master recordings.
His final album, "HITnRUN Phase One," was released in September 2015, first made available on the Tidal streaming service. Just one month before his death, he announced to fans at a New York concert that he was working on a memoir, tentatively to be titled "The Beautiful Ones," to be published in 2017. "The good people of Random House have made me an offer that I can't refuse," Prince said at the time.
Just days before his death, Prince appeared before fans at a dance party held at his Paisley Park compound on April 16 to put to rest concerns about his health after reports he'd been hospitalized the night before. "Wait a few days before you waste any prayers," he told the crowd.
Thanks for reading CBS NEWS.
Create your free account or log in
for more features.