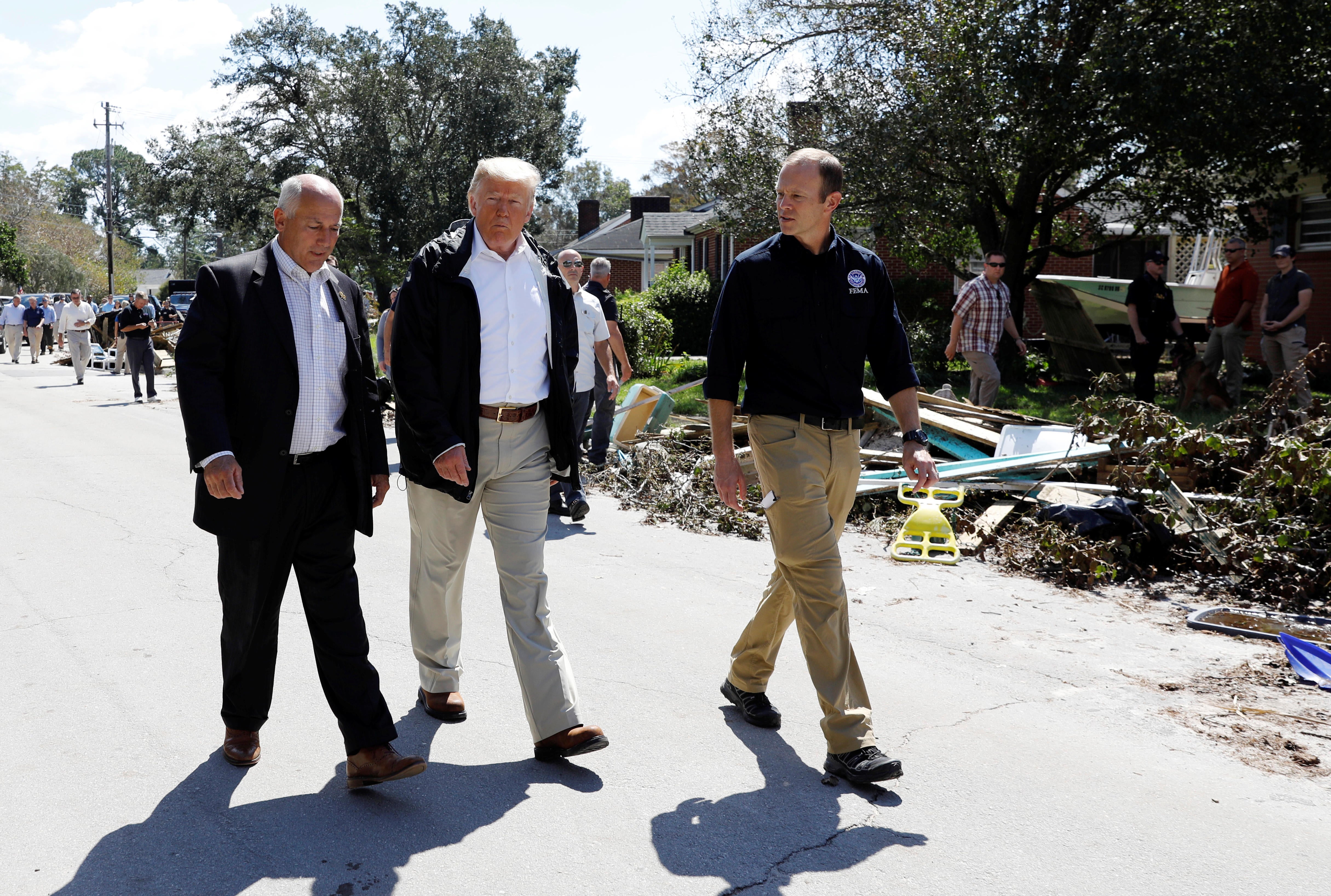 Trump surveys Hurricane Florence damage in the Carolinas
President Trump is in North and South Carolina on Wednesday to tour storm damage from Hurricane Florence. Before he left, the president took questions on his embattled Supreme Court nominee Brett Kavanaugh.
Mr. Trump told reporters it would be "unfortunate" if Christine Blasey Ford, the woman accusing Kavanaugh of assaulting her assault when they were both in high school, doesn't show up to a scheduled Senate Judiciary Committee hearing Monday, and "wonderful" if she does. If she does show up "and makes a credible showing, that'll be very interesting," Mr. Trump added.
In North Carolina, a state where 343,000 people are still without power after bearing the brunt of the storm's impact, the president spoke with federal responders and with residents affected by the storm. Mr. Trump praised the federal response to what he described as "epic" flooding. Mr. Trump helped hand out meals at one station.
At one point in New Bern, North Carolina, the president took notice of a boat that had washed up in someone's backyard.
"At least you got a nice boat out of the deal," the president said, according to the White House pool reporter present. Mr. Trump also told another hurricane survivor to "have a good time."
The president landed in South Carolina Wednesday afternoon, although the White House has not described where he will be.
At least 37 people have died in storm-related incidents, including 27 in North Carolina, 8 in South Carolina and 2 in Virginia. The region is now dealing with massing flooding in the wake of Florence's path.
The federal response to Hurricane Florence has largely been overshadowed by the president's claims of "A Plus" response to past storms, including that of Hurricane Maria. Mr. Trump recently disputed new findings that Hurricane Maria's death toll was far greater than originally estimated in Puerto Rico, placing blame on Democrats for inflating numbers to "make him look bad."
He tweeted on Tuesday that they would deploy a similar tactic in the wake of Florence.
"Don't be fooled, at some point in the near future Democrats will start ranting that FEMA, our military and our first responders, who are all unbelievable, are a disaster and not doing a good job. This will be a total lie, but that's what they do and everybody knows it!" Mr. Trump tweeted at the time.
After landing in North Carolina, the president praised the federal and state response to the storm, and said "some of the hard work is taking place right now." After speaking with the state's governor, Mr. Trump said he understands some of the flooding is actually "epic" and "hard to believe." Mr. Trump toured a station stocked with hundreds of meals for those in need. Mr. Trump handed out some of those meals.
During his briefing at Marine Air Station Cherry Point in North Carolina, Mr. Trump asked about the state of Lake Norman, according to the pool reporter present. There is a Trump National Golf Club near Lake Norman.
After being told Lake Norman was fine, the president responded, "I love that area. I can't tell you why, but I love that area."
In South Carolina, the president said the most "exciting" part lies ahead in the rebuild of their community. Mr. Trump said that, if anyone needs him, they know where to call him. South Carolina Gov. Henry McMaster said the worst is yet to come in terms of flooding.
"Whatever they need from Washington, we are there," Mr. Trump said.
Meanwhile, Mr. Trump's top response official, FEMA administrator Brock Long, is under investigation for his alleged use of government cars in a personal capacity, all while managing the response, recovery and cleanup efforts from the hurricane's impact.
Thanks for reading CBS NEWS.
Create your free account or log in
for more features.