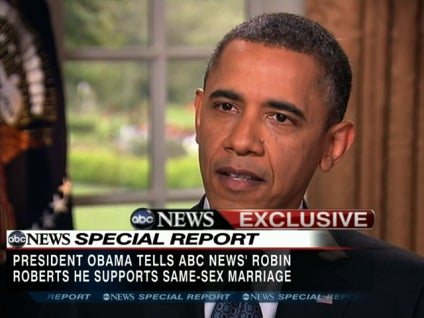 President Obama says Sasha and Malia influenced his stance on same-sex marriage
(CBS News) President Obama endorsed same-sex marriage Wednesday, just hours after North Carolina adopted a constitutional amendment to ban it -- one of 41 states where same-sex marriage is illegal.
President Obama's declaration does not change any law, but it does inject a contentious social issue into the race for the White House.
"For me personally it is important for me to affirm that I think same sex couples should be able to get married," Mr. Obama said.
CBS News correspondent Norah O'Donnell reports Mr. Obama has often said he was in favor of civil unions for gay and lesbian couples and in favor of equal rights, but on marriage, for years he has said his thoughts were evolving.
Advisors admit it was not the president's plan to announce his support for same-sex marriage Wednesday. Ironically, his hand was forced in part by his vice president, and by growing anger among gay and lesbian financial supporters who felt it was time for the president to clarify just where he stands.
"I had hesitated on gay marriage in part because I thought civil unions would be sufficient," Mr. Obama said.
President Obama became the first sitting president to declare that he believes gays and lesbians should be able to legally marry.
Up until now, he has been unwilling to support same-sex marriage.
"My feelings about this are constantly evolving, I struggle with this," Mr. Obama said.
Romney: No comment on Obama support for same-sex marriage
Obama backs same-sex marriage
North Carolina passes amendment banning same-sex marriage
Advisors claim they'd been discussing for a few months about when to make an announcement, but then Vice President Biden sent the White House scrambling after, saying over the weekend in an interview that he was "absolutely comfortable" with men marrying men and women marrying women.
"No one's ever doubted I mean what I say; the problem is sometimes I say all that I mean," Mr. Biden said.
Vice President Biden's support of same-sex marriage exposed internal divisions in the White House - serious enough that even spokesman Jay Carney struggled to explain those differences on Monday.
"I don't have an update on the president's position. It is what it was," Carney said.
But an update did come the day before millions of dollars were to be raised in Hollywood, where many of those attending a fundraiser will be from the gay and lesbian community. Money from that community is critical to the president's re-election. According to a Washington Post review, one in six of Obama's top campaign fundraising "bundlers" are gay.
And, his advisors believe the issue of same-sex marriage won't be a decisive issue this year, in part because public support of same-sex marriage has grown rapidly over the last five presidential elections.
A poll out Tuesday by Gallup shows 50 percent of Americans now favor allowing gay and lesbian couples to marry, while 48 percent are opposed. In 1996, 27 percent supported it, while 68 percent were opposed.
Support for same sex marriage is generational and the president said today his children don't understand why same-sex parents would be treated differently.
"It doesn't make sense to them and frankly, that's the kind of thing that prompts a change in perspective," Mr. Obama said.
Sources tell CBS News that First Lady Michelle Obama was heavily involved in the president's change of heart. Mr. Obama said she feels the same way he does. They both believe in the Golden Rule - treat others the way you would want to be treated.
Below, watch CBS News correspondent Bill Whitaker's report on how some in the Hispanic community are reacting to Obama's announcement
Below, watch CBS News correspondent Elaine Quijano's report on the potential political consequences of Obama's announcement
Thanks for reading CBS NEWS.
Create your free account or log in
for more features.