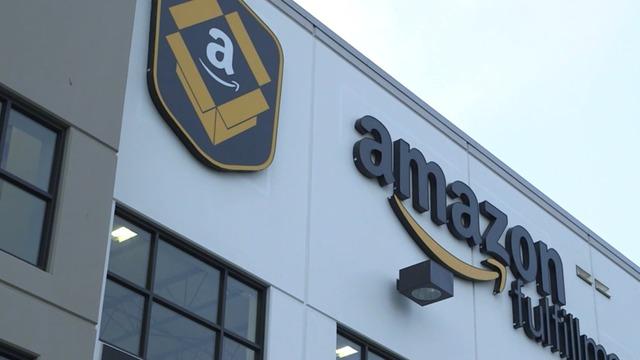 Does the post office actually lose money on Amazon?
President Trump doubled down on his claim Tuesday that Amazon costs the post office money, continuing his days-long attack on the e-commerce giant. He tweeted, "I am right about Amazon costing the United States Post Office massive amounts of money for being their Delivery Boy."
"Amazon should pay these costs (plus) and not have them bourne by the American Taxpayer," he continued. "Many billions of dollars. P.O. leaders don't have a clue (or do they?)!"
The tweet came days after Mr. Trump claimed, on Saturday, the United States Postal Service will lose $1.50 "on average" for each package it delivers on behalf of the company.
The president also took aim at The Washington Post, which is owned by Amazon founder Jeff Bezos. The president also claimed, citing no evidence, that Amazon uses The Washington Post as a "lobbyist" -- an accusation the Post called "completely made up."
Las week, Mr. Trump alleged the company's use of the Postal Service causes "tremendous loss to the U.S." in taxes and other revenue. Mr. Trump has previously blasted Amazon for making the postal service "dumber and poorer."
There is little to these claims. While the postal service is struggling, it's not because of Amazon. In fact, package delivery is one of the few lines of business that's growing.
The postal service has lost money for 11 straight years, mostly because of pension and health care costs. In 2017, the service lost $800 million on $69.7 billion operating revenue. Under a 2006 law, it must pre-fund 75 years' worth of retiree health benefits. Neither the government nor private companies are required to do that. (It has defaulted on those payments periodically, with the last one made in 2015).
A widely cited Citigroup analysis from last year holds that the "true" cost of shipping packages for the Postal Service is about 50 percent higher than what it currently charges. "It is as if every Amazon box comes with a dollar or two stapled to the packing slip -- a gift card from Uncle Sam," read the ensuing editorials.
But Citi arrived at that figure by re-allocating the Post Office's benefits costs -- not the costs specific to package delivery.
The 2006 law also mandated that each line of business within the postal service set its prices at least high enough to break even. In other words, for the postal service to lose money on package delivery would be against the law.
How much does Amazon pay the postal service?
Amazon ships enough with the post office to qualify for bulk rates, giving it a significant volume discount that varies depending on package weight and number. (Here are the postal service's latest rates.)
Amazon uses FedEx and UPS as well as its own fleet of carriers, but it often relies on the post office for "last mile" delivery -- bringing a package to a customer's door.
The post office in 2013 started to make Amazon deliveries on Sunday, but the agreement detailing those arrangements remains heavily redacted.
Amazon has denied benefiting from postal service favoritism. "The Postal Regulatory Commission has consistently found that Amazon's contracts with the USPS are profitable," the company told Fortune last year.
Packages and shipping are one area that's growing for the postal service, bringing in more than $19 billion in revenue last year even as volume of letters and magazines declined. In fact, its projected revenue growth "is driven entirely by increases in shipping and packages," the postal service said in its latest annual report.
Thanks for reading CBS NEWS.
Create your free account or log in
for more features.