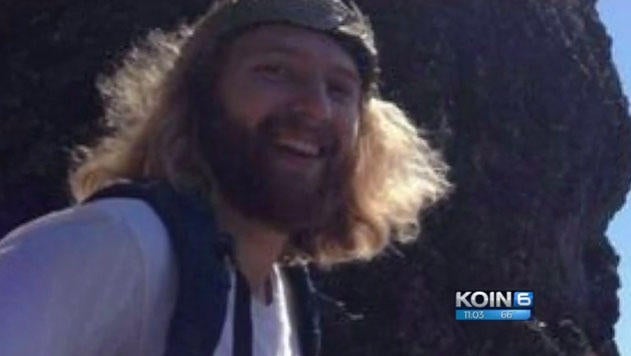 Portland train stabbing: Witness recalls victim's last words
PORTLAND, Ore. -- A woman who tried to help one of the Portland train stabbing victims in his final moments is speaking out about his last words.
Jeremy Joseph Christian, 35, is accused of stabbing three men who intervened when he allegedly yelled racial slurs at two young women, one of whom was wearing a hijab, on a Portland light-rail train Friday night.
Ricky John Best, 53, and Taliesin Myrddin Namkai-Meche, 23, were killed in the incident. Micah David-Cole Fletcher, 21, of Portland, was also stabbed in the attack and is in serious condition at a Portland hospital, police said. His injuries are not believed to be life-threatening, police said.
All are being hailed as heroes.
"To have people step in and do that, that's courage," Portland's police chief Mike Marshman told "CBS This Morning."
Witness Rachel Macy told CBS affiliate KOIN she had been with Meche in his final moments on the train. Macy and Meche did not know each other before the stabbing.
"I just didn't want him to be alone," Macy said. "I took my shirt off and put it on him. We held it together, I just prayed, all I could do was pray."
"I told him, 'You're a beautiful man. I'm so sorry the world is so cruel,'" Macy said.
"He said, 'Tell them, I want everybody to know, I want everybody on the train to know, I love them,'" she said. "He was a beautiful man, that's what I want people to know."
Macy attended a vigil Saturday because she wanted to share the words with Meche's family, who gathered along with thousands of community members to remember their son as a man with a heart "as big as the world," KOIN reported.
Macy said police collected most of the items she carried with her as evidence, but she still had a heart-shaped rock painted purple she happened to be carrying in her pocket during the attack. She told KOIN she gave it to Meche's family as a memento.
"Love is what it's about," said Meche's mother, Asha Deliverance, at the vigil. "We taught him to love everyone and that's what we should be doing and that's what we all should be doing and that's why we are all here, so give it up for love."
Macy told KOIN she isn't angry about the attack.
"I wanted to wake up and be mad and blame something or someone," Macy said. "And I can't. It's not what [Meche] would have wanted."
Christian has been charged with aggravated murder, attempted murder, intimidation and being a felon in possession of a weapon. He is scheduled to make his first court appearance Tuesday.
Police said they'll examine what appears to be Christian's extremist ideology. Christian's social media postings indicate an affinity for Nazis and political violence.
Police Sgt. Pete Simpson told CBS News that Christian attended a free speech march in April with a baseball bat to confront protesters but the bat was quickly confiscated by officers.
The Portland Mercury, one of the city's alternative weeklies, posted an article with video clips of a man wearing a metal chain around his neck and draped in an American flag. "He ranted how he was a nihilist. He'd soon yelled racial slurs ... and gave the Nazi salute throughout the day," the Portland Mercury reported.
On what appears to be Christian's Facebook page, he showed sympathy for Nazis and Timothy McVeigh, who bombed a federal building in Oklahoma City in 1995. Portland spent the holiday weekend memorializing the victims.
Christian had previously gone on a racist tirade on a train one night before the deadly attack, police confirmed to CBS affiliate KOIN, which obtained video of the incident.
One of the girls who was targeted in the tirade Friday, Destinee Mangum, 16, said that she and her 17-year-old friend were riding the train when Christian approached them yelling what is described as hate speech. She said her friend is Muslim, but she's not.
"He told us to go back to Saudi Arabia, and he told us we shouldn't be here, to get out of his country," Mangum said. "He was just telling us that we basically weren't anything and that we should kill ourselves."
The girls were scared and moved to the back of the train while a stranger jumped in to help.
"Then they just all started arguing," Mangum told KOIN. "He just started stabbing people, and it was just blood everywhere, and we just started running for our lives."
Mangum thanked the men that came to her aid.
"They lost their lives because of me and my friend, and the way we looked," Mangum said.
Meche earned a bachelor's degree in economics in 2016 from Reed College in Portland and landed a job with the Cadmus Group, a consulting firm in the area. He had hoped to start family, KOIN reports.
Best, a father of four, was an army veteran and City of Portland employee. His family said standing up for strangers was in his character, CBS News' Mireya Villarreal reports.
Best lived in Happy Valley and had three teenage sons and a 12-year-old daughter, according to David Austin, a spokesperson for City Commissioner Chloe Eudaly.
Best worked for the Bureau of Development Services as a technician and ran for a position on the Clackamas County Commission in 2014 after retiring from the U.S. Army in 2012. He served in Iraq and Afghanistan in his 23 years of service.
The third stabbing victim, Fletcher, is a student at Portland State University and was taking the train from classes to his job at a pizza shop when the attack occurred.
In a tweet Monday morning, President Donald Trump denounced the stabbings.
"The violent attacks in Portland on Friday are unacceptable," Mr. Trump tweeted. "The victims were standing up to hate and intolerance. Our prayers are w/ them."
Thanks for reading CBS NEWS.
Create your free account or log in
for more features.