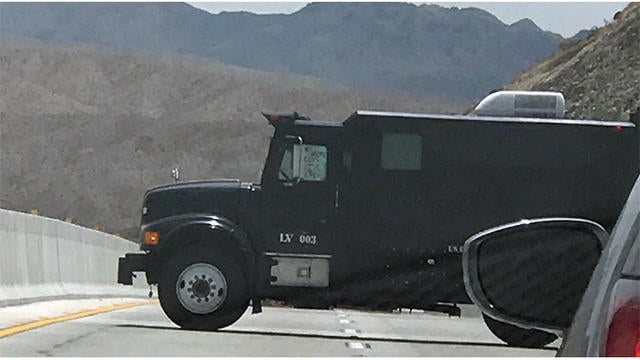 Suspect in custody after barricading self in vehicle at Hoover Dam bridge
LAS VEGAS -- A man who police say barricaded himself inside a vehicle and blocked traffic along the Hoover Dam bridge has been taken into custody, reports CBS affiliate KLAS. Initial reports indicated the man had a gun, but police haven't confirmed he was armed.
Numerous law enforcement units from Nevada and Arizona responded to the incident Friday. According to Nevada Highway Patrol, the man blocked travel lanes on U.S. 93 at the Mike O'Callaghan-Pat Tillman Memorial Bridge that spans the two states.
Photos posted to social media showed what appeared to be an armored vehicle parked lengthwise along travel lanes and backed-up traffic on the bridge. The Nevada Highway Patrol says the man stopped the truck and blocked travel lanes just before noon, KLAS reports. Following that, he moved the vehicle at slow speeds along the bridge.
Witnesses have told KLAS that the man held up some signs with messages to President Donald Trump.
"Obviously when we have a barricade subject we don't know what's on the subject's mind," said NHP Trooper Jason Buratczuk. "We want to keep him closed off so he can't do any harm to anyone."
The interstate was closed in both directions and was then evacuated, but has since re-opened, the station reports. The incident caused major traffic delays.
Metro Police, NHP, Arizona Highway Patrol, Boulder City Police and Lake Mead National Park Service all responded.
This is a developing story.
Thanks for reading CBS NEWS.
Create your free account or log in
for more features.