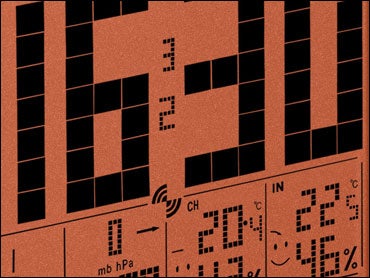 Plenty Of Cause For Alarm
Nicole Beland, deputy editor of Women's Health magazine is an admitted snooze button junkie - someone who has to hit that button several times before she can get out of bed. She recently put some new alarms to the test and wrote about it for her magazine. She also shared her impressions with The Saturday Early Show.
To read more from Beland's article, click here.
BEST FOR SNOOZE-BUTTON JUNKIES
Nanda Clocky $50, clocky.net
It wakes you by rolling off the table and onto the floor, like the proverbial meatball.
According to Beland, "You can snooze Clocky once, but the next time this alarm sounds, he rolls onto the floor, forcing you to chase him. I disarm the snooze - why delay the action? - and hit the sack. I wake to clicks, beeps, and whirrs, followed by a thud. When I sit up, I see Clocky whiz under the bed. I hit the floor swearing and grab the annoying-but-fun droid. Not exactly a poetic way to seize the day, but it just might be perfect for me."
BEST FOR LIGHT or SENSITIVE SLEEPERS
BioBrite SunRise Clock $120, biobrite.com
It wakes you by gradually getting brighter.
Says Beland, "The test: My sister, a new mom, loves the Sunrise because it wakes her without disturbing little Josh. Instead of using sound, the orb starts glowing a half hour before wake-up time and gradually brightens. And when I stir at 8:10, John confirms it did exactly that for him, at around 7:25. Curled up in fetal position with a pillow over my head, I hadn't noticed. The clock does have a backup buzzer. But if you have to use it, what's the point?"
BEST FOR GETTING UP FAST
Sleeptracker Watch $150, sleeptracker.com
It wakes you by tracking your sleep patterns and beeping at the ideal time.
Said Beland, "The test: After hearing me babble about my A.M. quest at a party, a tech geek recommends the Sleeptracker. A movement sensor inside the watch triggers the alarm when you fidget within a half hour of your wake-up time. The science: If your arm is moving, you've shifted out of a deep-sleep phase and should therefore have less trouble getting up. I put the watch on thinking the plastic band will be uncomfortable, but quickly forget it's there and nod off. It beeps at 7:01 and I'm instantly awake yet still dead tired. I could have slept another 29 minutes! When you're clocking only 5 or 6 hours a night, that's a big chunk of rest to miss out on. Because the watch doesn't have a snooze option, I resentfully roll out of bed.
BEST FOR YOUNGSTERS - OR THE YOUNG AT HEART
Brookstone Bob Wobble Clock, $30
JUST PERFECT PICK FOR ALMOST EVERYONE
Sonic Boom Analog Alarm Clock $43, sonicalert.com
It wakes you by shaking your mattress while emitting intergalactic sounds and flashing blue lights.
According to Beland, "The test: Attached by a 7-foot-wire to the clock is a disk I shove under my mattress. The claim: This gizmo will make my bed vibrate like it's ready to launch. With my 19-inch thick Stearns & Foster (plus pillow top), I seriously doubt it. But the next morning my entire body is shaking to the sound of techno and the glare of blinking lights. I leap out of bed as if Al Sharpton and Howard Dean were spooning next to me. This is my kind of alarm!
"You can turn the powerful bed-vibrator on or off, allowing you to use it only on mornings you think you'll be groggy - for example when you need to catch a crack-of-dawn airplane flight."
Thanks for reading CBS NEWS.
Create your free account or log in
for more features.