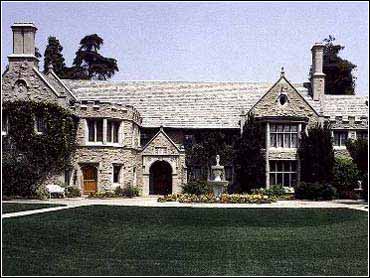 Playboy Mansion: Disneyland For Adults
Fifty years ago, Frank Sinatra's "Rat Pack" was the toast of Las Vegas. Naturally, he and his hard-partying showbiz cronies often crossed paths with Playboy founder Hugh Hefner. Hedonism loves company, you might say.
"They hung out more on my turf than me on theirs," Hefner, 81, told me recently with a knowing grin when I interviewed him at the mansion.
And when the Rolling Stones did a North American tour in 1972, the self-proclaimed "world's greatest rock and roll band" crashed with Hefner and his young female friends at the Playboy mansion in Chicago.
"It was a crazy time -- and great fun," Hefner fondly recalled. "I see Mick [Jagger] from time to time when he is in L.A."
Celebrities -- and the rest of us ordinary folks -- have been beating a path to Hefner's door, in one way or another, ever since Playboy hit newsstands in December 1953. Few get to hang out at the mansion, but viewers of "Playboy After Dark" 1969-70, in which Hefner would interview guests with lovely ladies lingering on the set, gave people a glimpse of the Playboy cool.
"He has created a fantasy life and a magazine that was an inspirational guide for young men," said Richard Rosenzweig, executive vice president and director of Playboy Enterprises, who will celebrate his 50th anniversary at the company on Aug. 4.
More often than not, the center of the action has been Hefner's Playboy mansion, the most distinctive symbol in the media industry this side of Walt Disney's Magic Kingdom. That's appropriate, since Hefner has crafted the mansion as the ultimate example of the Playboy fantasy life, a Disneyland for adults, where every kind of pleasure is available.
One of the best descriptions of life at the mansion can be found in Robert Greenfield's wonderful book, "S.T.P.: A Journey Through America with the Rolling Stones."
Greenfield wrote of the Stones' visit to the Chicago mansion: "The couches pulse with women. In the nights to come, the Stones will have their own man on the door, selecting talent, but tonight the gathering is official...mostly bunnies, ex-Playmates, future Playmates, glossy four-color ladies with polished faces and made-up eyes. None of your New York city darkness here, no clean puritan New England faces or spaced-out California smiles; these ladies are the real thing: products of the heartland..."
Trust me. The mansion has it all. The zoo houses cranes, flamingos, trumpeters, waterfowl and peafowl. It also is home to a family of red-handed Tamarins and plenty of spider monkeys.
All that, and cookies too.
When I visited the mansion, I enjoyed the best homemade lemon cookies I've ever tasted (Sorry, Media Web fans, that was the extent of my fun at the mansion -- alas, no parties or moonlight swims through the infamous grotto).
While it has a well-earned reputation as a setting for wild parties, the mansion has a far more practical purpose for Playboy Enterprises . It keeps the Playboy brand fresh in the public's mind and reinforces the company's core value: fun.
"There has always been a fascination with the life behind the mansion," Hefner said with a smile.
(AP)

According to Playboy lore, Hefner's girlfriend Barbi Benton discovered the 5.7-acre estate. When Playboy acquired it in 1971 for $1.05 million, it was the largest residential real estate deal in Los Angeles history. "This was Playboy's best investment," Hefner (seen at left) told me.

The L.A. mansion is also an architectural marvel. Playboy's official literature notes that Hefner designed it with architect Ron Dirsmith, a fellow in architecture at the American Academy in Rome and New York's National Academy of Design. Within two years, Hefner had completed his Shangri-La.

The main house is about 21,000 square feet with 30 rooms. It employs nearly 80 fulltime staff, including butlers, security, electricians, plumbers, landscapers and gardeners, zoo staff, video department and a full kitchen staff with an executive chef.

The estate has been showcased in entertainment vehicles including "Beverly Hills Cop II," "Entourage" and "Curb Your Enthusiasm."

Living large at the mansion

I arrived an hour early for my interview with Hefner, fearing (as any sensible New Yorker would) the ramifications of the notorious Los Angeles traffic. When you've been waiting more than a year to interview an icon, you don't want to waste time channel-surfing back at the hotel.

While I waited for my appointment, I hung out in one of the G-rated attractions on the grounds: the game room, which was as well stocked as any arcade.

As I reclined in a plush brown leather couch, sipping from a water bottle featuring the famed Playboy logo, I counted pool and poker tables and four pinball machines (showing a pipe-smoking Hef surrounded by lovely young women). For video-game devotees, there is a room full of such machines as Muscle Commander, Atari, Defender and Donkey Kong. To top it off, you'll find entertainment ranging from a piano to a foosball machine.

Hef is infamous for loving jazz, "the music of my youth," as he put it. Typically, there was also a Wurlitzer jukebox containing Hef's favorite singers and band leaders, including Sinatra, Bing Crosby, Tommy Dorsey, Kay Kyser, Glenn Miller, Harry James, Lena Horne, Johnny Mercer, Woody Herman and Les Brown.

While I hung out at the mansion, I did meet Kendra and Holly, two of Hef's "girls next door," from the popular "E"-channel television show. They seemed like nice girls, and were cheerful and friendly.

Hefner is the most fortunate of entrepreneurs. His real life is roughly the same as most guys' fantasies.

I asked him a question I put to most self-made business owners. You've done it all. Why do you keep at it? Why not just sell the company and put the pressure behind you?

Hefner looked at me seriously and explained why he has no plans to unload Playboy.

"From the beginning, it was never a business," Hefner said with a smile. "If I sold it, my life would be over."

When media commentators point out that 2008 will mark 40 years since the assassinations of the Rev. Martin Luther King Jr. and Sen. Robert Kennedy, I hope they can avoid calling these events "anniversaries." Shouldn't an anniversary mark something joyous? I hope these armchair sociologists can find another word when they discourse about these tragic deaths and how they continue to have an impact on society.
By Jon Friedman
Thanks for reading CBS NEWS.
Create your free account or log in
for more features.