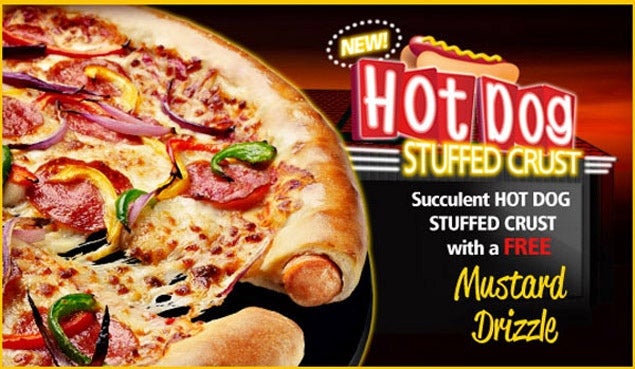 Pizza Hut unveils hot dog stuffed crust pizza, Burger King offers bacon sundae
(CBS News) Some popular fast food restaurants are adding fatty fare to their menus in select locations.
PICTURES: Yum - or yuck? 20 freakish fried foods
Pizza Hut restaurants in the U.K. will now offer a "Hot Dog Stuffed Crust" pizza with a mustard drizzle. Sorry America, you won't see it on this side of the Atlantic any time soon.
"The Hot Dog Stuffed Crust pizza is only available in the UK and there are no plans to introduce this product in the U.S.," Lisa Beachy, a spokesperson for Pizza Hut, told HealthPop in an email.
ABC News reports that a slice of plain stuffed crust pizza contains about 265 calories with 11.6 grams of fat and a hot dog contains about 170 calories and 15 grams of fat, although an official calorie count for the pizza was not listed.
This isn't the only new offering from a fast food restaurant to raise eyebrows.

In the U.S., specifically Nashville, Tenn., Burger King is testing a "Bacon Sundae," food blog Grub Grade reported. The sundae appears to come with standard toppings such as fudge and caramel, but also includes a strip of bacon. The blog reports that the product is similar to a "Maple Bacon Sundae" sold at Denny's. According to Eater, Jack in the Box also unveiled a "Bacon Shake" earlier this year.

Burger King has no plans at the times to release the sundae nationally.
"As part of Burger King Corp.'s normal course of business, the company is currently testing menu items in a small sampling of U.S. restaurants located in the Nashville, TN area," Burger King spokesperson Randi Farynyk told HealthPop by email. "The brand does not have plans to expand the test to additional markets at this time." Nutritional information could not be provided since the food will not be sold nationally.
Earlier this month, Burger King said it would revamp its menu to be healthier, launching 10 new items such as smoothies and wraps, CBS Moneywatchreported.

Would you try a pizza with a hot dog crust, or a bacon sundae?

Thanks for reading CBS NEWS.
Create your free account or log in
for more features.