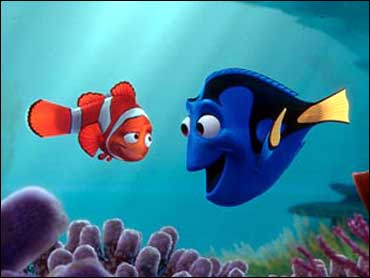 Pixar To Disney: Adios, Mouse
Pixar Animation Studios is ending its relationship with The Walt Disney Co. and taking its lucrative track record of animated blockbusters to another studio that will allow it to retain ownership of future movies, Pixar chief Steve Jobs said Thursday.
Pixar, which co-produced last year's top-box office draw, "Finding Nemo," has long chafed under its contract with Disney, which retains the right to make sequels to movies such as "Toy Story" and "Monsters, Inc."
The companies share box-office receipts and licensing revenues under the current arrangement.
"After 10 months of trying to strike a deal with Disney, we're moving on," Jobs said in a statement. "We've had a great run together — one of the most successful in Hollywood history — and it's a shame that Disney won't be participating in Pixar's future successes."
Pixar still has two movies to deliver under its current deal, including "The Incredibles," due in theaters in November, and "Cars," which will be released next year.
Disney chief financial officer Thomas Staggs said the company rejected Pixar's "final offer" because it would have cost Disney hundreds of millions of dollars it is entitled to under the existing agreement "while not providing sufficient incremental returns on new collaborations to justify the changes to the existing deal."
A person familiar with the talks said negotiations broke down because Pixar wanted to reclaim the copyrights to the five films it has produced with Disney so far, plus the two left in the deal. Such an accommodation would have presumably denied Disney the right to make sequels and potentially denied the company millions of dollars in future profits.
Pixar also wanted to pay Disney a flat distribution fee on all future films, including "The Incredibles" and "Cars." Disney was willing to adjust its compensation on the two remaining films, but would not agree to return the copyrights, said the source, speaking on condition of anonymity.
Pixar also has made "A Bug's Life," and "Toy Story 2."
"We have had a fantastic partnership with Pixar and wish Steve Jobs and the wonderfully creative team there, led by John Lasseter, much success in the future," Disney chief executive Michael Eisner said in a statement.
"Although we would have enjoyed continuing our successful collaboration under mutually acceptable terms, Pixar understandably has chosen to go its own way to grow as an independent company," Eisner said.
Shares of Disney, which had risen 78 cents, or 3 percent, to close at $24.45, fell $1.20, or 4.9 percent, in after-hours trading on the New York Stock Exchange. Pixar shares rose 80 cents in after-hours trading on the Nasdaq Stock Market after gaining $1.05 to close at $64.20 in regular trading.
Several film studios, including Warner Bros., Fox and Sony, said they would be willing to start talks with Pixar.
"We'd love to be in business with them," Warner Bros. spokeswoman Barbara Brogliatti said Thursday.
Analysts said the end of the Disney-Pixar relationship will have mixed results for both companies.
The five films produced under the partnership have grossed more than $2.5 billion at the box office. Disney has kept varying amounts of the profits and will pocket 60 percent from the final two films covered by the existing agreement.
Disney also retains the right to Pixar characters and can make unlimited theatrical or direct-to-video sequels, including a long-expected "Toy Story 3."
For Pixar, the break from Disney will allow it to keep more profit from future films while increasing the risks should those movies underperform.
"The risk is all theirs now," said Peter Mirsky, a financial analyst with Oppenheimer & Co. "They wanted it, they got it. Plus, they've added a competitor in Disney."
Disney has struggled in recent years to turn a profit on such animated flops as "Treasure Planet." The studio will now face more pressure to produce hits.
"It increases the creative pressure on Disney," Mirsky said.
Former board members Roy E. Disney and Stanley Gold — who have been urging Eisner to step down — expressed concern when they quit the board last year that Disney was not properly managing its relationships with Pixar, Miramax and other companies. In a statement Thursday, they blamed Eisner for the Pixar breakdown.
"While we expect that the tail of the relationship will continue to provide short-term earnings gains, the loss of this relationship, we believe, will result in the loss of long-term value for the company and its shareholders," the men said.
Last August, Jobs said Pixar had talked briefly with rival studios such as Warner Bros. and Fox. He said Pixar would remain in exclusive talks with Disney until those talks failed.
"We have talked to many of these studios and we know we can get the deal we want," Jobs said then. "We have time. The right deal is more important than a quick deal."
Disney said in the past it was willing to make a new deal with Pixar that makes financial sense and had expressed optimism about ongoing talks.
On Thursday, Disney said it will release its first in-house computer-animated film, "Chicken Little," in 2005. It also said it has other computer-animated films in productions with partners and on its own.
By Gary Gentile
Thanks for reading CBS NEWS.
Create your free account or log in
for more features.