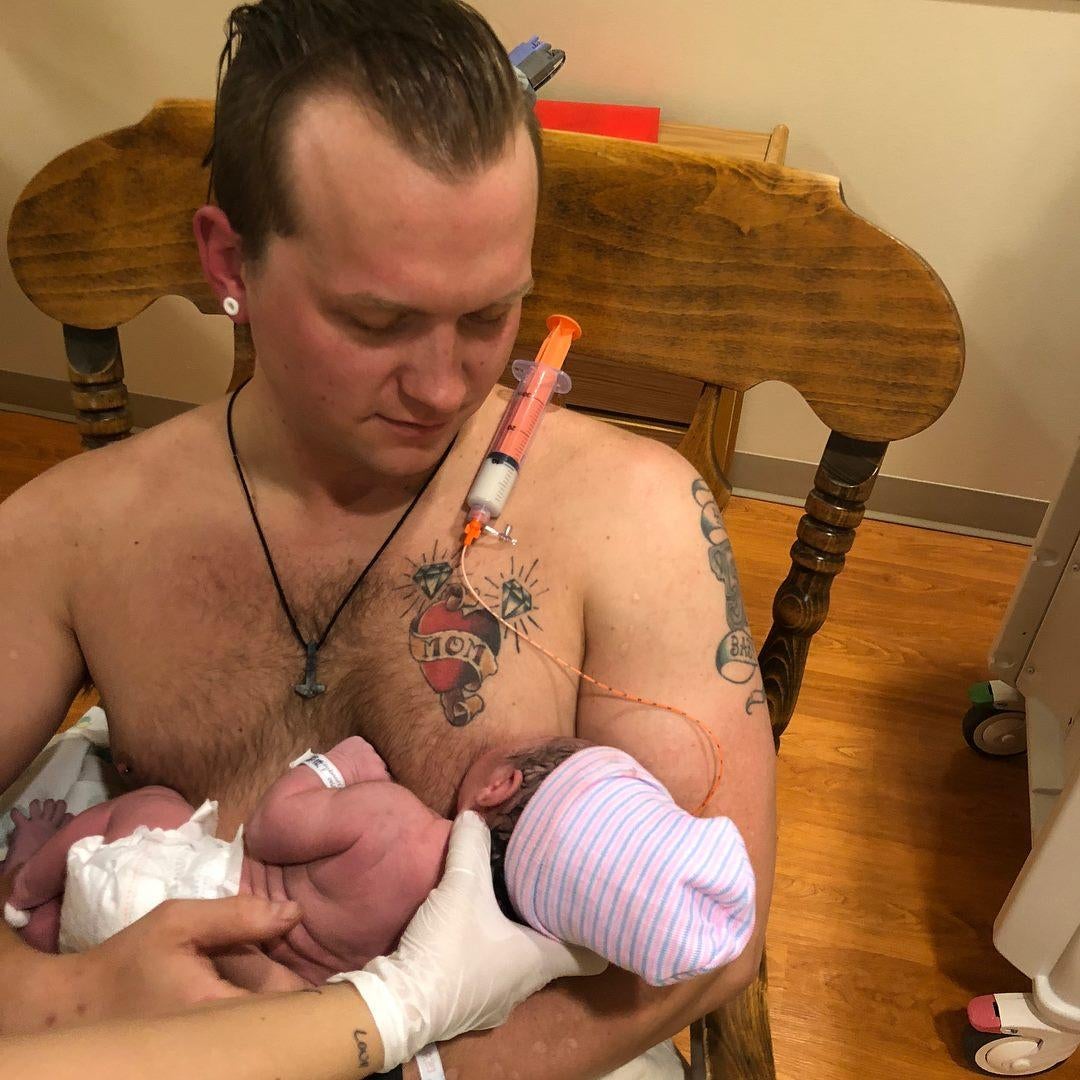 Photos of "breast-feeding" dad go viral
Wisconsin couple Maxamillian and April Neubauer just welcomed a baby girl into their lives. When April was unable to breastfeed immediately after birth, Maxamillian stepped in to help, and images of the "breast-feeding" dad have gone viral.
April had an emergency C-section to deliver their daughter, Rosalia, in June. The new mother thought she would never be able to give birth, due to a hormonal disorder called polycystic ovary syndrome, WBAY reports. She had multiple seizures during birth, and was taken to intensive care after to recover. However, the Neubauers were ecstatic when April delivered their baby, Rosalia.
Because of the seizures she suffered during birth, April could not breast feed right away -- but her husband could. A nurse had a solution for the parents: a supplemental nursing system. Cybil Martin-Dennehy recruited the dad to try a breast-feeding device, which uses a fake nipple shield, feeding tube, a syringe and some formula to help the nursing process.
The device "has been around for use with adoptive moms, moms whose babies require additional supplementation, or for moms who have flat or inverted nipples," Martin-Dennehy told CBS News. "All of these are supplies we can use for lactation assistance. However it was the first time I got a dad to use it for me!"
Martin-Dennehy says she's asked fathers to try the device many times before, but Maxamillion was the first to agree to try it out. "I said, 'Well, I'm already shirtless, and I'll try just about anything once.' Everyone got pretty excited and went for it," Maxamillion said. Martin-Dennehy hooked up the feeding device and put Rosalia to her dad's nipple. The baby girl latched on right away, and had her first meal leaning against her father's chest, right under his tattoo that says "Mom."
The Neubauers took photos of the revolutionary processes and posted them on Facebook. "This super rad nurse made a epically killer offer, and I was fortunate enough to slap on a suction cup fake nipple," Maximillian wrote. His post has been shared nearly 30,000 times and gained widespread media attention.
Maximillian was happy to step in and be the first person to breast feed his daughter. His wife will soon take over the breast feeding, so he won't need to use the device again. He does, however, have some ideas for the device -- he came up with the perfect name: "moob," a combination of man and boob.
Martin-Dennehy hopes the idea of a man "breast feeding" becomes more widely accepted by fathers like Maximillian. "He jumped in without hesitation. He was so excited to be able to fulfill their birth plan wishes when things weren't going as originally planned," the nurse told CBS News.
"I love my job and am passionate about breastfeeding, and I hope it encourages other healthcare providers to recognize the role that dads play in the breastfeeding journey. Maybe even more so now!" Martin-Dennehy told CBS News.
Thanks for reading CBS NEWS.
Create your free account or log in
for more features.