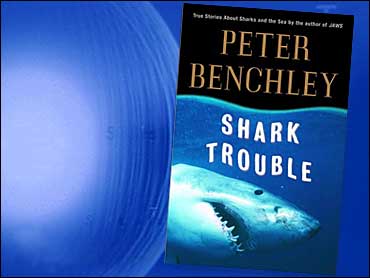 Peter Benchley's 'Shark Trouble'
Peter Benchley, author of "Jaws," visits The Early Show to discuss his new book, "Shark Trouble"
In "Jaws," Peter Benchley cast the Great White Shark as a terrorizing murderer, but in his new book "Shark Trouble," he educates readers so they can learn to be safe when they come face to face with this elusive creature. He visits The Early Show to discuss his book.
Benchley wrote "Jaws" in 1974. When Stephen Spielberg made "Jaws" into a film, it became the first summer blockbuster. Its depiction of terror in the water instilled a universal fear of shark attacks. Benchley no longer wants us to see the shark as villain.
For three decades, Benchley has studied sharks as an ocean conservationist. He learned that sharks do not have to be feared. In "Shark Trouble," he tells true stories about his own adventures with sharks and offers readers a guide to being safe in the water, learning how to read the behavior of marine life, and what to do in dangerous situations.
Last summer, when shark attack stories ruled the headlines, Benchley told Time magazine, "I couldn't write 'Jaws' today… It used to be believed that great white sharks did target humans; now we know that, except in the rarest of instances, great white shark attacks are mistakes."
Benchley has become an activist on behalf of the sharks, he has made numerous educational documentaries on the species and written articles for publications like National Geographic.
Benchley worked as a reporter for The Washington Post, then as an editor at Newsweek, and a speechwriter in the White House. He also wrote "The Deep," "The Island," "The Girl of the Sea of Cortez," "Q Clearance," "Rummies," and "Beast," among others. He is a member of the National Council of Environmental Defense and is a spokesman for its oceans program.
Thanks for reading CBS NEWS.
Create your free account or log in
for more features.