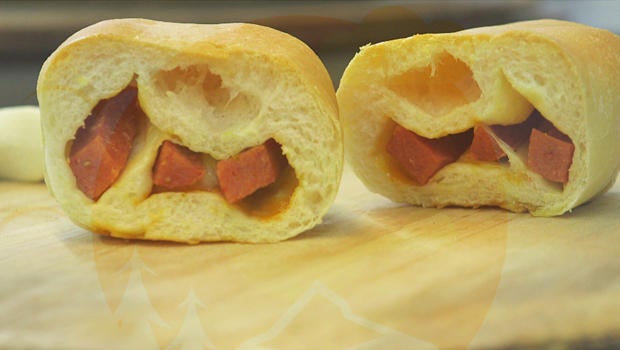 Pepperoni rolls, West Virginia's most popular snack
I grew up in West Virginia. And so, when those "country roads" take me home, my first stop is to buy a pepperoni roll.
West Virginia's most popular snack can be found at small bakeries all across the state.
Pepperoni Rolls are sold at gas stations, sampled at contests, even raced in-between innings at minor league baseball games in Morgantown.
At Tomaro's Italian Bakery in Clarksburg, the staff makes them just as fast as the customers can eat them. But if you're not a local, then you probably have no idea what I'm talking about.
"The first time I met somebody who didn't know what a pepperoni roll was, I was flabbergasted – like, why haven't you had this amazing, culinary delight?" said author Candace Nelson.
She grew up in Wellsburg, West Virginia, and has become the state's pepperoni roll expert. She frequently finds herself describing what one IS in terms of what one ISN'T.
"Oftentimes you'll hear it's a pizza pocket, or it's a hot pocket, or maybe it's a calzone, or a Stromboli," she said. "And it's similar to that. But that's kind of stripping away its history."
That history dates back to West Virginia's coal mining heyday, when Italian immigrants moved to North Central West Virginia to work in the mines. They brought their culinary traditions down with them, and the pepperoni roll – Italian bread with pepperoni baked inside – was developed as a convenient, one-handed snack that wouldn't spoil in their lunch pails.
"It might sound silly, but it's something that's unique to us," said Chris Pallotta, owner of Country Club Bakery in Fairmont. "It's from here, made by us."
Country Club Bakery was founded in 1927 by Guiseppe Argiro, a coal miner from the Calabria region of Italy, who's generally credited as being the first to sell pepperoni rolls.
As he soon found out, it wasn't just miners who were craving a snack that was cheap, hearty, and portable.
"A big part of our business is that they travel so well, 'cause it's not real messy," Pallotta said. "People grab a dozen pepperoni rolls, throw 'em in the car, and they'll go on a vacation. They go to ball games."
After all these years, it's surprising the snack has never really traveled beyond the boundaries of the state. You can't find them anywhere else – trust me, I've tried.
Perhaps that's why there's so much pepperoni pride. If you're a West Virginian and you're holding one, that means you are home.
Nelson said, "The pepperoni roll really does kind of embody who we are as West Virginians.It's simple, it's hardworking, and it's utilitarian, and I think that really speaks to who we are as a whole."

For more info:
Thanks for reading CBS NEWS.
Create your free account or log in
for more features.