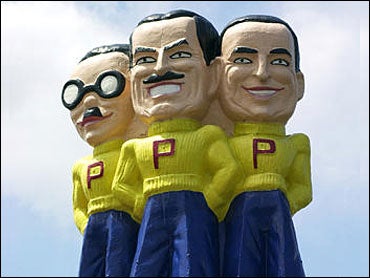 Pep Boys Closing 33 Stores
Pep Boys closed 33 stores and laid off 860 employees Thursday in a restructuring the company said will save $11 million annually.
About 700 store employees lost their jobs because of the 33 closings - about 5 percent of Pep Boys' 629 stores. Another 160 corporate employees were laid off to streamline the management structure, the company said.
The restructuring is the first major initiative under chief executive Lawrence Stevenson, who was appointed in May.
Stevenson said the low-traffic stores being closed either had misjudged the market or saw their customer base move away. Pep Boys employs about 22,000, about 6,000 below its peak.
"Nobody enjoys doing what we're going to be doing today, and clearly not the employees involved, but it's necessary for us to go the next step and return to profitability and growth," Stevenson said.
Employees were informed of the decision Thursday morning, said Peter Land, a Pep Boys spokesman. He said up to 25 percent of the laid-off employees could be rehired at nearby stores.
The news sent shares of Pep Boys up 96 cents, or 6.6 percent, to close at $15.51 Thursday on the New York Stock Exchange.
Efraim Levy, an analyst at Standard & Poor's Equity Research Services in New York, said Stevenson was focusing on profit.
"It's more important to have businesses that make money than to be bigger for size's sake," Levy said.
In 2000, Pep Boys closed 38 stores and laid off 1,500.
Pep Boys said it expects to take a pretax charge of about $85 million in its second quarter because of the closings and layoffs.
The Philadelphia-based company will close stores in 13 states, including 11 in California, five in Texas, four in Florida and three in Pennsylvania.
Two of the five Texas stores are in Houston. One store will close in each of three other cities: San Antonio, Fort Worth and El Paso.
Following the restructuring, Pep Boys will operate 596 stores in 36 states and Puerto Rico.
By Jason Straziuso
Thanks for reading CBS NEWS.
Create your free account or log in
for more features.