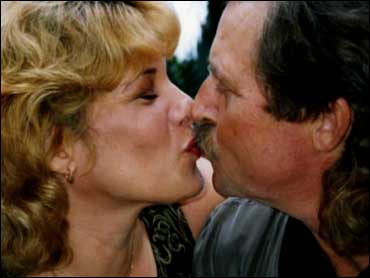 Produced by Alec Sirken and Lourdes Aguiar
This story was originally broadcast on Jan. 17, 2009. It was updated on Aug. 14.
Bob Eckhart and Toni Soren, two self-proclaimed hippies, fell in love and were married only 48 hours after meeting. Twenty-seven years later, their union was torn apart when Bob came home from work to find Toni bludgeoned and stabbed to death, with seven wounds to her neck.
Bob's peaceful personality made him an unlikely suspect in his wife's death and the case went cold-until 2006, when a determined detective reopened the case in the hope that new DNA technology could help uncover her killer.
Could this affable man who said his marriage was "like living in nirvana" so brutally kill his wife?
Bob and Toni began their whirlwind courtship when she was just 23. He was 28.
"An incredibly beautiful girl knocked on my door, and her name was Toni and we talked for must have been six or seven hours," Bob recalls. "We could connect completely with no walls, no shields. Everything was just magic."
It was the uninhibited early 1970s. Within 48 hours of meeting, the two young lovers eloped. They had a hippie wedding.
"I was always amazed I was married to her," Bob tells "48 Hours Mystery" correspondent Harold Dow. "She was my lover, my wife, my sister, my mother - everything rolled into one."
Bob and Toni were so entwined, they even created their own lyrical last name - Heartsong -- by fusing their two given names.
"We took the heart out of Eckhart and the song out of Soren and we made Heartsong," Bob explains. "We had blended together and become one person."
Toni had lost both her parents as a teenager and was raised as a young adult by her older brother, Barry Soren.
"I did everything I could for her," Soren says. "And our relationship was tight enough that she wasn't spun out about the terrible events -- the terrible way her life started."
With Bob, Toni seemed to have found a path to her own happy family.
Her cousin, Mel Sorkowitz, admired Bob's ambition. "Bob impressed me as being a very hardworking guy," he says.
Another cousin, Deb Schepp, liked Bob's calm personality. "The image that I got was that he was a very peaceful person, very spiritual," she says. "I know he and Toni practiced meditation, and it seemed like the ideal life for her."
Bob and Toni eventually settled in Jupiter, Fla., where they did everything together. They were strict vegetarians and wrote a tofu cookbook. They were also both artistic.
"We used to have a little company that we beaded necklaces for stores and we produced thousands and thousands and thousands of beaded necklaces," Bob explains.
The couple also used their artistic talents to start a company that built stone waterfalls for homes and businesses. And they became dedicated parents to two sons, Jake and Eli.
Schepp describes Toni as a happy mother who loved her boys.
"I think she was my best friend," says Eli. "She helped me out in whatever troubles I had." Adds Jake, "I loved my mom. My parents loved each other."
Through 27 years of a generally happy marriage, Bob and Toni did have some rocky periods.
"Were there ever any times where you or Toni were unfaithful in your marriage?" Dow asks.
"I've never had sex with another woman during my marriage," Bob replies. "There were times where I was sorely tempted, there's no question about that. I think she had sex with another man once or twice."
Bob says Toni's affair happened in the early 1980s. They got through that period, but the tough times occasionally returned.
Toni kept a journal that chronicled her frustrations. The following is an excerpt written in the early 1990s:
"He doesn't seem to really show me any love. Not in ways that are important to me. Like calling ... I'm constantly angry and frustrated. I hate it. He hates it. I feel so trapped. Not enough money to leave. Not enough care to work it out by both of us."
Bob says the couple had their share of tough patches, but worked on their marriage.

"[We] tried to find out what I was not doing that made sense. What I was not communicating, what I was not connecting -- that's' what I meant. She was very upfront. She'd tell me, 'I don't like this' and I'd say, 'OK. What can I do about it?'"

Even her cousins acknowledge Toni was not the easiest person to live with.

"Toni had a tough side. She inherited that from her mother. She could come across as being aggressive," explains Mel Sorkowitz.

But by all accounts, there were never any physical confrontations. Toni's brother says she would have said something to him if she ever felt threatened by Bob.

"No doubt," Soren says. "No, she would've used me to come in and protect her."The Heartsongs worked through the rough patches of their marriage, and by the late 1990s, Bob says things got better; their business was thriving and they were happy again.

"We're all diamonds that need to be shaped," he says. "And that's what I am is a diamond that's being shaped in my life… you know, so I listened."

Toni wrote about their reconciliation in her journal: "Things were better and Bob is back to his sweet self."

"It was the most incredible relationship," Bob says. "I used to describe it as living in Nirvana."

The Heartsongs' life together ended on Sept. 26, 2000. Bob says he came home at 5 p.m. and found Toni lying in a pool of blood.

"I lifted her up with my arm like this," Bob demonstrates to Dow. "I held her up and when I saw her face, I freaked out … and when I saw her eyes were beaten closed, I was just destroyed by it. I gently laid her back down and I said to myself, 'I don't want to remember this.'"

Toni's cousin, Sandra Sorkowitz, was shocked by the carnage.

"Somebody had to be very, very angry to do what they did to Toni. It was too violent," she says.

Another cousin, Elissa Lejeune, thinks this was not a random murder; no valuables were taken and Toni was not raped.

"I think that she probably did know her killer," she says.

And others began to wonder about the person that Toni knew best-Bob Heartsong.

"I never would have believed he personally did this to Toni," Schepp says, "but I began to wonder if maybe there wasn't something we, as a family, didn't know."

Just days after he found his wife murdered in their home, Bob Heartsong led local media on a tour of the crime scene.

"You invited the media into your home. Why'd you do that?" asks Dow.

"They kept asking me," Bob explains. "And finally, I said, 'Well, OK, let's talk about it.' You know, I could not believe that somebody in the world had done this."

Tim Valentine investigated the case for the state attorney's office.

"Literally every part of Toni's body had a bruise to it," he says.

"Toni initially was beaten in this area," Valentine says, pointing to the doorway where her body was found. "We determined that by the amount of blood on the wall, here, and the amount of blood on the cement. We theorize that somebody was holding her by the back of her head and just literally smashing her head against this cement. The beating was so severe her front tooth was knocked out."

Toni, described by everyone who knew her as one tough lady, did not stay down according to Valentine.

"Toni had time to stand up," he says. "Toni had time to reach across the doorway-there was a little table there-and grab a beach towel. That was clutched in her hand when she was found dead."

It was after collapsing again, investigators believe from the blood evidence, that Toni was stabbed seven times in the neck "…making sure she wouldn't wake up," says Valentine. "Definite overkill," he says. "The brutality associated with this case was well beyond the norm I have found in any case."As the husband, Bob says he knew investigators would suspect him of the murder. But he cooperated fully. Bob took and passed a lie detector test. He did two taped interviews with police, never asking for a lawyer. He told them he left the house in the early morning.

Bob says he spent most of the day at a job site in Delray Beach, 43 miles south of Jupiter. Investigators say the murder happened around 1 p.m.

"I was there 'til about 2:30," he tells police during questioning. "I mean, I've got five witnesses that are verifying that I was there."

Watch excerpts of Bob Heartsong's interrogation

Bob was later seen at a Mazda dealership in Delray at 2:45 p.m. And he says he didn't get home until 5 p.m., when he discovered Toni's body.

Police apparently bought his alibi.

Barry Soren, Toni Heartsong's brother, met with the lead homicide detective to ask about progress in solving his sister's murder.

"He said to me, 'We don't think Bob Heartsong did this. He's just a hippie. He's harmless. And in answer to your question, no, I don't believe your brother-in-law had anything to do with this,'" Soren says.

Police now looked harder at other suspects. A homeless man had been seen in the Heartsong's neighborhood for several weeks. There had also been a spate of burglaries in the area, and police found an unidentified fingerprint on the door lock of the Heartsong home. None of these leads went anywhere.

"There was no prime suspect, there was not enough evidence to charge anyone in this case," Valentine says.

The case went cold. But members of Toni's family were still troubled by some of Bob's behavior, like bringing a woman to his son's wedding just six months after the murder.

"God forbid if something so horrible had happened to my husband," Toni's cousin, Deb Schepp says. "I'm pretty confident six months later, I would not be ready to dance with another man at our child's wedding."

Bob says the woman was a friend of Toni's. "I was in tears the whole wedding," he says.

And while some who knew Bob found it hard to believe he was capable of murder, others say he had a mean streak.

"He gets out of the car, he walks up to me and he says, 'I hate the bitch,'" recalls Steve Kochakian.

Kochakian says Bob once referred to Toni that way while he was working for Bob. He says he saw Bob's temper another time-directed at him, over a minor business matter. "I've never seen anybody get so angry at anybody. I've been a bouncer. I mean, I've seen people angry. But never like this," he says. "It was a threatening thing to me."

With the case at a standstill, Bob was moving forward with his life. Two months after the murder, he bought a motorcycle. He sold his business a year later and he started dating.

Suzye Goldstein, who owns a marketing business, met Bob through an online dating service in 2002.

"It's not that often you go out with somebody and find out that their wife's been murdered, the case is still open. And, you know, he did tell me they suspected him and whatever," she says, describing him as "...gentle, kind. Totally unconditional, which I've never met a man like that in my life."

Bob and Suzye were married a year later and settled into their new life together. Yet even living with his new wife, Bob kept a shrine to Toni's memory in his den and a trunk full of memories in the living room. And he still has the box that contains Toni's ashes.

"My wife was cremated, and one day, my children -- when I die -- will take a moment and put my remains where her remains go," he says. Toni Heartsong's unsolved murder continues to be a part of Bob's new life, and now Suzye's.

"Whoever did this crime, if he could do it once -- and this might not have been the first time -- he could be doing it many more times. So there is an excellent chance there is somebody out there still doing this," Suzye says.

But while Bob and Suzye were still wondering who killed Toni, six years after her death, Palm Beach County cold case detectives had found new evidence and they were closing in.

In 2006, six years after Toni Heartsong's unsolved murder, the case was reopened and landed on Cold Case Detective John Van Houten's desk.

"The attack was so brutal on the victim, Toni Heartsong," he says. "Ninety-nine percent of them are domestic when the violence is so overwhelming.

DNA testing in 2000 was not conclusive enough to charge anyone, so Van Houten had all the samples from Toni's body retested using newer, more precise techniques. He made two striking discoveries: a trace of Bob's blood was under Toni's left thumbnail and his DNA was on her right palm.

That's what convinced Van Houten's boss, Sgt. Bill Springer, that the cold case could now be solved.

Says Springer, "When I reviewed this case and I looked at the physical evidence, I said, "this is a good case.'"

Armed with the new forensic evidence, police brought Bob back in for another interview.

"He denied it and denied bleeding, was very adamant that he didn't bleed that day," says Van Houten.

Convinced Bob was lying and convinced they had the DNA evidence to prove it, the cold case squad came to an inescapable conclusion.

Who does Van Houten think killed Toni Heartsong? "Her husband, Robert Heartsong," he says.

The Heartsongs vehemently disagree. "The whole conception of killing somebody, of harming somebody else, is just beyond me," Bob says.

Suzye says it's inconceivable for her to think Bob could be guilty of the murder for which he's accused.

"No, no," she tells Dow. "If I thought in any way -- and I'm talking about any way -- that there was any possibility that he could be a man that was capable of doing something like that, and with all we've had to face, I would have walked away!"

But in September 2006, Bob Heartsong's quiet new life with Suzye got a jolt.

"I had just driven in the driveway. I got out of my car and all of a sudden a black car comes rocketing into the driveway and a guy says to me 'Hands up' and he points a gun at me," Bob recalls.

Bob was arrested for the Sept. 2000 murder of his wife, Toni. Then he was held without bail for 20 months as preparations for his trial dragged on.

In May 2008, Bob was released, but he was far from free; he was sent home and kept under house arrest wearing an ankle bracelet. Finally, in September 2008, nearly eight years to the day after Toni's murder, Bob Heartsong headed to court. Toni's cousins arrived at the Palm Beach County Courthouse hoping for some resolution.

"I'm sure, as the trial unfolds, we're all going to learn things that we wish we could erase, but we can't," Deb Schepp says.

Prosecutor Barbara Burns will try to convince the jury that Bob is the murderer. She calls to the stand a neighbor of the Heartsongs named Carol Parkman. Parkman testifies that she heard Bob and Toni arguing around 1 p.m., the time investigators believe the murder occurred.

Investigators say lunchtime was Bob's window of opportunity.

His cell phone records show no calls between 12:30 p.m. and 1:41 p.m., even though he was on the phone constantly the rest of the day. That's when Burns believes Bob was at home arguing with Toni.

"He confronted his wife with whatever the confrontation was that turned violent," says Burns.

As for the knife used to stab Toni, Burns believes it came from an open kitchen drawer seen in the crime scene photos. Under questioning, Bob told detectives that was the drawer where he and Toni kept their favorite knife, which they used to cut tofu.

In a taped interview with police, Bob describes the knife as being smooth, with a slightly serrated edge and a little longer than a paring knife, about 5- to 6-inches long.

He tells investigators the knife is missing.
---

---
Prosecutor Burns believes the murder was committed with the tofu knife -- especially because a knife block with several knives was on top of the counter in plain sight.

"A stranger is going to go to the knife block if that's what they're looking for," she argues, "because they're not gonna have any idea that a knife is kept anywhere else in that kitchen, except on the knife block."

But her most compelling piece of evidence is that trace of Bob's blood found under Toni's left thumbnail.

There were tense moments in court as the jury listened to the tape of Bob's interrogation by Springer and Van Houten:
Cop: Bob we can't get over your blood on her body.
Bob Heartsong: I have no explanation for it because I didn't touch her.
Cop: What possible reason why your blood would be on her body?
Bob: I have no idea. I have no idea at all.


---

---
Today, Bob admits the blood might be his, but he has an explanation. "It's possible that I cut myself slightly at work. I might have cut myself on anything," he says. "Her nail might have gotten into an old cut. I don't know."

Then there is the other critical piece of evidence - Bob's DNA was found on the palm of Toni's right hand.

"And that means one thing from all the experience I have," says Springer. "That's the last person she touched, or touched her."

Bob admitted touching Toni when he found her body in the doorway of the couple's house. But did he just touch her or did he bleed on her? It becomes a key question, because if Bob's blood is on Toni's palm, it almost certainly got there the day of the murder.

"She didn't leave the house with blood on her hand. No woman does," Barry Soren. "If she noticed there was blood on her hands, she was immaculate-she would have washed it off."

A blood expert testifies about the breakdown of DNA on Toni's palm. She says it's a mixture of Bob and Toni's DNA and some of it is blood.

"It could be a combination of skin cells plus blood, or blood plus blood," says Dr. Cecilia Krauss. "I just know that blood is there. I don't know what the other component could be."

Toni's brother, Barry Soren, takes this to mean it's Bob's blood, and after eight long years, he thinks his sister's murder has finally been solved. "I cannot find a way out for Bob. He had to have done this, I'm sorry to say that." Bob's defense attorney, Barry Maxwell, says the blood evidence isn't conclusive at all, and he's about to punch some big holes in the prosecution's case.

"As I sit here, I am adamantly telling you that this man did not kill his wife of 27 years," states Maxwell, and opens Bob's defense with testimony about his alibi.

From the very beginning, Bob Heartsong has said he could not have murdered Toni because he was in Delray Beach, working on one of his water projects, at a mansion later featured in the movie "Bad Boyz II."

"I got on 95 and I went to Delray," Bob tells Dow. "I had a very large project. We were building a shark pond."

Five men who worked with Bob at the job site that day testify. They all say they saw him at various times throughout the day.

Dow asks Burns, "Do you think they were lying or mistaken?"

"I don't think they were lying, I think they were mistaken," the prosecutor says. "It was a very large construction site, but because they saw him at one point and then sometime later on, they just kind of assumed that he was there, so I think it was just a mistake."

Remember, police say the murder happened around 1 p.m. in Jupiter -- 43 miles north of Delray. Bob's lawyer, Barry Maxwell, says it's a stretch to believe Bob could have pulled it off. Witnesses place him in Delray at various times in the morning and the afternoon.

"So bottom line, in order for him to have left the construction site, headed back home, which is a good 45 minute drive away, commit the murder, clean himself up, drive another 45 minutes back to that Delray Beach construction site -- Superman couldn't have done that. He would have had to flown like Superman," says Maxwell.

And as for Bob's blood under Toni's fingernail, Maxwell cross examines the blood expert:

Barry Maxwell: And, from your analysis Ma'am, can you tell this jury how long this sample of Mr. Heartsong's blood DNA was existing underneath the left nail of Mrs. Heartsong?
Dr. Cecelia Krauss: No, DNA does not tell you how long it's been there."
"We're talking about a husband and wife married for 27 years," Maxwell says. "We don't know when that blood was placed under that fingernail. We don't know if it was the morning of, [or] a couple of mornings before."

Maxwell tells jurors there could be all kinds of explanations.

"How do we know Mr. Heartsong didn't cut himself shaving a couple of days before and Mrs Heartsong [says] 'Ah honey, you've got some blood, let me wipe that.' How do we know? We don't!"

Remember prosecution witness Carol Parkman, the neighbor who testified she heard Bob and Toni arguing? It turns out that in previous interviews with investigators and attorneys, she told a different story.

Barry Maxwell: Now, do you remember your answer, when I asked, 'Did you recognize the voices that you heard?' You stated 'no', didn't you?
Carol Parkman: Right.
Maxwell discredits Parkman's previous testimony.
Maxwell: You also stated that the pitch of the tone of conversation you heard was not aggravated, or was a normal conversation, correct?
Parkman: That's correct.
There's another big problem for the prosecution: crucial mistakes by the initial investigators after the crime -- mistakes even the prosecutor acknowledges.

"Nobody asked him to take his shirt off. Nobody inspected him under his clothing for any injuries or fresh injuries," Burns says.

"Isn't that standard procedure? Shouldn't that have been done?" asks Dow. "Yes," Burns replies.

The original investigators also failed to request records from cell phone towers that would have pinpointed Bob's location throughout the day by tracking the signal from his phone. Those records are now gone.

"It would have either given him the airtight alibi he wanted, or it would have given us the airtight case that we needed," Springer says.

Maxwell points out to the jury other unexplained pieces of evidence -- unidentified hairs found on Toni's body. Tests showed none were Bob's hairs. Maxwell tries to create doubt in jurors' minds.

"So as we sit here today, we don't know whose hair was found on Mrs. Heartsong's body. That's crucial for the state's case and they haven't met that," he says.There are more forensic questions that investigators never answered: the unknown fingerprint on the deadbolt lock and bloody footprints in the house that the original detective on the case could not identify.

And then there is Ronald Ganyo, a schizophrenic homeless man seen near the Heartsong house around the time of the murder who left Florida soon afterwards. Investigators tracked Ganyo down in California, where local police interviewed him.

In police video, Ganyo mutters incoherently, talking vaguely about hearing voices and dreaming about murder.

California police claim that off-camera Ganyo talked of details police say might be related to Toni Heartsong's murder -- details they reported to Palm Beach County Det. David Bradford.
Maxwell: Mr. Ganyo talked about a blond woman, correct?
Det. Bradford: That's correct.
Barry Maxwell: Mrs Heartsong was blonde wasn't she?
Bradford: That's correct.
Maxwell: Mr. Ganyo talked about the blond woman being stabbed, didn't he.
Bradford: Yes he did.
But Ganyo's DNA was not found at the crime scene and he was dismissed as a suspect.

So who killed Toni Heartsong? "We don't know and we will never know," says Maxwell.

While the lawyers offer different explanations of the evidence, and different theories about how Toni died, one big question continues to hang over the entire case. If Bob Heartsong did kill Toni, what was his motive?

Investigators think Bob's motive was mercenary. They speculate he was planning to divorce Toni and didn't want to pay for it.

"It's greed to me, is what it is," Springer says. "He's the type of person that 'it's my business, my house, I worked hard all these years and I'm not gonna share it, because it's mine.'"

Barry Soren believes Bob's motive was years in the making.

"Marriage is the motive," he says. "People are married, they have a thousand insults, a thousand things that happen in a marriage, a thousand hurts. If you're not careful and you don't have a good core morality after 27 years, people lose it."

In court, the prosecution has no clear-cut motive to offer and the jury is about to hear from one last witness who knows more than anyone about Bob and Toni Heartsong's marriage: their son, Jake, who was 16 when his mother was murdered.

"My mom was like my best friend, I was better friends with her than my dad at the time," Jake testifies. "And if I had any inclination that my dad did this, I would be the first to tell you that he did this. And trust me he did not do this. I watched him thoroughly more than anybody would because I lived with him before and after this and I can tell you, frankly, that he didn't do it!"

As convinced as Jake is of his father's innocence, prosecutor Burns tries to convince the jury of his guilt.

"The evidence is clear that, for some reason, whether it was financial, whether it was infidelity, whether it was just a silly argument, he lost it," she tells the jury.

And after one last plea from Maxwell, the jury will decide Bob's fate.

"Come back with the verdict which is just with the evidence or lack of evidence before you," he tells jurors in his closing. "Give Mr. Heartsong his freedom back."

Which picture of Bob Heartsong will the jury believe? The peace loving former hippie who claims he lived in nirvana with his wife? Or a man authorities believe exploded in rage and brutally killed her after 27 years of marriage?

"What would be your reaction if the jury finds you guilty?" asks Dow.

"I have to accept the life that's given me. And I have to continue to walk on my path," answers Bob. "And if it happened that way, I'm certainly going to be very, very sad."

An innocent man going to jail? "Yeah, absolutely," Bob says. "It would be a travesty." As the jury deliberates, Toni's family thinks either outcome will be a sad one.

"I never came here gunning for Bob. I never did. I mean it's a family that has been torn to pieces," Toni's cousin, Deb Schepp, says outside of court.

Jurors had deliberated for less than three hours when they asked the judge for clarification on one of the state's most important, but confusing pieces of evidence: Was it Bob Heartsong's blood that was found on Toni's right palm?

The judge's answer: the evidence is inconclusive.

That answer is all the jury needs to hear. Just moments later, the jurors reappear to announce their verdict: "We, the jury, find as follows: We find the defendant not guilty."

Upon hearing the verdict, Bob almost collapses into his seat. For him and his loved ones, it brings not only relief, but vindication.

"All I want to say to you is I'm free! As I should be," he tells reporters outside the courtroom. "I didn't do it. I never could have done that to anybody. It's impossible for the kind of person that I am …You can't imagine what it's like to spend 24 months in jail -- and finally be free -- for something that you didn't do, for losing somebody in your life that was more important to you than air. And here I am. I'm gonna live!"

Jurors say their verdict does not reflect what they truly believe about Bob Heartsong.

"I would say out of 12 jurors, 10, 11 of us, if not all of us, believed he did it. We just did not have the evidence to convict him," says jury foreman Tony Alberto. "So even though there wasn't enough evidence, you can't convict someone based on your feelings."

"You're saying Bob Heartsong got away with murder?" asks Dow. "Yes, I am," states juror Tony Albertson.

For Alberto, that inconclusive DNA on the palm was what turned this case around.

"If it had been his blood, there is no way, no way, I would have entered a not guilty verdict," he says.

The jurors say it's the state's fault that Bob Heartsong isn't going to prison.

"A lotta things were left unturned or uninvestigated," says juror James Finch.

Alberto is angry at the state. "I think they were irresponsible in the investigation. The state didn't have enough case against him, that's why we couldn't do our job and convict him."

For Toni's family, the verdict is a mixed bag.

"You know what? It doesn't matter what's in my heart of hearts. The jury has spoken," says cousin Mel Sorkowitz . "Whoever murdered her is gonna have something in their heart of hearts for the rest of their life."

"I'm not completely unhappy with the result. He gets to go back to his kids," concedes Toni's brother, Barry Soren. "I don't know the answer. Listen, what my sister would have wanted for her children is more important than my instinct to a vendetta."

Back at home, Bob sets foot into his backyard for the first time in two years.

"I can't believe I'm free. It's fabulous!" he says.

"And all the time I kept saying, 'I know they'll be able to see the truth, I really know they'll be able to see the truth,'" says his wife, Suzye.

"But you gotta know there people out there who still think you killed your wife," Dow says.

"Yeah, but I know what I did and what I didn't do, and I know I didn't kill my wife," Bob responds. "So, what they think -- that's their problem to deal with. Hopefully somewhere's along the line there'll be enough truth that'll be brought on in this case, and the exoneration will be complete."

Bob says he still lives with the stigma of having been accused and he believes his name won't be completely cleared until the real killer is found.

And he says he will never stop missing Toni. "They're gonna have to find the people that did this incredible act. I won't rest until that's brought out," he says. "I miss her terribly. I'll miss her all the rest of my life. My relationship with Toni will go on just the way it is…"

The Palm Beach County Sheriff's Department says the Toni Heartsong murder case is closed.

Bob Heartsong filed for bankruptcy to help pay $400,000 in legal bills.
Thanks for reading CBS NEWS.
Create your free account or log in
for more features.