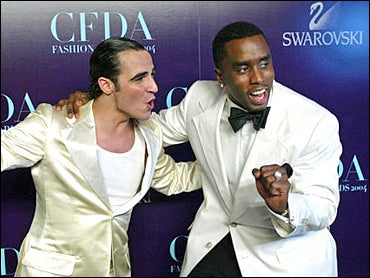 'P. Diddy' Bags Top Fashion Award
Sean "P. Diddy" Combs finally got what he's craved from the fashion industry: respect — and a little thing called a CFDA award.
The Council of Fashion Designers of America named Combs the top menswear designer of the year for his Sean John collection at its annual awards show Monday night; he beat veterans and previous winners Ralph Lauren and Michael Kors.
This was Combs' first win despite four previous nominations.
"I'm very happy as you can see," said Combs, who danced his way up to the podium at the New York Public Library. "I've had some things I've had on my mind for a few years."
He didn't hold a grudge, though.
First, Combs, wearing a white tuxedo jacket, told the audience of fellow designers, models, fashion editors, stylists and retailers that years ago he stood in the Ralph Lauren store "saving my pennies" for a new Polo shirt. "I am living the American dream."
Then, he shouted, "Ralph, you're still the sexiest man on the planet!"
Carolina Herrera was honored as the best womenswear designer of the year, and Reed Krakoff, Coach's president and executive creative director, was picked as the top accessories designer.
Sarah Jessica Parker was toasted as this year's "fashion icon", following in the Manolo Blahnik footsteps of Nicole Kidman and C.Z. Guest.
"I think they made up this award just in case she (Parker) came along," gushed Isaac Mizrahi as he presented the former "Sex and the City" star with her award.
Parker, wearing a hot pink and black lace vintage halter dress by the late Hollywood costumer Howard Greer, said she was "thrilled".
"Fashion is my fatal flaw. It's my weakness. Sometimes you see something you want and you can't have it, but in my case ... " she trailed off to laughter from the crowd.
"Sarah Jessica Parker represents the fact that high fashion — which had been divorced from reality for a while — is now a little more entwined with what people are wearing," said Glamour editor in chief Cindi Leive.
The CFDA awards, now in their 23rd year, has increasingly put an emphasis on the close relationship between fashion stars and celebrities. Natalie Portman showed up on the arm of Zac Posen, the winner of a Swarovski-Perry Ellis award for emerging talent, and Martha Stewart accompanied womenswear nominee Ralph Rucci.
"I've admired his clothes for so long, and I started to buy some. Then he asked me to be his date. I'm honored to be his date," said Stewart, wearing a white satin jacket and black cigarette pants.
Other winners included hat designer Eugenia Kim, Wall Street Journal fashion reporter Teri Agins, Miuccia Prada and photographer Irving Penn.
Tom Ford, the former Gucci and Yves Saint Laurent designer, received a special tribute from the CFDA board of directors for the sizzle, sex appeal, hard work, business sense and imagination he brought to the runway.
Ford said he'd been lucky enough in his 20-year career to receive a few awards but this was the first time he'd taken the time to savor one.
However, he did use the word "temporary" at least once when referring to his retirement.
Thanks for reading CBS NEWS.
Create your free account or log in
for more features.