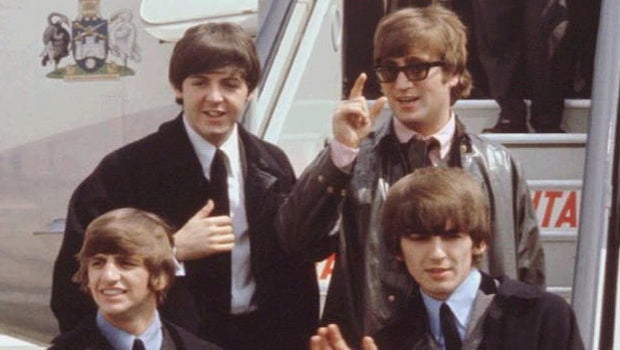 Out of a "Flaming Pie" comes the Beatles
This piece is part of a series of essays to mark the 50th anniversary of the Beatles' first American television appearance on CBS's "The Ed Sullivan Show." It culminates with CBS News, 50 Years Later...The Beatles at The Ed Sullivan Theater: Presented by Motown The Musical, a live, interactive multimedia event at The Ed Sullivan Theater on Feb. 9.
"Well, I had a vision when I was twelve. And I saw a man on a flaming pie, and he said, 'You are the Beatles with an A.' And so we are."
The quote was from John Lennon answering the already well-worn question of the origin of the Beatles name as part of a Capitol Records promotional interview for the Jan. 20, 1964 American release of "Meet the Beatles!"
Lennon was retelling a story he told Mersey Beat magazine three years earlier, and, of course, it was pure fabrication, but no matter how the Beatles answered this question, their interviewers continued to ask it.
CBS correspondent Tom Costigan tried to get a straight answer out of Paul McCartney in New York: "I might be a little square, but what does Beatles mean?"
McCartney returned the question with another question. "You know the little crawly things?" he asked, pausing for Costigan's confirmation. "Well, we're big crawly things."
CBS News posed the question again at the Plaza Hotel, and, Ringo Starr dodged it. "John thought of the name Beatles," he began with a devilish smile, "and he'll tell you about it now."
Lennon took the bait, albeit without much enthusiasm: "It means Beatles, doesn't it? But that's just a name, you know, like shoe."
McCartney continued: "The Shoes, you see. We could have been called the Shoes for all you know."
The straight answer Lennon offered Hunter Davies for his 1968 Beatles authorized biography seemed to close the question once and for all: "I was sitting at home one day just thinking about what good name the Crickets would be for an English group. The idea of beetles came into my head. I decided to spell it BEATles to make it look like beat music, just as a joke."
However, since then, some have credited former Beatle Stu Sutcliffe with conjuring up the name, while others -- including George Harrison -- have suggested the Beatles might have lifted their name from Lee Marvin's outlaw biker gang in the 1953 film "The Wild One."
The question of the Beatles' name has now been asked so many times and answered so many ways -- and, sadly, we've lost John Lennon, George Harrison and Stu Sutcliffe -- there may never be a definitive answer.
However, one thing's for sure, we know where Paul McCartney got the name for his acclaimed 1997 solo album, "Flaming Pie."
Thanks for reading CBS NEWS.
Create your free account or log in
for more features.