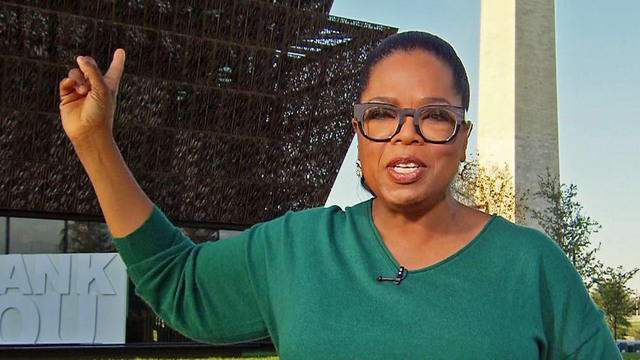 Oprah is a "dancing emoji," thanks to the Smithsonian's newest museum
The Smithsonian's new National Museumof African American History and Culture had Oprah Winfrey dancing Friday Morning, one day before it officially opens to the public.
"It is moving and profound," Winfrey said. "I'm actually a dancing emoji today, a dancing emoji. I'm so happy!" Winfrey exclaimed, dancing in front of the museum​ on the National Mall in Washington D.C.
As a member of the museum's council, Winfrey was one of the driving forces behind the museum since 2004, after former President George W. Bush signed a bipartisan legislation that finally got the balls rolling on the 100-year effort​ to get it built.
Winfrey said walking through the museum, she was "literally doing everything I could to hold myself together."
Quoting a line from one of her favorite poems by Maya Angelou -- "I come as one but I stand as ten thousand" -- Winfrey said it was "amazing" that the "poem actually has its own voice through the museum because the tens and tens and tens of thousands of people who represent the culture of African-American history are represented in this museum."
That voice is captured in the 487 quotes featured on the museum's walls – among them the words of civil rights activist and author Ida B. Wells​: "The way to right wrongs is to turn the light of truth upon them."
Winfrey described Ida B. Wells as one of her many "she-roes" who are featured in the museum.
"I mean, I could start crying right now," Winfrey said. "Walking through the museum is like touching the face of the past that has allowed you to be who you are. And I just think that for all of America, this helps elevate the narrative of African Americans' contribution to our country."
Winfrey also went on to calling it "America's museum," saying that it would not have been possible without the individual contributions of all who donated, on top of the $270 million funded by Congress.
"Wonderful story about this is, of course there were large donors, but it's the $25 and the $100 and the $15 and Alfred Street Baptist Church – which came together rand gave a million dollars through all of their members – that makes this really America's museum," Winfrey said.
Winfrey described it as "America's museum" because while the museum "emphasizes African-American history and culture and the contributions," she said they obviously "did not happen alone, so it's about the cooperation between all of us that has allowed us to stand as a nation."
"For years, I've said our generation, my generation failed in passing on the story of who we were to the next generation, but we have been redeemed through this museum," Winfrey said. "The narrative has changed for the rest of the world forever as a result of what is here."
Winfrey herself has donated over $20 million, and the museum has named its theater the "Oprah Winfrey Theater." Oprah said she hopes it would be "the place for common discourse and conversation that elevates who we are, where we've been and where we're going as a people, as a culture, as a nation."
"When I think about the kinds of conversations and concerts and art exposure that will happen in that theater, it makes me proud," she said.
The museum also features a recreated set of the first episode of her talk show.
"Well first of all, it's very beautiful," Winfrey said before bursting into laughter.
Thanks for reading CBS NEWS.
Create your free account or log in
for more features.