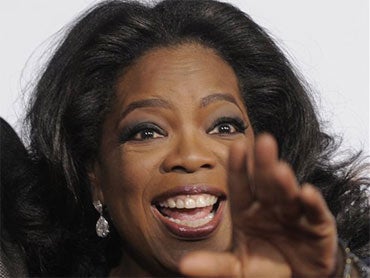 Oprah, Ellen Pull Out of Daytime Emmy Running
Between them, Oprah Winfrey and Ellen DeGeneres have won 11 Daytime Emmy awards as best talk show host. They won't add to that total this year, by their own choice.
DeGeneres took herself out of consideration for the award for the first time since starting her show.
"I feel my steroid use gives me an unfair advantage," DeGeneres joked in a statement on her website on Wednesday.
Winfrey hasn't submitted her work since winning her seventh Emmy and a lifetime achievement award in 1999.
There may be generosity behind the gestures, to give fellow entertainers the chance to stand on stage holding an award. It could also water down the award's meaning, with the knowledge that National Academy of Television Arts & Sciences members are not truly evaluating the best in the field.
Think of the American League starting a season with the knowledge that the New York Yankees and Boston Red Sox have decided that, no matter how well they do, they won't participate in the World Series.
Daytime Emmy Awards 2010: The Nominees
This year's talk show nominees, announced Wednesday, are Rachael Ray, Bonnie Hunt, Dr. Mehmet Oz, Regis Philbin & Kelly Ripa and the five stars of "The View."
Bill Carroll, an expert on the daytime market for Katz Television, said the withdrawals of Winfrey and DeGeneres were gracious and don't cheapen the prize.
"I understand why Oprah and Ellen have made the decisions they made," Carroll said. "Does that lessen the value? Not really."
Winfrey dominates the daytime talk market, her ratings often twice the nearest competitor. She has said her show will end next year, as she leaves to concentrate full time on a new cable network that will bear her name.
"The Ellen DeGeneres Show" is considered one of the shows most likely to pick up viewers in Winfrey's absence. It was the fifth most popular talk show last year, its ratings held down because of weakness on the NBC stations that air it, Carroll said.
The host of the second most popular talk show, Dr. Phil McGraw, was not nominated this year despite submitting an entry.
Oz, whose medical show was nominated in its first year, expressed happiness at the nod.
"Our goal is to inspire a national conversation about health and wellness every day on our show, and I'm proud that our team's efforts are recognized by our peers with these nominations," he said.
There is precedent in the prime-time Emmys for actors not participating after a series of wins: Candice Bergen did not enter the competition for best comedy actress after winning for "Murphy Brown" five out of seven years.
There's plenty of precedent on the other side, too: Jon Stewart's "The Daily Show" and the reality show "Amazing Race" are both riding seven-year winning streaks in the prime-time Emmy Awards.
DeGeneres still submitted her show this year for a best talk show category nomination, which it received. Winfrey doesn't participate in that category anymore, but the show is submitted for technical awards that honor members of her staff.
Generosity might not be the only thing these women are thinking about in not submitting for their individual awards, said Tom O'Neil, an expert on entertainment awards shows at TheEnvelope.com. They may sense they've peaked with voters, he said.
Winfrey won every year from 1991 to 1995 but not again until 1999, when she shared the award with Rosie O'Donnell. DeGeneres had a four-year winning streak from 2005 to 2008, but "The View" team of Barbara Walters, Whoopi Goldberg, Joy Behar, Elisabeth Hasselbeck and Sherri Shepherd won last year.
"It's not a case of either one of them stepping away at the height of victory," O'Neil said.
Thanks for reading CBS NEWS.
Create your free account or log in
for more features.