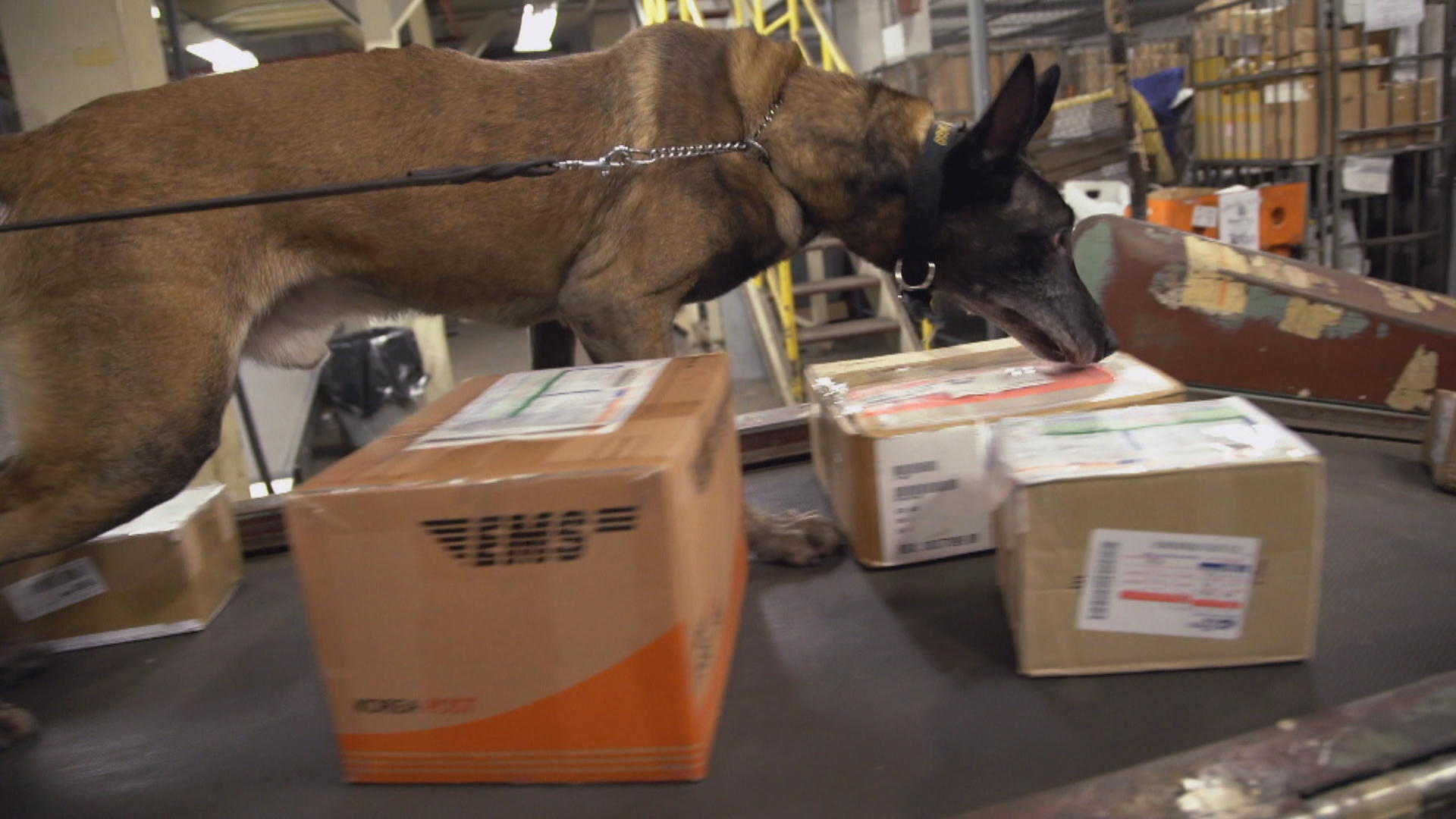 The hunt for illegal opioids in the U.S. starts inside JFK airport
U.S. Customs and Border Protection is revealing an alarming new milestone in the fight against opioids. Fentanyl and other super-potent synthetic opioids have been pouring into the United States through international mail and private carriers, and seizures of these illegal shipments surpassed 37 kilograms, more than 81 pounds, in the fiscal year ending this week. That's a new record.
Most of those packages are found at the busiest international mail room in America: John F. Kennedy International Airport. They process more than a million inbound packages every day. At a time when your mailman may be an unwitting drug dealer, it's also the front lines in the opioid crisis, reports CBS News correspondent Tony Dokoupil.
Spike the dog is one the newest tools in the hunt for illegal opioids. Riding the conveyor belt as an officer fills it with suspicious packages, in this case all from China. A package with fentanyl was used intentionally as a training aid, and Spike was able to find it.
Frank Russo, U.S. Customs and Border Patrol port director for JFK Airport, said dogs are "incredibly important because the work that a canine can do in an hour is what it would take an officer eight hours to complete."
Russo runs field operations at the airport, where seizures of fentanyl nearly tripled to more than 80 packages in the past fiscal year.
"What we are seizing here is hundreds of millions of dollars," Russo said.
Anything flagged by the dogs or pulled by agents is searched by hand on a table, as we witnessed after the X-ray machine revealed an unknown object. Fentanyl is so toxic that officers wear gloves and masks to avoid accidental contact.
This time it wasn't fentanyl but GBL, commonly used as a date rape drug.

Just one room away, however: "Fentanyl, fentanyl, and fentanyl again," Dokoupil noted.
"Correct," Russo said.
"Look at the bottom here. China, Hong Kong, Hong Kong. Is that typical?" Dokoupil asked.
"That is absolutely typical. Most of our seizures, actually all of our seizures have come from China and Hong Kong this year," Russo said.
"And you've also got where it's going to. Pennsylvania, North Carolina, Connecticut. Are there particular areas of the country where a lot of this is headed?" Dokoupil asked.
"That's the interesting part, Tony, is that it's everywhere. It's going absolutely everywhere," Russo said.
Moments after we entered the room, there was a fresh seizure one table away. It was 35 grams of fentanyl, which is "incredibly deadly," according to Russo. We couldn't show it on camera because the package could still go out and be part of an active investigation.
Russo believes they've dramatically reduced the amount of fentanyl that makes its way into America, but the only way to reach a perfect record they say is better international cooperation so they have information about these packages long before they get to the U.S.
Thanks for reading CBS NEWS.
Create your free account or log in
for more features.