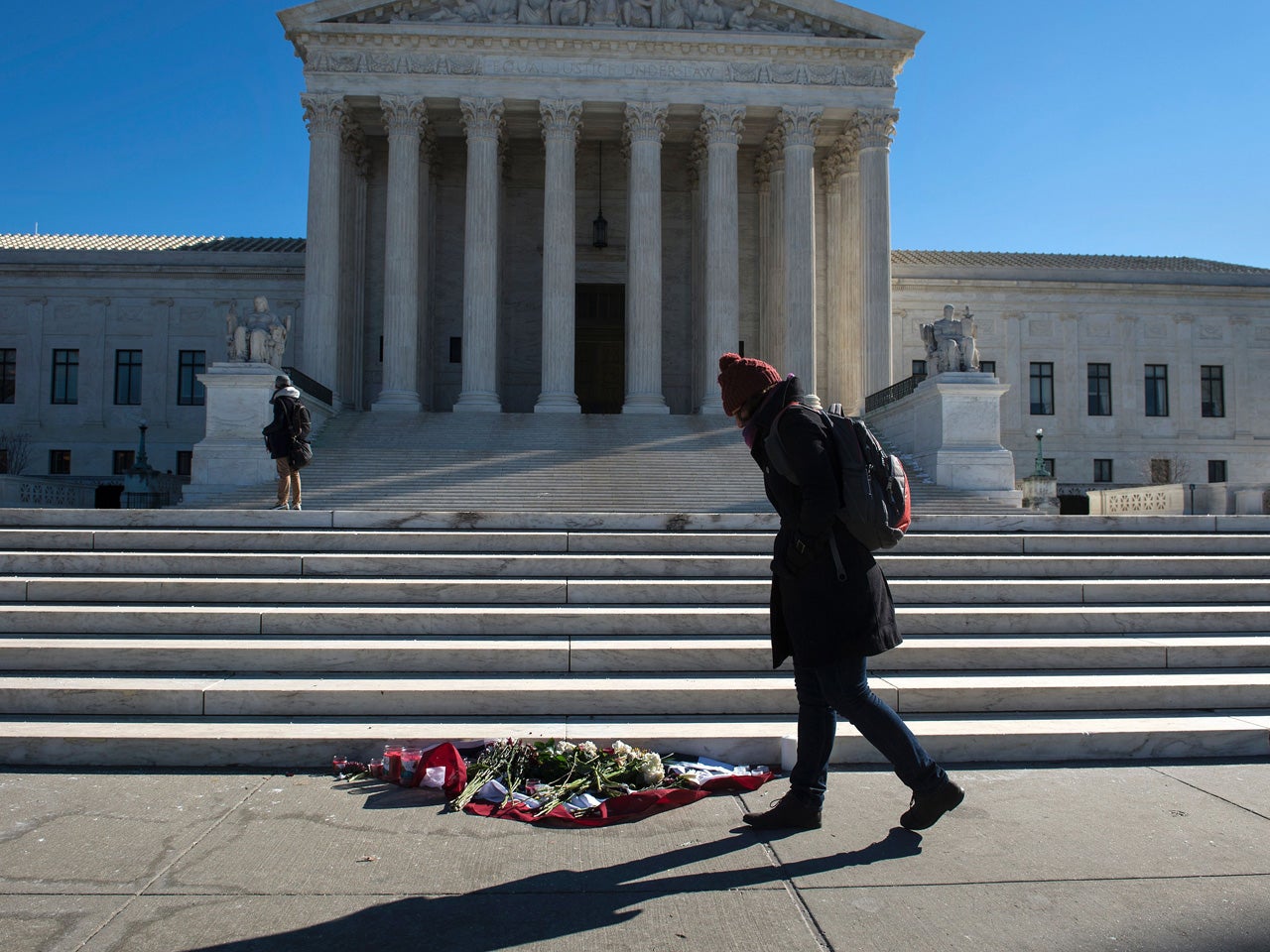 Officials debating autopsy of Antonin Scalia
WASHINGTON - A procession of law enforcement officers early Sunday escorted the body of Supreme Court Justice Antonin Scalia to a funeral home in El Paso, Texas, where officials are waiting to hear whether an autopsy will be performed.
Chris Lujan, a manager for Sunset Funeral Homes, said about 20 law enforcement officers arrived early Sunday morning at the funeral home. The procession traveled more than three hours from the West Texas resort ranch where Scalia, 79, was found dead in his room Saturday morning.
Lujan says Scalia's body was taken from the facility late Sunday afternoon. Lujan says it was to be taken to Virginia, but he didn't know exactly where.
Lujan says an autopsy was not performed.
He says Scalia's family didn't think a private autopsy was necessary and requested his remains be flown home as soon as possible.
The county official who declared Scalia dead Saturday did not order an autopsy after finding he had died of natural causes. She said investigators told her there were no signs of foul play.
The U.S. Marshals Service released a statement on Scalia's death Sunday evening.
"The U.S. Marshals Service routinely coordinates with the U.S. Supreme Court police to provide security for the Justices, however, Justices may decline USMS protection," the statement read. "In this instance, the USMS detail was declined for the personal trip to the hunting resort in Texas, so USMS personnel were not present at the ranch. Deputy U.S. Marshals from the Western District of Texas responded immediately upon notification of Justice Scalia's passing."
President Barack Obama has ordered flags to be flown at half-staff at the Supreme Court, where Scalia served for three decades, and other federal buildings throughout the nation and U.S. embassies and military installations throughout the world.
As the flags fly lower, the campaign-year political heat has risen over the vacancy on the nine-member court.
At issue is whether Obama, in his last year in office, should offer a nomination and the Republican-led Senate should consider his choice for confirmation in an election year.
Obama pledges a nomination "in due time." Senate Majority Leader Mitch McConnell, R-Ky., thinks it should wait for the next president. The Republican resistance to an election-year confirmation got a thorough public airing on the GOP debate stage just hours after Scalia's companions found him dead in his room at the Cibolo Creek Ranch in West Texas.
Republicans argued that Obama, as a lame duck, should not fill the vacancy created by Scalia's death but leave it to the next president - which they hope will be one of them.
Sen. Marco Rubio, R-Fla., told CBS' "Face the Nation" on Sunday he supports McConnell in his pledge to block any Obama nominee.
"There's been a precedent established over 80 years that in the last year, especially in the last 11 months, you do not have a lame duck President make a lifetime appointment to the highest court in the land," Rubio said. "It's not just for the Supreme Court, there's a practice in the eight months of the presidency or nine, you stop doing appellate courts, as well. And I would respect that practice."
There are about 11 months left in President Obama's second term.
Rubio said he would not use a litmus test of a specific issue if he were to nominate judges, but rather this principle: "Does the justice, this person that we are nominating have a consistent and proving record of interpreting the Constitution as initially meant?...What did those words mean to that society at the time in which those words were written in the Constitution?"
Retorted Democratic candidate Hillary Clinton in Denver: Obama "is president of the United States until Jan 20, 2017. That is a fact, my friends, whether the Republicans like it or not."
"Let's get on with it," said Clinton's rival, Bernie Sanders, arguing that the Senate should vote on whoever Obama nominates.
Republicans insisted that refraining from Supreme Court confirmations in election years is a longtime precedent.
In fact, Justice Anthony Kennedy was confirmed by the Senate on Feb. 3, 1988, in the final year of Ronald Reagan's presidency, by a 97-0 vote. That was a presidential election year. Kennedy was nominated in 1987 and confirmed the next year.
The example of Kennedy, who is still on the court, shows that presidents in their last year aren't always powerless in shaping the court - and not shy about trying.
The reaction to Scalia's passing on social media was swift -- going from surprised to political within about an hour of Justice Scalia's death.
Scalia was one of the most conservative members of the court, nominated in 1986 by President Ronald Reagan. Most of his positions were not favored by the liberal community -- he was pro-life, did not support gay marriage, and most recently came under fire for suggesting some black students would benefit by attending less-advanced schools.
While much of the social media chatter on Scalia's death was positive, many on the left took the opportunity to express dislike for Justice Scalia and his positions.
Thanks for reading CBS NEWS.
Create your free account or log in
for more features.