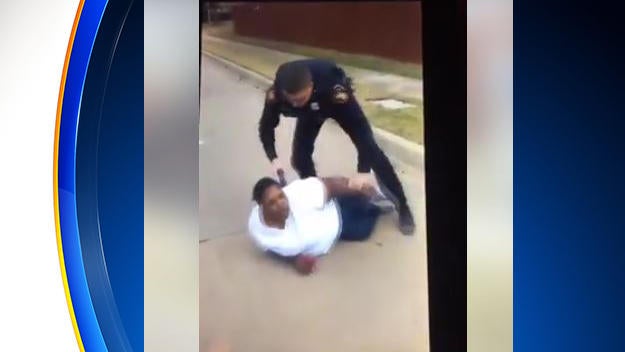 Officer on restricted duty after Texas woman's controversial arrest seen on video
FORT WORTH, Texas -- A white Texas police officer has been put on restricted duty after a video of him wrestling a black woman to the ground before arresting her and her two teenage daughters was posted on Facebook.
The incident began in a Fort Worth neighborhood Wednesday afternoon when an officer was called by Jacqueline Craig who had been arguing with a man who she said physically confronted her 7-year-old son for littering.
In the video, posted live on Facebook Wednesday, Craig can be seen telling a Fort Worth police officer that a neighbor choked her son after the neighbor said the child littered in his yard. The officer is heard asking her, "Why didn't you teach your son not to litter?"
The woman says the neighbor can't prove to her the boy littered, but said "it doesn't matter if he did or didn't, it doesn't give him the right to put his hands on him."
The officer replies, "Why not?"
Warning: Video may be disturbing and contains graphic language
The conversation escalates and the officer can be seen taking Craig to the ground, handcuffing her and pointing what appears to be a Taser at a teen girl, later identified as Craig's daughter. A family attorney said Thursday the Taser was not deployed.
The officer is also seen taking the teen to the ground and handcuffing her. The woman filming identifies herself as Craig's daughter and is heard yelling at the officer, telling him she's filming and he's "on live."
The woman filming was also later detained, reports CBS DFW.
The video has sparked several calls for civil rights protests in downtown Fort Worth, the station reports.
In a statement, Fort Worth police say they became aware of the Facebook video around 10 p.m. Wednesday and their internal affairs unit immediately began investigating. Two of the three arrestees were interviewed at the Fort Worth jail and officials also interviewed witnesses and reviewed the Facebook video.
In a press conference, family attorney Lee Merritt said the officer was the one to "brutally escalate" the situation and called for him to be immediately terminated and charged. Merritt also called for charges to be dropped against his clients and for the man accused of choking the boy to be arrested.
"The man should have been placed under arrest; instead, the mother was questioned," he said.
Thanks for reading CBS NEWS.
Create your free account or log in
for more features.