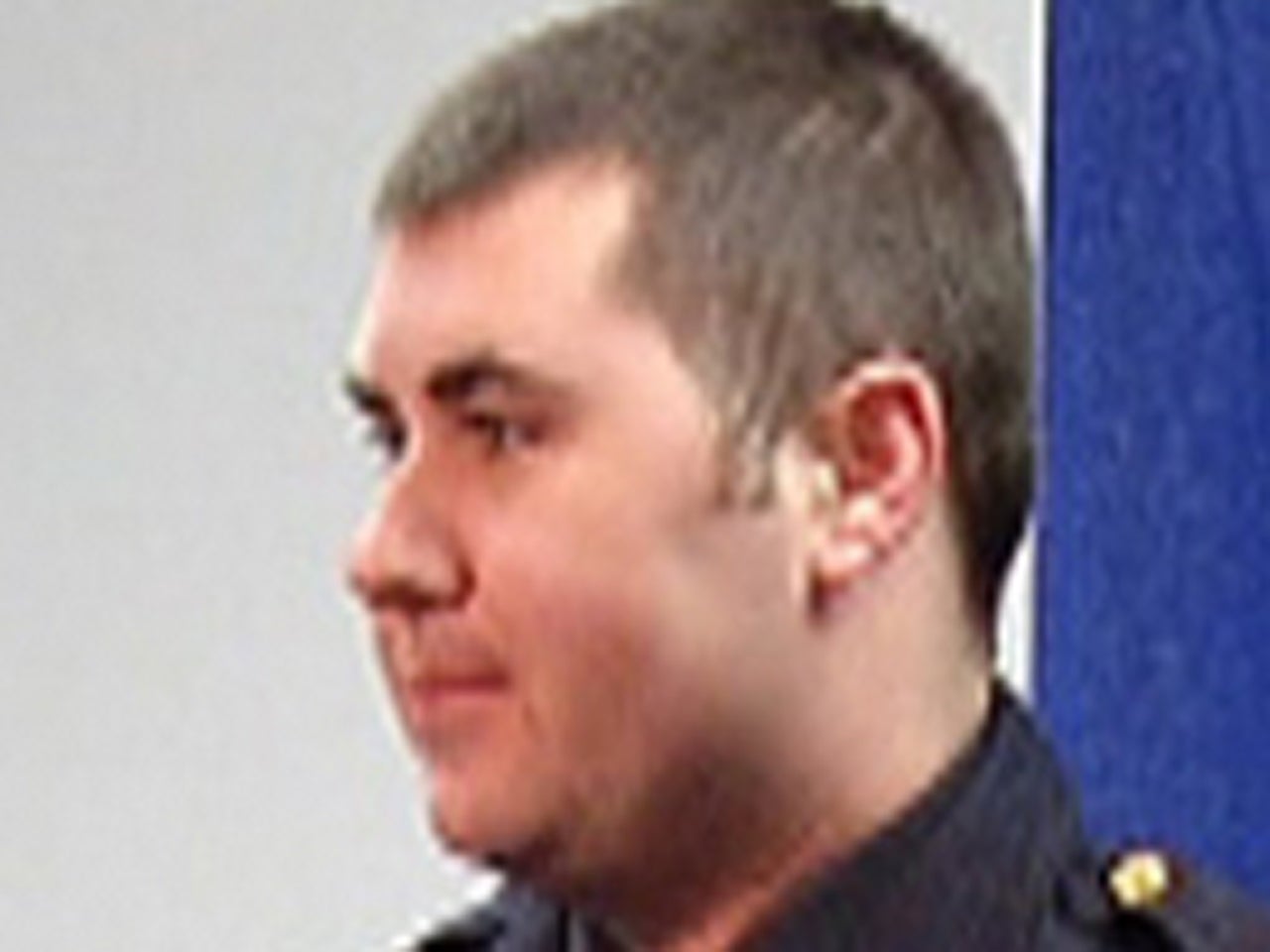 Officer allegedly manipulated corpse of man shot by cops
BAKERSFIELD, Calif. -- A police Medal of Valor winner is under investigation after allegations that he improperly handled the corpse of a man shot by officers - and even joked about tickling his feet.
Senior Officer Aaron Stringer was placed on paid administrative last November, two days after 22-year-old Ramiro Villegas was killed after a car chase, according to a police statement issued Monday. Stringer was under internal investigation over an allegation that he manipulated the body, the statement said, but did not provide details.
Police declined to release additional information Monday.
Villegas' family is described by CBS Bakersfield affiliate KBAK-TV as outraged over the allegations.
Villegas was in his mother's car on Nov. 13 when he fled police, got off a highway and crashed into a signal light pole. Ordered out of the car, he was shot after officers said he approached them and reached toward his waistband. No gun was found.
A claim filed against the city by his mother said Villegas was shot by four officers even though he was nonviolent and had his hands up. The Police Department ruled the shooting was justified.
Stringer wasn't involved in the shooting, but he and a probationary officer he was training went to the scene and then to a hospital to view the body, according to police reports cited by the Bakersfield Californian.
The trainee, Lindy DeGeare, said Villegas's body was covered with a sheet and lying on a gurney. Another officer who was assigned to watch the body described it as having gunshots to the head, eye, arm and genital area, DeGeare told investigators, according to the reports.
Stringer put on gloves, pulled down the sheet to expose Villegas's head and upper body and looked at the wounds. He touched the bottom of Villegas's uncovered feet and said "tickle, tickle," then pulled on the toes of the right foot and said rigor mortis hadn't set in, DeGeare stated.
He also moved Villegas' head and, finding it difficult, said he believed rigor mortis had set in, then told DeGeare he "loves playing with dead bodies" and laughed, according to the reports.
The other officer in the room said he witnessed Stringer touch Villegas' foot and grasp his jaw, according to the reports.
Police Chief Greg Williamson told the Californian on Friday that Stringer's alleged comments were disturbing and that while it is part of an officer's field training to view bodies, touching them is not allowed.
In February, police submitted a criminal report on Stringer's actions to the Kern County district attorney's office but the case was rejected, District Attorney Lisa Green said Monday.
"That isn't a crime, while it may be disgusting," Green said, referring to his alleged manipulation of the body.
"Certainly I think anybody would recognize that's an inappropriate thing to do," Bakersfield Police Sgt. Joe Grubbs told KBAK-TV Monday.
"It is disturbing," Villegas' sister, Sarina Gobzalez, told the station. "And the citizens should be concerned about this, because these are our public offices who are here and sworn to protect us."
Joe Arambulo, who says he's Villegas' brother, told KBAK he wants Bakersfield police to take action.
"If there's not going to be criminal charges, if the D.A. doesn't want to step up and prosecute these officers, then at least take his job," Arambulo said. "Get him off our streets. Don't let him serve the public no more. It's more of a hazard than anything."
Sgt. Grubbs says if the internal investigation finds wrongdoing by Stringer, that process could recommend anything from written reprimand to dismissal from the department.
Villegas' sister asks the police chief to take action.
"It's not OK (Chief) Greg Williamson," she said. "Your community is crying out for justice."
There are laws against desecrating corpses physically and against moving corpses from the place of death without coroner's permission but "he did neither of those," D.A. Green said.
However, Mark Geragos, an attorney for Villegas's mother, said that if Stringer did touch the body before it had been autopsied, that could have consequences for the investigation of the shooting. "Besides it being ghoulish behavior...it's tampering with evidence, obviously," Geragos said.
Geragos said he intends to sue over the killing and will include the allegations of body manipulation.
The Associated Press was unable to find a working telephone number for Stringer. A message seeking comment from him or his attorney was left with the Bakersfield Police Officers Association but not immediately returned.
A message also was left with H. A. Sala, an attorney who represented Stringer after he was arrested on suspicion of hit-and-run and driving under the influence of a prescription sleeping pill in 2010. He pleaded no contest to a "wet and reckless" charge and was fined and ordered to attend a Department of Motor Vehicles class.
Last year, Stringer shot and killed a man who charged at him with a metal bicycle lock. Stringer also holds a 2009 Medal of Valor for saving his partner during a shootout in which both were wounded.
Both shootings were ruled justified by the department.
Thanks for reading CBS NEWS.
Create your free account or log in
for more features.