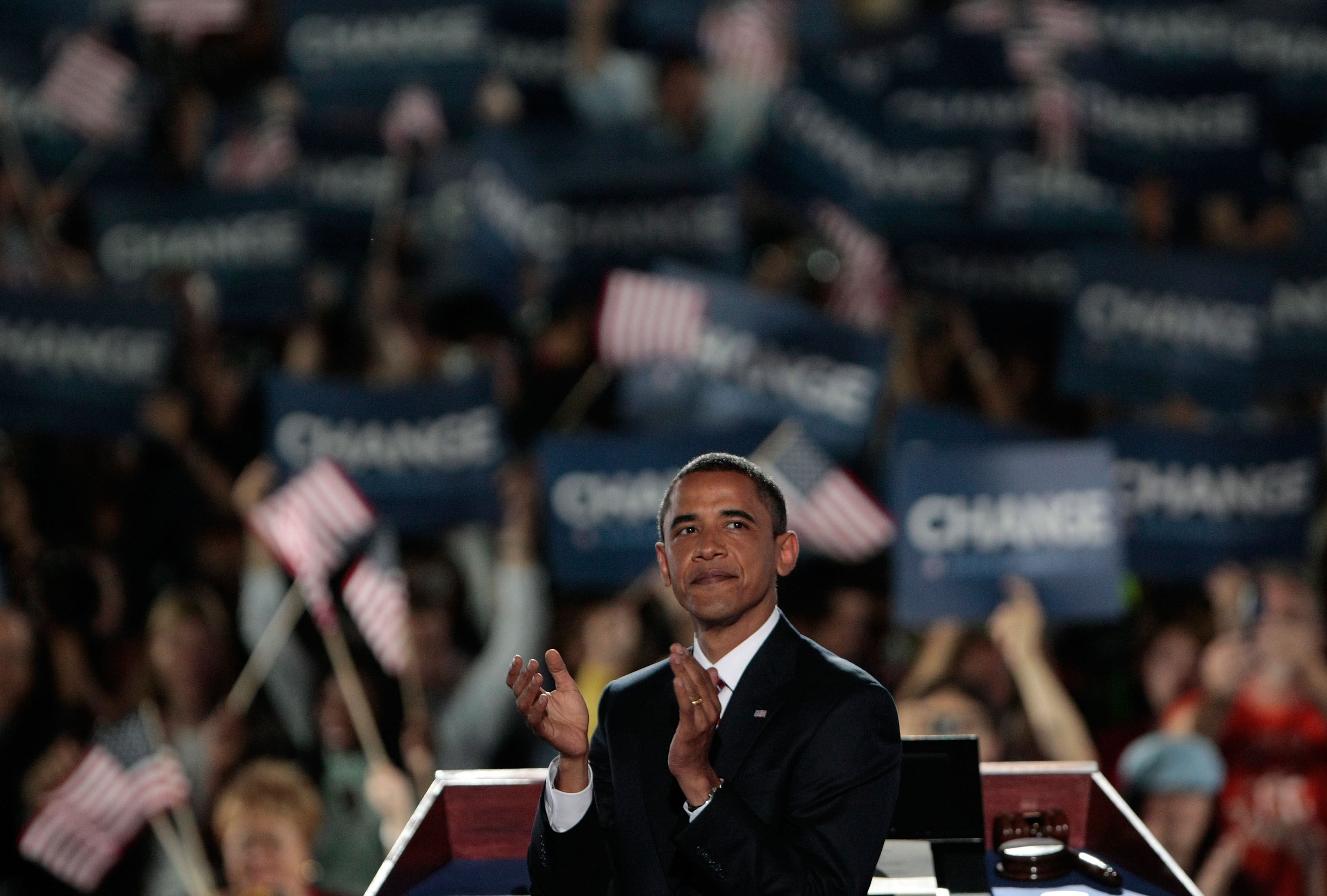 Obama's 2008 promises: kept or broken?
Four years ago, when President Obama accepted the presidential nomination at the Democratic convention in Denver, he made several specific policy promises -- in addition to general promises of hope and change. Here's a look at the specific promises from that speech and whether or not he's followed through.
TAX REFORM
"I will stop giving tax breaks to companies that ship jobs overseas, and I will start giving them to companies that create good jobs right here in America." PARTIALLY KEPT
The president did sign legislation giving tax incentives to businesses that created American jobs, but a bill to end tax breaks for companies shipping jobs overseas failed in the Senate.
"I'll eliminate capital gains taxes for the small businesses and start-ups that will create the high-wage, high-tech jobs of tomorrow." PARTIALLY KEPT
The Small Business Jobs Act of 2010 exempted small businesses from paying taxes on capital gains that met certain requirements, but only temporarily. Congress later extended the exemption to eligible stock acquired before January 1, 2012. The administration has proposed making the exemption permanent.
"I will -- listen now -- I will cut taxes -- cut taxes -- for 95 percent of all working families, because, in an economy like this, the last thing we should do is raise taxes on the middle class." KEPT
The 2009 American Recovery and Reinvestment Act (the stimulus) cut taxes for 95 percent of working families by changing withholding rates.
ENERGY
"And for the sake of our economy, our security, and the future of our planet, I will set a clear goal as president: In 10 years, we will finally end our dependence on oil from the Middle East." BROKEN
In June 2012, the Wall Street Journal reported that the U.S. is on track, according to energy analysts, to end its dependence on Middle East oil -- but not until 2035.
"As president, I will tap our natural gas reserves, invest in clean coal technology, and find ways to safely harness nuclear power." KEPT
A natural gas pipeline starting in Alaska has made progress under the Obama administration, while the stimulus invested in clean coal technology. The president has also stepped up nuclear safety reviews in the U.S. and also invested in international efforts to improve nuclear safety.
"I'll help our auto companies re-tool, so that the fuel-efficient cars of the future are built right here in America. I'll make it easier for the American people to afford these new cars." PARTIALLY KEPT
The Obama administration did re-tool the auto industry while extending the auto bailout that began under President George W. Bush. The president has also set higher fuel-efficiency standards for U.S. vehicle fleets.
Additionally, the federal government under Mr. Obama's watch has offered tax incentives for people to buy fuel efficient cars. However, the New York Times reported in April that, currently, investing in fuel-efficient cars like hybrids and electric cars doesn't necessarily save money.
"And I'll invest $150 billion over the next decade in affordable, renewable sources of energy -- wind power, and solar power, and the next generation of biofuels -- an investment that will lead to new industries and 5 million new jobs that pay well and can't be outsourced." PARTIALLY KEPT
The 2009 stimulus alone invested tens of billions into renewable energy, so the president could conceivably invest $150 billion over a decade.
Republicans have pointed out that rather than creating new American jobs, some of these investments have funded work overseas. While it hasn't been 10 years, the president has yet to reach his goal of creating 5 million new jobs in this sector. The Bureau of Labor Statistics released two surveys this year showing that "green" jobs account for just under 4 million jobs in the nation.
EDUCATION
"I'll invest in early childhood education." KEPT
Through the stimulus, Mr. Obama invested billions in Head Start and Early Head Start, two federal programs that promote school readiness for kids age five and under from low-income families. The president has also invested in early learning through his "Race to the Top" program.
"I'll recruit an army of new teachers, and pay them higher salaries, and give them more support. And in exchange, I'll ask for higher standards and more accountability." KEPT
The stimulus paid for about 342,000 K-12 teaching jobs from 2009 to 2010, according to an analysis from the Center on Reinventing Public Education, an organization affiliated with the University of Washington.
Through Race to the Top, which has has already awarded more than $4 billion to 18 states and the District of Columbia, some teachers will be paid based on merit.
"And we will keep our promise to every young American: If you commit to serving your community or our country, we will make sure you can afford a college education." PARTIALLY KEPT
The president has supported the Post-9/11 GI Bill -- which passed before he came into office -- to help veterans pay for college, and the Department of Education supports funding for schools and students committed to community service. College costs, however, continue to rise.
HEALTH CARE
"Now is the time to finally keep the promise of affordable, accessible health care for every single American." PARTIALLY KEPT
Mr. Obama passed the Patient Protection and Affordable Care Act, which will help make health care accessible for millions of more Americans through the expansion of Medicaid and new government subsidies. The nonpartisan Congressional Budget Office revised its estimates after the Supreme Court ruling on the health care law and now projects that the Affordable Care Act (ACA), "in comparison with prior law before the enactment of the ACA, will reduce the number of nonelderly people without health insurance coverage by 14 million in 2014 and by 29 million or 30 million in the latter part of the coming decade."
While not "every single American" will have insurance, the CBO projects that by 2016, 92 percent of nonelderly residents will have insurance.
"If you have health care, my plan will lower your premiums." BROKEN
So far, premiums for those who already have health insurance have gone up during Mr. Obama's presidency.
The nonpartisan, nonprofit Kaiser Family Foundation reported in September 2011, "After several years of relatively modest premium increases, annual premiums for employer-sponsored family health coverage increased to $15,073 this year, up 9 percent from last year."
"If you don't, you'll be able to get the same kind of coverage that members of Congress give themselves." KEPT
The Affordable Care Act requires members of Congress to purchase health insurance plans either created directly by the new law or as part of the health insurance exchanges that are expected to be set up by 2014 -- the same exchanges through which many Americans would acquire insurance.
"And -- and as someone who watched my mother argue with insurance companies while she lay in bed dying of cancer, I will make certain those companies stop discriminating against those who are sick and need care the most." KEPT
The Affordable Care Act does prohibit insurance companies from discriminating against people with pre-existing conditions.
SOCIAL SAFETY NET AND WORKER PROTECTIONS
"Now is the time to help families with paid sick days and better family leave, because nobody in America should have to choose between keeping their job and caring for a sick child or an ailing parent." BROKEN
The Obama administration has supported the Healthy Families Act, a bill that would let workers earn up to seven paid sick days per year to care for themselves or a sick family member. The legislation, however, has not passed.
"Now is the time... to protect Social Security for future generations." BROKEN
The president hasn't done anything to stabilize Social Security.
In an April 2011 town hall, Mr. Obama suggested lifting the payroll tax cap: "So if we just made a little bit of an adjustment in terms of the cap on Social Security, that would do a significant amount to stabilize the system," he said. However, the Social Security payroll tax remains capped at $110,100.
"And now is the time to keep the promise of equal pay for an equal day's work, because I want my daughters to have the exact same opportunities as your sons." PARTIALLY KEPT
The first bill Mr. Obama signed into law as president, the Lilly Ledbetter Fair Pay Restoration Act, makes it easier for workers to sue after discovering what they believe to be pay discrimination. The administration says it has taken other steps to improve workplace equity, like improving inter-agency coordination on the issue.
However, the U.S. Department of Labor points out the wage gap between men and women still exists. The Paycheck Fairness Act, a bill to amend the Fair Labor Standards Act of 1938 to provide more effective remedies to victims of wage discrimination, died in the Senate this year.
"But I will also go through the federal budget line by line, eliminating programs that no longer work and making the ones we do need work better and cost less, because we cannot meet 21st-century challenges with a 20th-century bureaucracy." BROKEN
The president signed spending bills in his first term in spite of his objections to potentially unecessary spending.
FOREIGN POLICY
"I will end this war in Iraq responsibly..." KEPT
Putting aside the debatable question of whether it was the responsible move, President Obama on August 31, 2010, marked the end of combat operations in Iraq.
"... and finish the fight against al Qaida and the Taliban in Afghanistan." PARTIALLY KEPT
At the end of 2011, the Obama administration pulled 100,000 troops out of Afghanistan, and the U.S. is now committed to keeping combat troops there through 2014 -- and leaving troops on the ground after that to assist Afghan forces. Under Mr. Obama, 23,000 more troops are slated to come home from Afghanistan in September, but Marine Gen. John Allen has said he won't make his recommendation on the pace of further reductions until the end of the year.
"I will rebuild our military to meet future conflicts..." KEPT
It's debatable whether the changes to the military under the president will help it meet future conflicts. However, Mr. Obama and Pentagon leaders in January 2012 did unveil a new defense strategy for a smaller, more flexible military force. The president said the new military will prepare the nation for the threats of the future while restoring balance between the defense budget and domestic spending.
"... but I will also renew the tough, direct diplomacy that can prevent Iran from obtaining nuclear weapons and curb Russian aggression." BROKEN
Just this month, Iran said its sole operational nuclear power reactor, built with Russia's help, has reached full capacity. Iran says its nuclear program is peaceful, but the U.S. believes the new plant is part of Iran's attempts to develop nuclear weapons.
"I will build new partnerships to defeat the threats of the 21st century: terrorism and nuclear proliferation, poverty and genocide, climate change and disease." KEPT
The president reached a historic deal with Russia in 2010 to reduce nuclear arms -- a move that lessens the threat of nuclear terrorism. At the same time, the president has admitted the United States' ties with Pakistan, a key security partner, are strained.
Mr. Obama has led a new global partnership in the fight against hunger and malnutrition and fostered partnerships on climate change. He also established an Atrocities Prevention Board for government officials from across agencies to work together to tackle issues like genocide.
Lindsey Boerma contributed to this report.
Thanks for reading CBS NEWS.
Create your free account or log in
for more features.