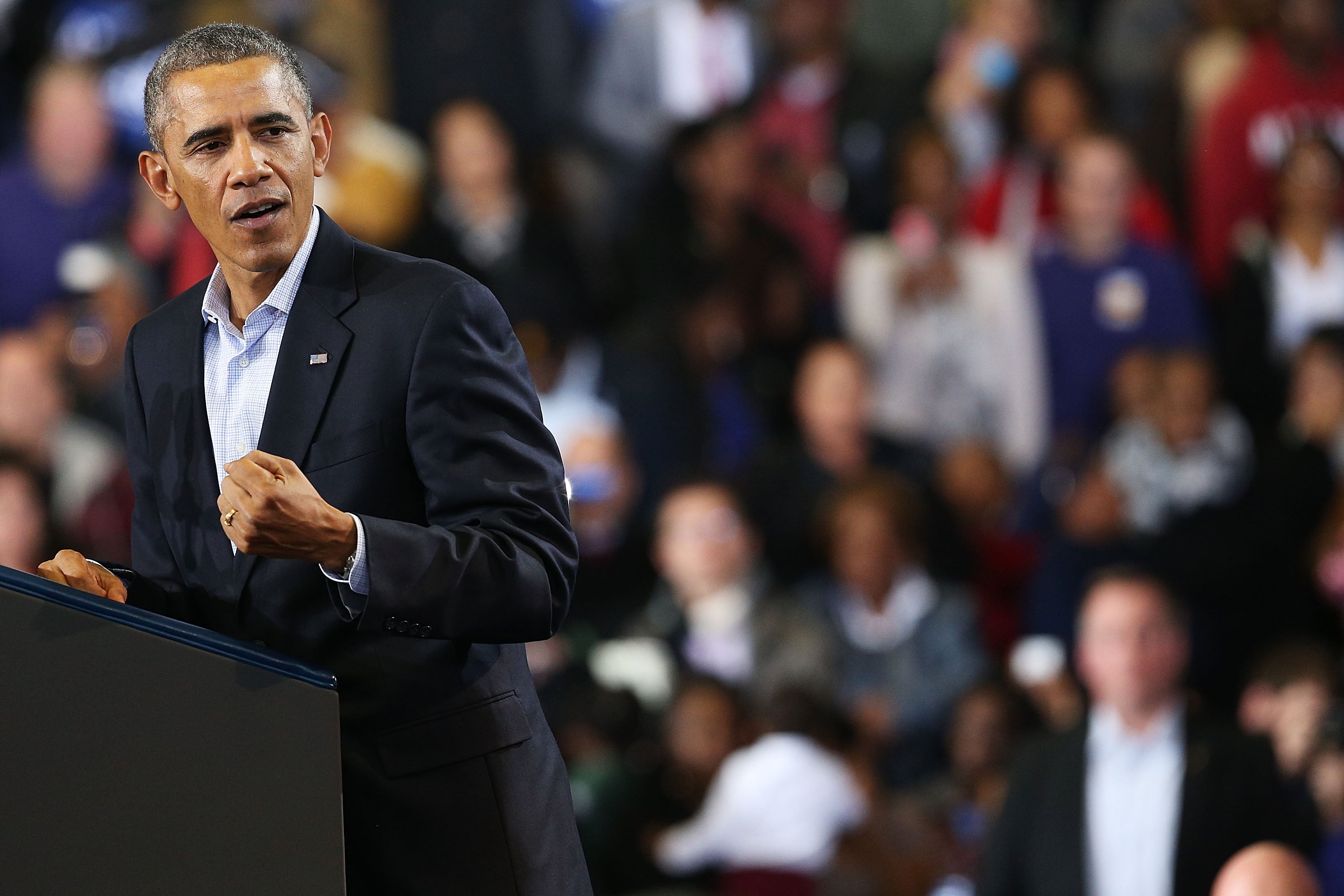 Obama heckled at Connecticut rally
A rally in Connecticut on Sunday proved that dragging down Democrats with his unpopularity isn't the only danger the campaign trail holds for President Obama: there are plenty of hecklers awaiting him too.
The president repeatedly lost control of the rally as "Dreamers" -- young Hispanic activists -- interrupted his speech protesting lack of immigration reform legislation and the administration's high rate of deportations. His response: You're at the wrong rally.
"You're a 'Dreamer' and I gave you relief administratively and we're going to work on the next one," the president said, referring to the executive action he passed that deferred deportation for certain young immigrants brought to the U.S. illegally as children.
"The Republicans are blocking immigration reform. That's one more reason we need a Democratic Senate. So I support you. I'm with you," he said. "And you need to go protest the Republicans, because I'm not the one blocking it!"
As the interruptions continued every few minutes, the crowd began to respond to the protesters with boos and chants of "four more years" in support of Gov. Dannel Malloy, the Connecticut Democrat whom Obama was there to support. The protesters were eventually escorted out by local police.
This is not the first time the president has been interrupted by an audience member focused on immigration, but the protesters were notable both for their size and their continued interruptions once Mr. Obama addressed the issue.
"This is a rowdy crowd today!" he remarked at one point. During another interruption, he said that, "folks get frustrated and so they want to yell at everybody."
Eventually he began pausing his speech as the crowd drowned out the hecklers.
Mr. Obama also mentioned standard Democratic campaign issues like raising the minimum wage, praising Malloy for being the first governor in the country to increase the state's minimum wage to $10.10 an hour.
Talking about his hope that Congress would pass equal pay legislation, he said, "We've had some issues in Washington with Republicans saying no to a national fair-pay law. We had one Republican running for national office right now, who said, and I'm quoting, 'You could argue that money's more important for men.'"
"I don't know who he was talking to. He wasn't talking to Michelle," Mr. Obama said, referring to his wife.
The candidate in question appears to be Wisconsin state senator Glenn Grothman, a Republican who is running for U.S. Congress.
The rally for Malloy is one of Obama's final campaign stops before the midterm elections. He will also hold a rally for Pennsylvania's Democratic gubernatorial candidate Tom Wolf before returning to Washington.
CBS News Producer Josh Gross contributed to this article.
Thanks for reading CBS NEWS.
Create your free account or log in
for more features.