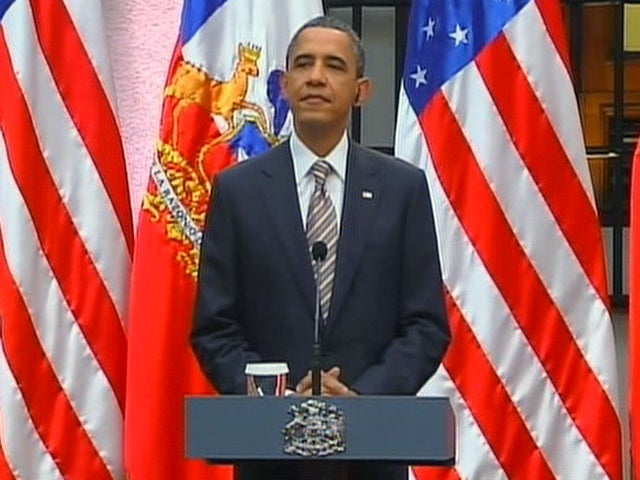 Obama: Qaddafi must go, but current Libya mission focused on humanitarian efforts
Updated at 3:50 p.m. ET
The United States maintains that Libyan strongman Muammar Qaddafi must give up power, President Obama said today, even as the current United Nations mission -- and U.S. military involvement -- remains more limited.
"I have... stated that it is U.S. policy that Qaddafi needs to go," Mr. Obama said in a press conference from Santiago, Chile. "But when it comes to our military action, we are doing so in support of U.N. Security resolution 1973. That specifically talks about humanitarian efforts, and we are going to make sure that we stick to that mandate."
The United States on Monday fired cruise missiles over Libya, after leading a successful round of air attacks over the weekend. The air attacks are part of an effort to enforce the no-fly zone over Libya approved by the United Nations last week. The U.N. resolution approving the no-fly zone also approved "all necessary measures" to prevent attacks on civilians.
Complete coverage: Anger in the Arab World
Pentagon: Qaddafi forces in disarray
Video: Lugar says U.S. not declaring war on Libya
Mr. Obama, currently on a three-nation tour in Latin America, reiterated today that the United States plans to hand off control of the Libya mission to an international coalition "in a matter of days, and not a matter of weeks."
The first phase of the mission -- taking out Libyan air defenses to establish a no fly zone -- has been completed, the president said, but "the situation is evolving on the ground."
The U.S. took a leading role in the initial phase because "we've got some unique capabilities" that are "much more significant than some of our other partners," Mr. Obama said.
The president said that while it was important to act quickly to send a message to Qaddafi, the U.S. managed the initial operations in a way that "ensures that our partners, members of the international coalition, are bearing the burden of following through on mission."
"Obviously, our military's already very stretched and carries large burdens all around the world," he said. "Wherever possible, for us to get international cooperation, not just in terms of word but in planes and resources and pilots, that is something we should actively seek and embrace because it relieves the burden on our military and U.S. taxpayers to fulfill what is an international mission."
Video: Obama says allies will take lead in Libya
Video: Obama says Libya plans in place before departure for foreign trip
Video: Stalemate in Libya on the horizon?
Mr. Obama said that the U.S. has a wide range of tools at its disposal, besides military might, to pursue its goal of forcing Qaddafi out of power. For example, he said, the U.S. quickly initiated unilateral sanctions against Qaddafi and helped mobilize international sanctions. The U.S. also froze assets the Libyan leader could have used to purchase weapons or hire mercenaries to use against his own people.
"That has created one of the most powerful international consensuses around the isolation of Mr. Qaddafi," he said.
The president today also defended initiating air strikes in Libya while he was abroad, saying that the international community has been working on very short time frames. Additionally, he said, his administration had already drawn up its plans, and "it was a matter of seeing how Qaddafi would react to the warning that I issued on Friday."
After Qaddafi continued to act aggressively toward civilians, Mr. Obama said, "it was a matter of me directing Secretary of Defense [Robert] Gates and Admiral [Mike] Mullen that the plan that had been developed in great detail extensively prior to my departure was put into place."
Watch CBS News national security correspondent David Martin speak with Bill Plante on CBSNews.com's Washington Unplugged about the latest news from Libya:
Thanks for reading CBS NEWS.
Create your free account or log in
for more features.