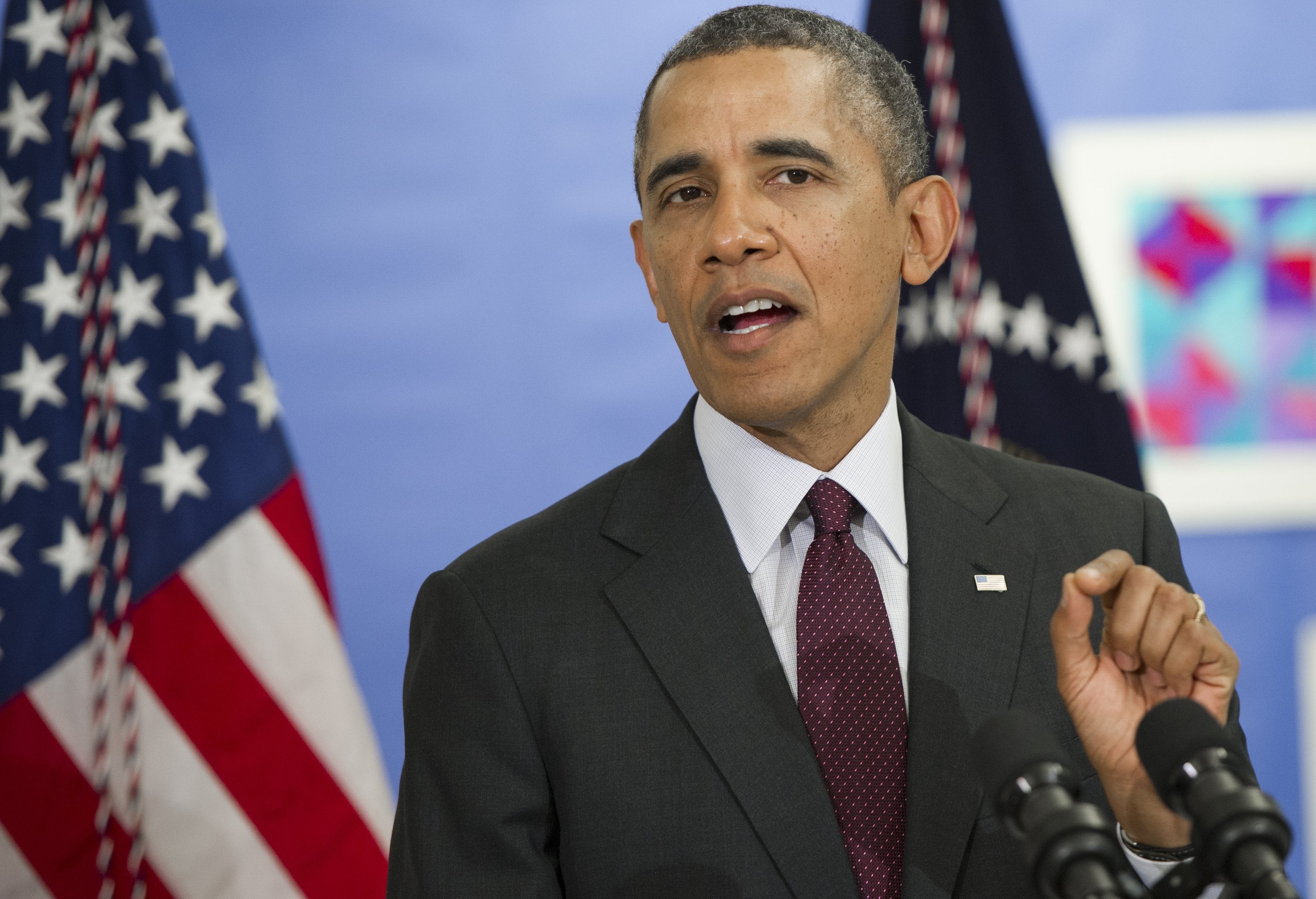 Obama: Putin's moves in Ukraine aren't that clever
President Obama on Wednesday pushed back against the notion that Russian President Vladimir Putin has an advantage over the West as the world responds to the crisis in Ukraine, making the case that Russia's intervention in the neighboring country will weaken Putin.
"There's a suggestion somehow that the Russian actions have been clever, strategically," Mr. Obama said from a Washington, D.C. elementary school, where he had just rolled out his 2015 budget proposal. "I actually think that this is not been a sign of strength, but rather, is a reflection that countries near Russia have deep concerns and suspicions about this kind of meddling, and if anything, it will push many countries further away from Russia."
Russian forces on Saturday took control of Ukraine's strategic peninsula of Crimea, prompting the United States to prepare economic sanctions against Russia. On Tuesday, Putin pulled back forces that had been participating in military exercises near the Ukrainian border, suggesting he could be listening to the West's call to de-escalate the situation. However, Putin said Moscow reserves the right to use any means necessary to protect Russians in Ukraine, and he accused the West of encouraging an "unconstitutional coup" there.
"I don't think that's fooling anybody," Mr. Obama said Tuesday that Moscow's interpretation of the situation.
"I think everybody recognizes that although Russia has legitimate interests in what happens in a neighboring state, that does not give it the right to use force as a means of exerting influence inside of that state," he said.
Acknowledging reports that Putin is "pausing for a moment and reflecting on what's happened," Mr. Obama said that "around the world, there is a strong believe that Russia's action is violating international law."
As Mr. Obama was delivering remarks in Washington, Secretary of State John Kerry was in Ukraine, urging Russia to de-escalate the situation in the Crimean Peninsula by withdrawing its troops there and relying instead on diplomacy to resolve any concerns.
"If Russia does not de-escalate," Kerry said, "then our partners will have absolutely no choice but to join us to continue to expand upon steps we have taken in recent days in order to isolate Russia politically, diplomatically and economically. I would emphasize to the leaders of Russia this is not something we are seeking to do, this is something Russia's choices force us to do," he said.
Kerry arrived in Kiev Tuesday morning with a $1 billion energy subsidy package to follow up on the promises of aid from the U.S. and other European countries.
Congressional Republicans in recent days have decried the Obama administration's response to the Ukrainian crisis, calling it feckless and weak.
"We have a weak and indecisive president that invites aggression," Sen. Lindsey Graham, R-S.C., said Sunday on CNN's "State of the Union." Rep. Mike Rogers, R-Mich., chairman of the House Intelligence Committee, on "Fox News Sunday" agreed with Graham that "there are not a lot of options on the table." That's in part, he said, because Russia is "running circles around" the United States.
Mr. Obama said Tuesday, "I don't doubt the bipartisan concern that's been expressed about the situation in the Ukraine."
What Congress can do immediately to help the situation, he said, is "help finance that economic package that can stabilize the economy in Ukraine, help to make sure that fair and free elections take place very soon, and as a consequence, helps to de-escalate the crisis."
The International Monetary Fund (IMF) is also working on a separate assistance package, and leaders in the House and Senate have begun work on legislative measures to help the country. On Tuesday, House Speaker John Boehner, R-Ohio, recommended the president dramatically expedite the approval of U.S. natural gas exports to help reduce reliance on Russian energy in the region.
In Ukraine, Kerry praised the opposition government for showing "restraint" in the face of the invasion, and pushed back against Russia's claims that the Ukrainian government is comprised of illegitimate extremists who are threatening those with ties to Russia.
"Not a single piece of credible evidence supports any one of these claims. None," Kerry said. "And the larger point is really this: it is diplomacy, and respect for sovereignty, not unilateral force, that can best solve disputes like this in the 21st century. President Obama and I want to make it clear to Russia and to everybody in the world, we are not seeking confrontation. There is a better way for Russia to pursue its legitimate interests in Ukraine."
He stressed that the U.S. is trying to avoid the conflict escalating such that "it becomes the kind of confrontation where people can't find a reasonable path forward."
Thanks for reading CBS NEWS.
Create your free account or log in
for more features.